When I think back 20 years ago this week to when Tiger Woods turned pro, a lot of things come to mind. How much he enjoyed playing the game. His uneasiness with fame and how strongly he sensed it would complicate his future. Mainly, though, I remember how incredibly good he was.
Golf, like sports in general, tends to fall in love with its potential young stars, but Woods had a connection to excellence so clear and deep it was immediately appreciated not only by golf fans but the world at large.
For all the attendant hype, most projected stars end up somewhere in the great middle section among the world's best, with the pure flameouts counterbalanced by the chosen few who end up historically elite. In the decade before Woods, Davis Love III, Phil Mickelson and Ernie Els best actualized tremendous teenage talent into Hall of Fame careers. But there was something special about Woods, in a sport more variable and changeable than perhaps any other, that made him a sure thing. It's why when he claimed his first PGA Tour win at the Las Vegas Invitational, in just his fifth pro start, no one seemed surprised.
It was beyond the physical. Of course, the then-155-pounder's swing speed, distance and synchronized grace were breathtaking. And his short game, so often lacking early among the young and powerful, was exceptional. But there was an eerie and powerful internal quality that set Woods apart. His mother, Tida, didn't deny that her son showed advanced coordination as an infant, but always pointed more to his adult-like ability—obvious even as a toddler—to focus and stay on task.
Probably most telling was this: The better the player, the more impressed he was with the Tiger Woods. By the time Woods had entered Stanford and begun playing in professional events on sponsors' exemptions, greats such as Byron Nelson, Jack Nicklaus, Arnold Palmer, Gary Player, Lee Trevino, Raymond Floyd, Tom Watson and Greg Norman, all of whom had been perfunctorily polled for every new prospect (and tended to be cautious), were unanimous in their praise. All could identify with the kid's gifts, but they also marveled at a more complete mental and physical toolbox than they had possessed. Now, finally, there was someone who had everything.
Not that Woods didn't need work with short-iron distance control, or that he could refine his technique around the green. But it was a given that he would put the needed work in intelligently, effectively and passionately. From what I could see, Tiger's favorite thing was learning as much as he could about golf's highest stations, seeking the best in the different aspects to question and emulate. Imparted knowledge was the basis of his close bond with the sage Butch Harmon, who counts himself the luckiest of the Woods' teachers after he turned professional "because Tiger was still really listening."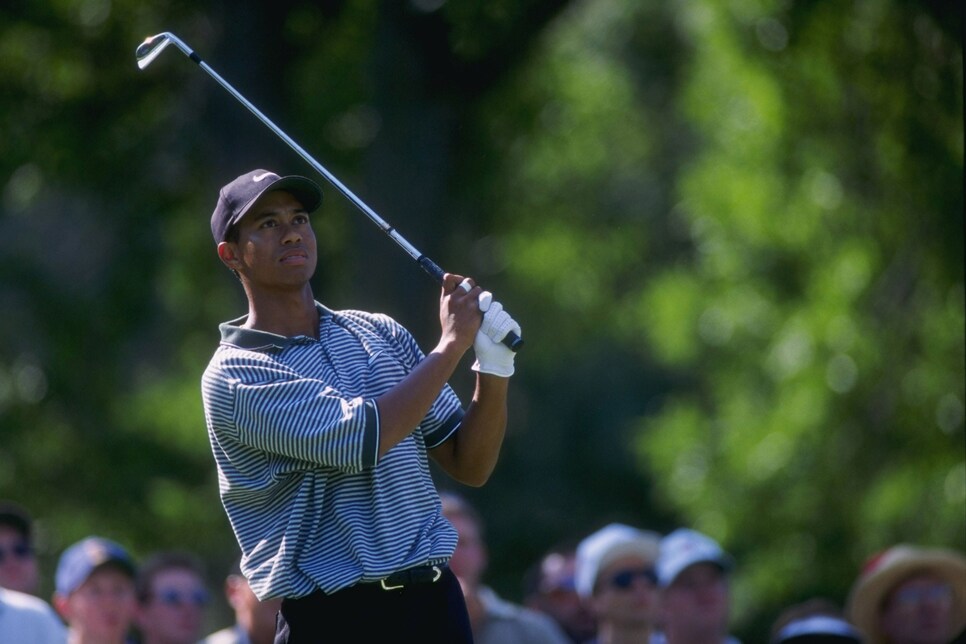 I was at the 1996 U.S. Amateur at Pumpkin Ridge, where Tiger won his record third straight U.S. Amateur (coming after three straight U.S. Junior titles). In the evening after his extra-holes victory over Steve Scott, he confirmed he would be making the jump to the pro ranks in three days at the Greater Milwaukee Open, where he was scheduled to play on a sponsor's exemption. "I had intended to stay in school, play four years at Stanford and get my degree, but things change," he said in the back yard of his rented house, with his father, Earl, and then-agent Hughes Norton of IMG, looking on. "I didn't know my game was going to progress to this point. I always said I would know when it was time, and now is the time."
No doubt Woods would have turned pro even if he hadn't won at Pumpkin Ridge, but his need for symmetry and the proper closure of a career chapter drove him against Scott. After going 5 down through the morning 18 of the championship match, Woods shot the equivalent of a bogey-less 65 on the second 18. After a terrible start, he hit 28 of the last 29 greens in regulation.
I missed Woods' "Hello World" press conference and final round hole-in-one while finishing T-60 at Milwaukee. Two weeks later, I joined several other golf writers in leaving the Presidents Cup in Virginia to head to Iowa for the Quad Cities Open, where Woods was taking a two-stroke lead into the final round. He didn't close, getting outplayed head-to-head by Ed Fiori (at one point four-putting from 12 feet on a flat part of the green) and finishing T-5.
The next tournament was the BC Open in dreary Endicott, N.Y., where I stayed in the same hotel as Woods and tried to spend as much time around him as he would allow for six days.
The 20-year-old Woods I saw that week was respectful of proven touring pros regardless of their status. Three of his playing partners were journeymen, Guy Boros, Joe Daley and John Maginnes, and after banter-filled rounds he described all as great guys. He was self-deprecating about areas of his game that he believed needed serious refinement.
At the same time, Woods chose not to go to the annual players' party put on by the esteemed tournament director, the late and great Alex Alexander. "I don't want to be friends with these guys," he said, seemingly forcing a take-no-prisoners mind-set as he set about trying to secure his PGA Tour card in a couple of months. It was an attitude that proved unsustainable. But I remember veteran tour-equipment rep Steve Mata, who worked closely with Woods on his clubs at Titleist, later telling me, "Tiger would have been even better if he could have stayed that cold, because it was intimidating and really bothered guys. I think he knew it, but even he couldn't keep the wall up all the time. It wrecks the rest of life."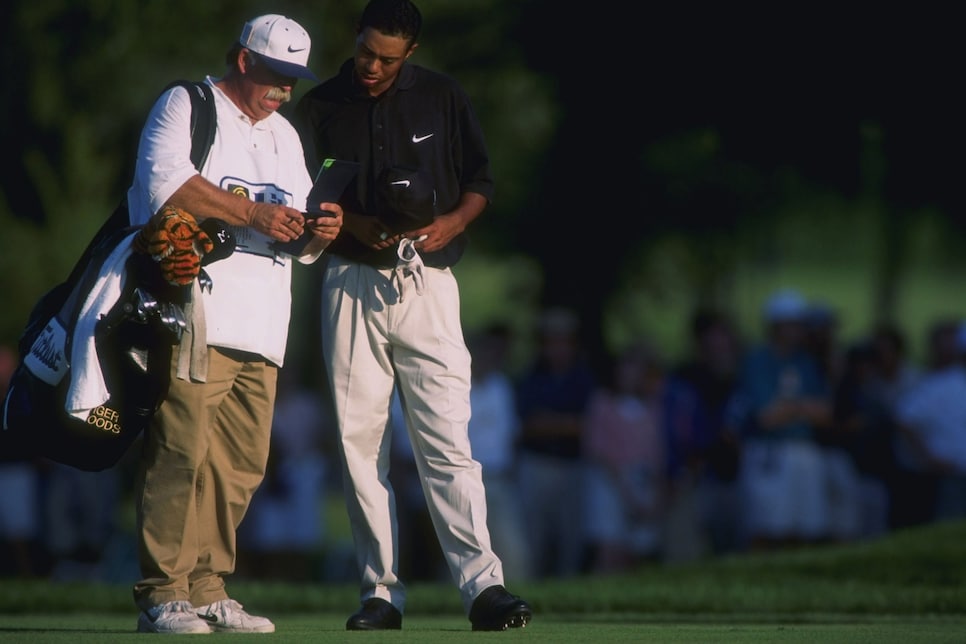 Woods was tired at BC. Counting the U.S. Amateur, in which he had played 164 holes in six days, Woods was beginning his fifth straight week of competition. Tigermania was already taking a toll, as was the road weariness of a tour pro. One day, waiting for the elevator in the hotel, he said, "This is my house. Do you like my house? It's got a lot of rooms. It's got maids. It's got elevators. The only problem is, I have to move into another one just like it every week."
But Woods pushed himself when he had to. I saw his trance-like intensity as he worked out in a local gym, where an intense 45-minute routine ended with 500 sit-ups. By the end of the week, his hotel room was filled with opened boxes and wrapping from clothing that Nike executives had brought for him to review for style and fit, as well as putters and wedges that he was considering trying. It was a mess, but after the final round was washed out, leaving him with a T-3 finish, he summoned a burst of energy for a startlingly quick and organized packing so that he could make a plane.
The fatigue caught up with Woods the next week. Before the first round of the Buick Challenge in Georgia, he withdrew and was confronted with the harshest criticism to that point of his career. Life was getting more complicated.