The Loop
What I learned about my new best buds Rickie, Jordan, Justin and Smylie by following them on Snapchat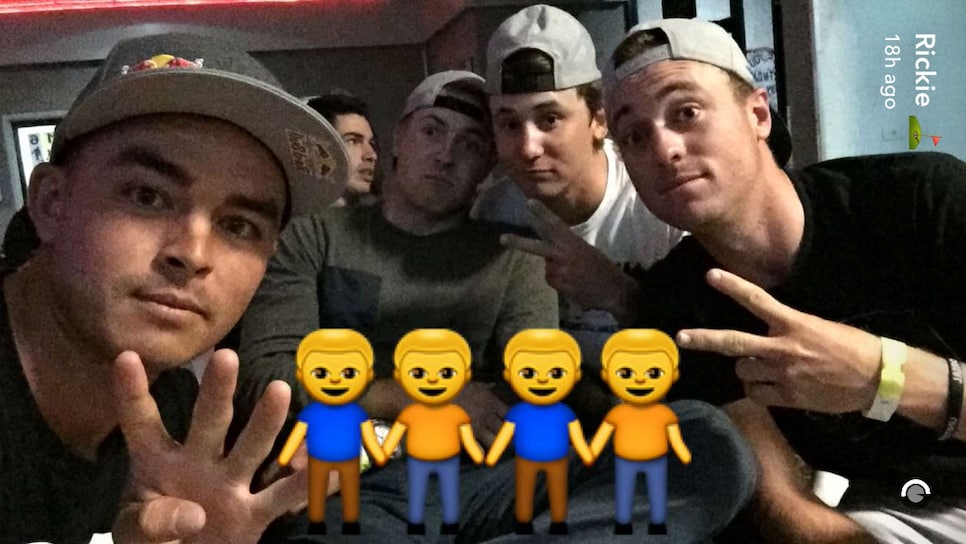 Snapchat has only a fleeting role in my life. (I only just realized how comically ironic that statement is.) In fact, until recently it had no role until my daughter told me she had borrowed my phone and "needed" it for her "friends."
But suddenly it seems to have become the most important or interesting tool in golf journalism. Specifically, I'm talking about the boys-being-boys vacation travelogue shared by Rickie Fowler on Snapchat detailing his week hanging with Jordan Spieth, Justin Thomas and Smylie Kaufman in Baker's Bay. (For those of you who don't know, Baker's Bay is a cool golf and beach resort on an islet in the Bahamas where you will never get to go.)
There is something voyeuristically fascinating about watching four big or emerging stars in golf yukking it up in the most exclusive setting. Think "Entourage" crossed with "Shell's Wonderful World of Golf," with Fowler and Kaufman providing a modern-day Gene Sarazen-Jimmy Demaret update. But there might also be deeper conclusions to be drawn from this viral view about the state of competitive golf these days and about how it reflects on golf's stars in a historical context.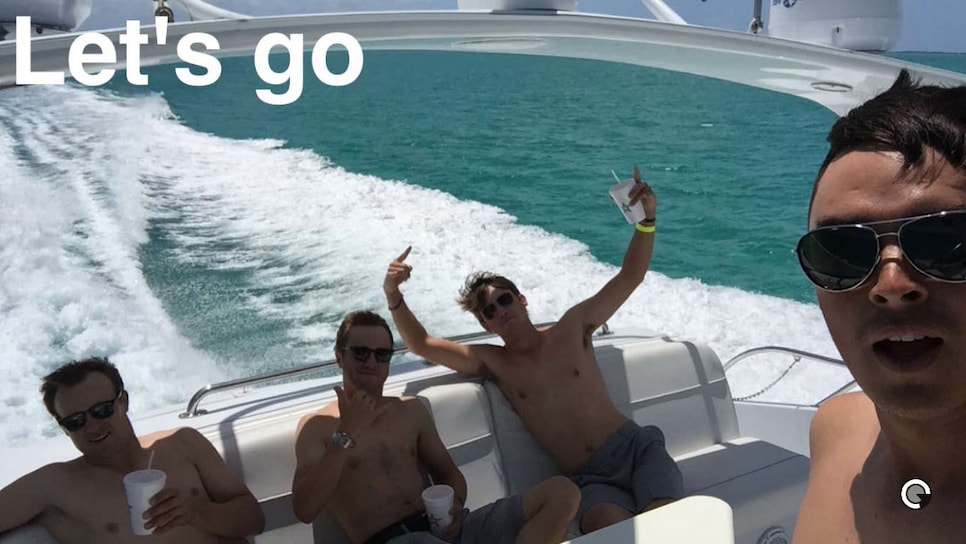 Let's remember that Spieth and Kaufman were just coming off separate disasters on Masters Sunday playing in the final group, one obviously legendary, each seemingly likely to be followed by the brooding reclusive behavior we've come to expect from our champions. Admittedly, Fowler is the social-media cruise director for this excursion, but Kaufman has become the clowning breakout star, and the famously buttoned down and sage-beyond-his-years Spieth has been happily topless for public consumption more than any former World No. 1 this side of Greg Norman. (Frankly, Kaufman's take on Spieth's chunked wedge shot at the 12th might do more to help his buddy get over that inglorious gaffe than any team of sport psychologists could ever hope to do.)
While I'm not going to extol the virtues of getting plastered with your friends (I do have teenage children, you know), the PGA Tour stars we see on this trip showed us how normal they are and how OK they seem to be with showing their lives unfiltered.
But the Snapchatification of the trip, the exposure of the lives of Fowler & Friends in what appear to be unguarded moments, makes us wonder if we are seeing a sea change in the attitudes of top young players today, particularly top young American players. Having recently read Wright Thompson's remarkable Tiger Woods profile for ESPN, it reaffirmed not just how lonely Tiger Woods was at the top, but how alone he seemed to willingly become. This is not the sense we get from the spring-break breakdown Fowler has been sending out from his rickiefowler15 account. I am reminded of the old Tony Jacklin quote about why the European teams he captained were always winning Ryder Cups: "In Europe, you will see eight or 10 guys at a table eating together, but in America, there will be the odd group of two and lots of tables for one."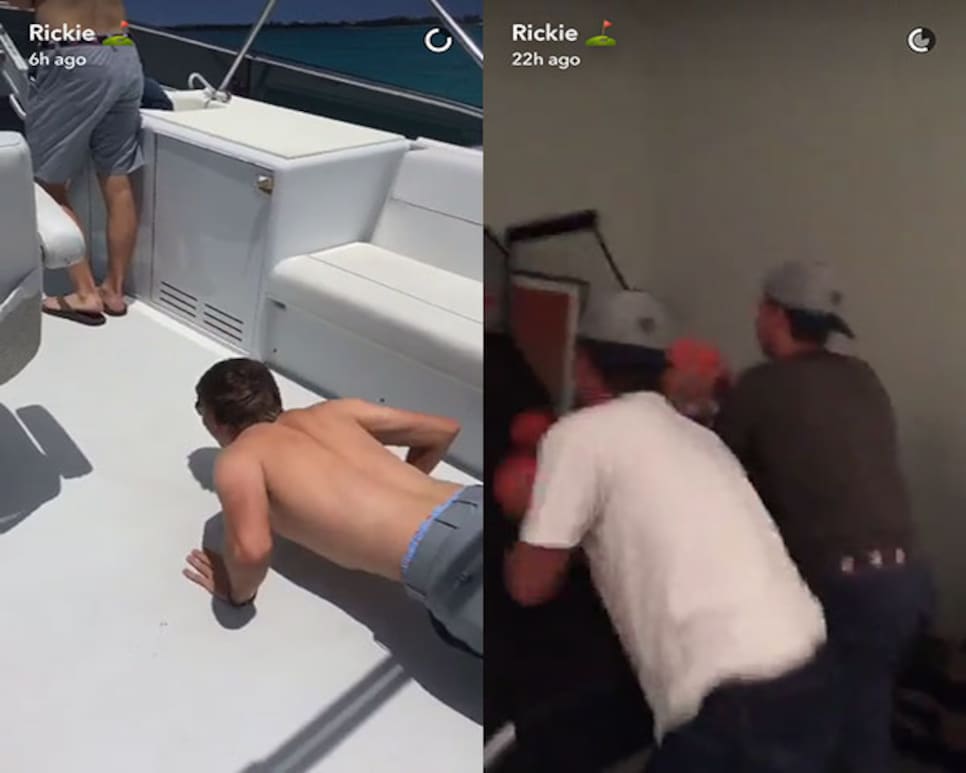 Fowler, Spieth, Thomas and Kaufman at Baker's Bay wasn't exactly a table of eight or 10, but it was getting closer. This is a different look at American golfers hanging together. Does it bode well for the U.S. team's chances at this year's Ryder Cup? Hard to say, especially since there's no guarantee that Thomas and Kaufman will be on the team, but I didn't see a lot of putting practice on the videos and unless the matches will be played shirts vs. skins, I see no particular advantage.
But maybe it is. While I'm not going to extol the virtues of getting plastered with your friends (I do have teenage children, you know) and certainly would suggest Fowler choose his T-shirt slogans with a tad more discretion, the PGA Tour stars we see on this trip showed us how normal they are and how OK they seem to be with showing their lives unfiltered. Exorbitantly wealthy, they still seemed normal, less processed and robotic, more human. Maybe it's because the backwards caps and board shorts came without corporate logos, but it was like seeing Batman without his cape and tights and realizing that Bruce Wayne knows how to have a good time, can dance and sing karaoke and hey, maybe he can invite me over the next time he parties.
Could this all be a carefully orchestrated social-media campaign to make us like our tour stars more? Sure, but that's the kind of statement a cynic like me makes before he realizes that today's youngsters communicate socially the way they breathe or the way my dogs gather around the dinner table when I'm eating. It's a reflex action, with no ulterior motive. Indeed, that's the very definition of Snapchat. It's sharing your life because you can. The fact that you're sharing it with strangers rarely occurs, either because you don't think that far ahead or because, well, there are no strangers.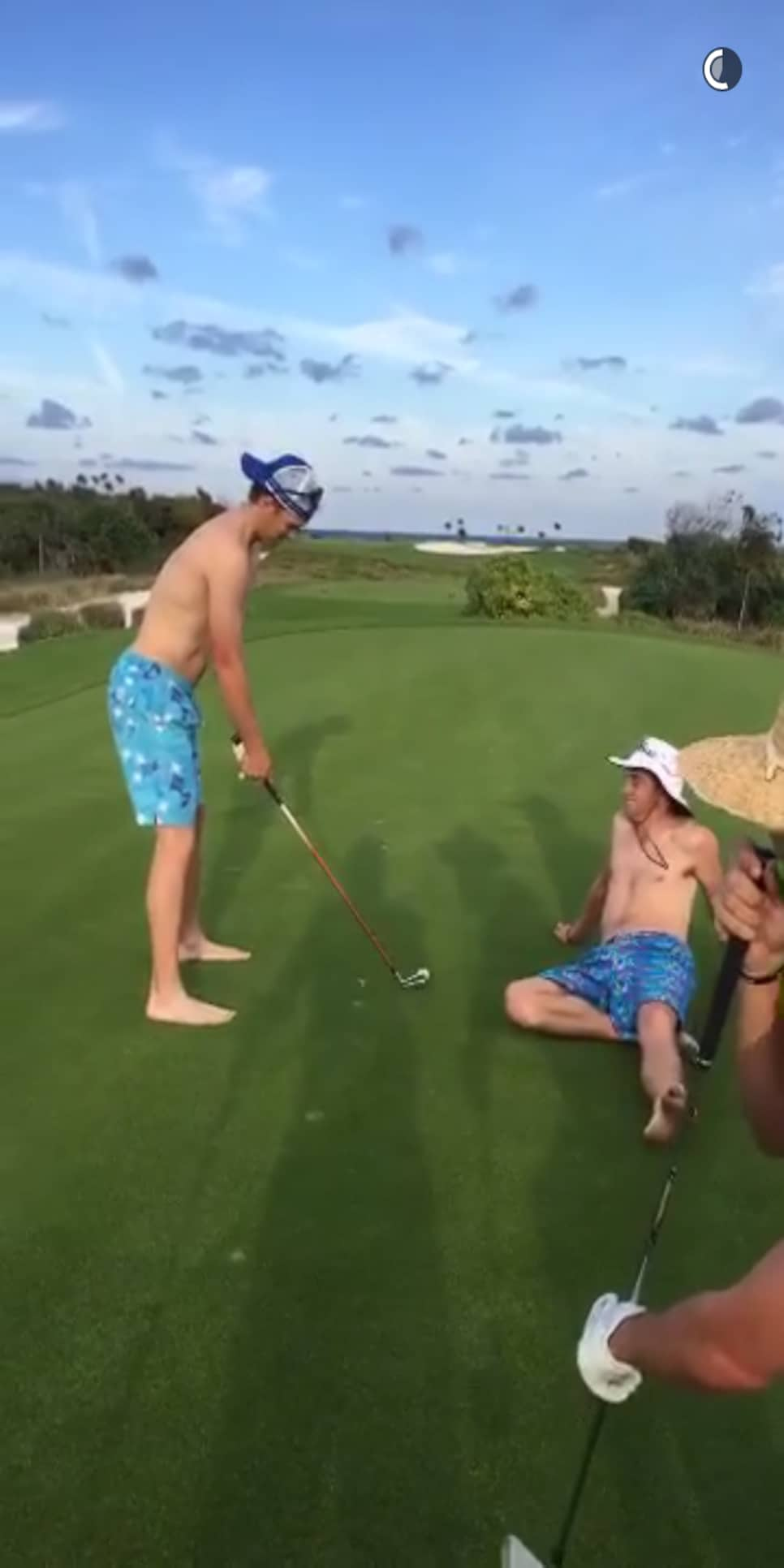 We aren't so much following the boys on this trip as we are living this trip with them. The power of social networking like this is real. A Pew Research report shows that more than a third of registered voters who use social media to follow a political candidate say a major reason is that it makes them feel more personally connected to the politician or group.
Of course, these images haven't been brought to us on demand, they're a gift. Through social media we certainly have the opportunity to know more about our stars than we've ever thought possible before or cared to. And, at least in this case, I'm heartened. Sure, they're drinking and playing shirtless golf in swim trunks, but the fun they're showing us isn't any more embarrassing than what you'd typically find the Euros doing after they win another Ryder Cup. Which maybe makes us like them a little more, or at least resent them a little less.
Oddly, I think the spring break with Rickie and his boys might be the 21st century equivalent of the barnstorming tour days of the 1930s and the round-the-world exhibition matches of the Big Three in the 1960s. Players were together then in a way this generation, through this glimpse from Fowler's Snapchat account, seems to more happily embrace. Maybe I'm overstating the impact of a few postcards on some throwaway social-media account. Maybe, but I think it's fair to say that we not only see our stars more closely than ever in our sport's history, we are closer to them (at least virtually) because of how they electronically reach out to us. Somehow this almost instantly vanishing virtual connection seems more real than yesteryear's handshake and autograph.
But like I said, I'm new to Snapchat. Give me a minute. The next post could change everything. I hope they realize this. I'm just saying, you know, as a friend.