The Loop
What Golfsmith's Chapter 11 filing really means—and which stores are closing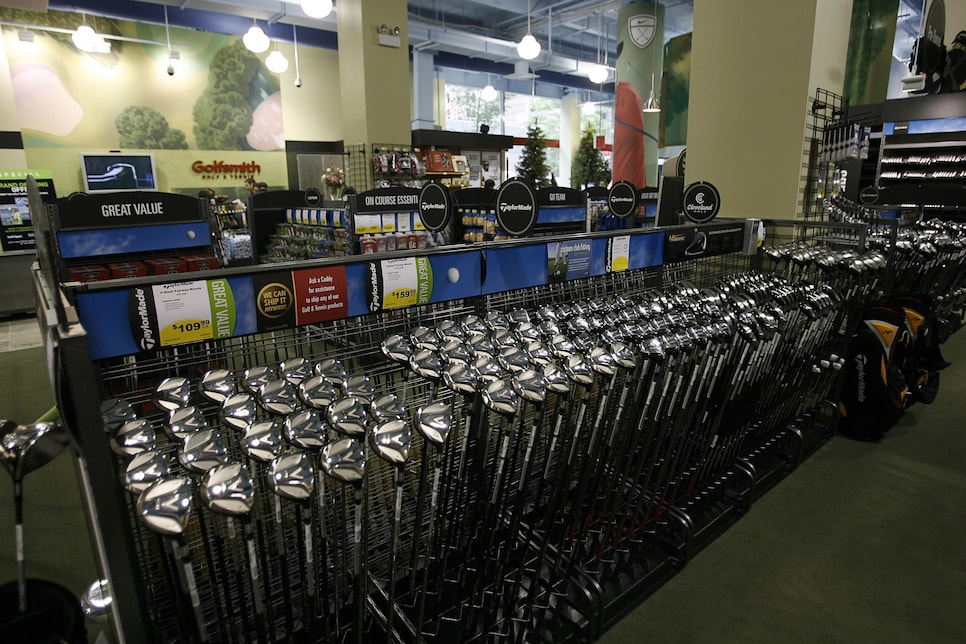 The ripples of last week's bankruptcy filing of Golfsmith International, the largest golf retailer in the world, will continue to play out over the next few months, even years. But really what went wrong, and what happens next?
To the first point, it's clear from a read of the Golfsmith bankruptcy filing and those familiar with the company both internally and externally that Golfsmith expanded to its current 109 stores in the U.S. too aggressively, in the wrong way (as far as store formats go) and most likely without proper capital to support such expansion.
Said a source close to the situation speaking on background, "Golfsmith has markets where there are simply far too many stores where the coverage is too great, and in other markets there might be the right number of stores but perhaps the size of the stores was larger than they needed to be. That over-investment in bricks and mortar costs quite a bit of capital.
"Golfsmith has a cost structure with its store base that is far too great and also a debt load as a result of some of those investments that is too high."
How high? The bankruptcy filing indicates nearly $200 million in outstanding loans or credit facilities. In addition, Golfsmith's list of its 30 largest individual creditors, including major equipment companies, totals more than $33 million. For example, Callaway is owed nearly $5.5 million, TaylorMade $5.1 million, Nike $3.5 million, Acushnet (parent of Titleist and FootJoy) $3.9 million and Ping $2.3 million.
Two of those biggest creditors did not seem distressed. Said a Callaway spokesman, "Callaway Golf has been for some time carefully managing its net financial exposure to Golfsmith and Golf Town, which are both significant customers, and expects to be able to collect substantially all of the outstanding accounts receivable balances owed by Golfsmith and Golf Town either through the bankruptcy process or through its trade credit insurance. Golfsmith and Golf Town remain valued partners."
A TaylorMade spokesman offered similar confidence in the newly restructured Golfsmith. "Golfsmith and Golf Town have been valued partners of ours for many years and regardless of their ownership, we wish them the very best on their return to the golf retail market as a key player," he said.
Golfsmith's recent history is of bad timing, and perhaps by funding its expansion with debt. Its expansion came as consumer attitudes shifted about brick-and-mortar retail, combined with the onset of the 2008 recession. All of which was exacerbated by the fact that--as part of the Chapter 11 filing reads--"the enthusiasm underpinning the 'Tiger Woods Phenomenon' significantly waned."
"It's a lot of economic forces coming at them, it's a real estate problem, it's the pendulum of big-box retail swinging a bit too far. Both forces outside the game and inside the game and just inside their own organization worked against them."
Moreover, in the midst of all these negatives, Golfsmith pursued larger and larger stores in an effort to compete with successful mega-sized competitors like Dick's Sporting Goods and, more pointedly, PGA Tour Superstore, whose typical footprint is 40,000 to 50,000 square feet. It was not a successful strategy, as underperforming stores and increasing lease rates made for a double whammy on cash flow. It's also worth noting that Golfsmith has five times the number of stores as PGA Tour Superstore.
As Golfsmith's issues with cash flow over the last few years materialized, many of its largest creditors (equipment companies) started changing the largely favorable product purchasing terms and making them more restrictive. This summer, many of the largest started demanding cash in advance.
Sara Killeen is president and founder of the Longitudes Group, which studies the sports retail industry using unique demographics geography based analytical tools. Her group has seen the growth of national golf chains and the increasing size of golf retail store spaces. Golfsmith's problems might best be summarized in a way much of the business world has known for a long time.
"Retail is tough," she said, but she noted that this isn't a golf problem as much as a Golfsmith problem, adding that the emerging impact of online retail and other direct-to-consumer avenues are just starting to take their toll on traditional brick and mortar golf retail. "It's a lot of economic forces coming at them, it's a real estate problem, it's the pendulum of big-box retail swinging a bit too far. Both forces outside the game and inside the game and just inside their own organization worked against them."
The first steps in the restructuring of the Golfsmith business will take two forms. First, after more than a year of seeking a buyer for its entire business, Golfsmith secured the sale of the Canada-based Golf Town division to Toronto-based investor groups Fairfax Holdings and CI Investments.
The next big move involves the closing of 20 Golfsmith stores in the U.S., all in areas already served by other Golfsmith locations. (For example, the five Golfsmith stores in Houston will be cut to four, while the five Golfsmith stores in the Baltimore-Washington corridor will be cut to two. In addition, several of the closing Golfsmith stores compete directly in markets with PGA Tour Superstore outlets. Here are the Golfsmith stores set to close before the end of October:
New York, N.Y. (Fifth Avenue)
The bankruptcy filing does allow for the possibility of the closing of additional stores. But what it sets in place is the potential for Golfsmith in its new form to be more attractive to potential buyers, thanks to a streamlined business model and a focus not on larger stores, but on relatively smaller stores, in the 11,000 to 14,000 square-foot range. About 10 percent of Golfsmith's current stores fit this model.
The source close to the situation at Golfsmith believes the smaller store "is more intimate, and it doesn't sacrifice any of the experiential components that customers are going to ask for.
"At this point, Golfsmith isn't seeing a lot of justification, both from a customer-experience perspective and a business metrics perspective, to pursue stores any larger than that."
That double downsizing is interesting because it seems to at once reflect and contradict some of the current trends in the business. PGA Tour Superstore continues to expand its mammoth footprint, and company CEO Dick Sullivan said earlier this summer, "Our golf retail experiential model serves golfers of all abilities from those just beginning to learn the game to avid low-handicappers. We couldn't be more bullish about our future."
Meanwhile, Golfsmith's moves are still about making the retail leader attractive to potential buyers while using Chapter 11 status to navigate its current difficulties. But the storm, Golfsmith believes, might be turning away from its shores, or so reads the report in the Chapter 11 filing from its chief restructuring officer, Brian J. Cejka.
"Market trends indicate that a turnaround in the golf retail market could be imminent. ...
"The Debtors commenced these chapter 11 cases to significantly reduce the burdens that inhibit Golfsmith from taking full advantage of the recent upward swing in golf's popularity. ... to, among other things, enable them to tactically shrink Golfsmith's store footprint by closing underperforming stores and reconfiguring its lease profile. This will allow the Debtors to sell their businesses for the best or highest value possible and will set Golfsmith up to properly evolve and emerge from these cases as one of the most formidable competitors in the golf retail industry."