The Loop
What Danny Willett is doing to wake up from his Masters hangover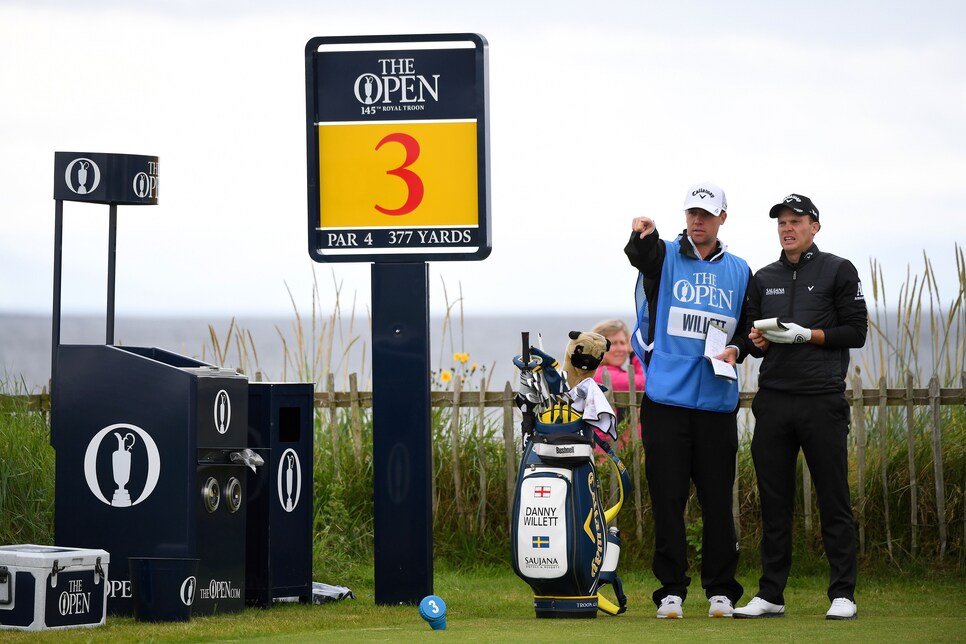 TROON, Scotland -- That Danny Willett has been riding high from his Masters victory is understandable. In the course of an April afternoon, the 28-year-old Englishman changed is status from young up-and-comer to major champion, just days after becoming a new dad. It's heady stuff, and adjusting to it all can a while.
Roughly three months later, though, it's time for Willett to get back to business and begin to live up to his new status. Since Augusta National, he has had just one other solid showing (a third-place showing at the BMW PGA) and he has missed the cut in his last two starts
So how do you shake a Masters hangover? If you listen to Willett, you might be surprised. Part of his recipe is actually taking advantage of the spoils afforded to him because of his Masters win, opportunities that on the outside would seem to be distractions, but that Willett insists will help him re-gain his focus.
So when you saw Willett wearing his green jacket to Wimbledon …
or attending the British Grand Prix race …
... there was a business purpose as well.
"I was fortunate to be able to go to Wimbledon and see [Andy] Murray play and [Roger] Federer play, and I was unfortunate to go see [Grand Prix driver] Lewis [Hamilton] play on Sunday," Willett said. "And being in that environment I think it puts a different spin on our sport and what we do and how hard we work."
It's part of the reason why Willett also decided to go ahead and play in the Olympics next month, despite some public waffling on the matter. Willett hopes by seeing these top athletes in person, he can glean something.
"We get caught up in our own little bubbles at time," Willett said. "As golfers we travel the world and play week to week traveling together, and very rarely do you get to see other people around in their working environment. So to be able to go and see Andy train, go in the gym, maybe bump into a countless number of people that you can go and watch train and see how they do and how hard they work and how they eat, how they rest up, how they recover and ask questions, and see if there's anything you can take from that and bring it back to within how I get ready for tournaments and how I train myself."
In the here and now, Willett believes that playing in the tournament that essentially began his most recent run of good play will be a mental kickstarter to resume that top level of performance. Last year at St. Andrews, Willett was the 36-hole leader and played in the same pairing as eventual winner Zach Johnson in the final round. His T-6 finish help propel him to his European Masters win the next week, a second-place showing in the season-long Race to Dubai on the European Tour, another win in February at Dubai and then the Masters.
"You've just got to remember what got you here in the first place," Willett said in assessing how to bounce back to solid form after going through a lull. "A lot of guys you see when they start struggling, you sack the caddie, you sack the coach, you sack the putting coach.
[But] you probably got to scratch that and go back to basics and realize what got you there in the first place. Go back and have a pretty brutally honest conversation with yourself with what you've been doing. Are you working out enough? Have you been putting enough time in? Have you been dedicating yourself properly and going back through? We've had a couple moments in the last month or so where we're trying to get back on track now with getting back up and working as hard and for longer hours than what we have done in previous months, previous years."