The Loop
What Barack Obama's golf clubs say about his game
As we come down to the last days of President Barack Obama's time in the White House, the belongings of the First Family are hurriedly being moved into their new digs. Unlike Calvin Coolidge, who left his golf clubs behind when he left office, President Obama is taking his somewhat substantial collection of sticks with him.
The Associated Press captured a pair of photographs showing the First Golfer's clubs being transported to the Obamas' new home in the Kalorama neighborhood of Washington, D.C. They reveal a few things about Obama the golfer: First, he's a lefty and most of his clubs are game-improvement models, suitable for his game (the President, a 13-handicap according to Golf Digest's recent list of the top 150 golfing politicians, is no threat to anyone's course record). The majority of the clubs are of older vintage and, fittingly for someone well versed in diplomacy, there are clubs from most of the major manufacturers.
Like most everyday golfers, Obama keeps his clubs in stand bags—two of them, one Nike, one Titleist. The Nike bag contains a pair of drivers under headcovers (Cobra F7 and Nike Sumo) as well as an uncovered Callaway Great Big Bertha. The fairway woods appear to be old TaylorMade SuperSteels (the chipped orange paint perhaps a reflection of the 306 rounds Obama played while in office) and a pair of Titleist Vokey wedges are hiding behind some Nike VR irons and what could possibly be a Cobra knockoff iron. Along with three indistinguishable blade putters is a 2012 TaylorMade Ghost Manta mallet with "U.S. President" engraved on the sole with "U.S." in red and "President" in blue.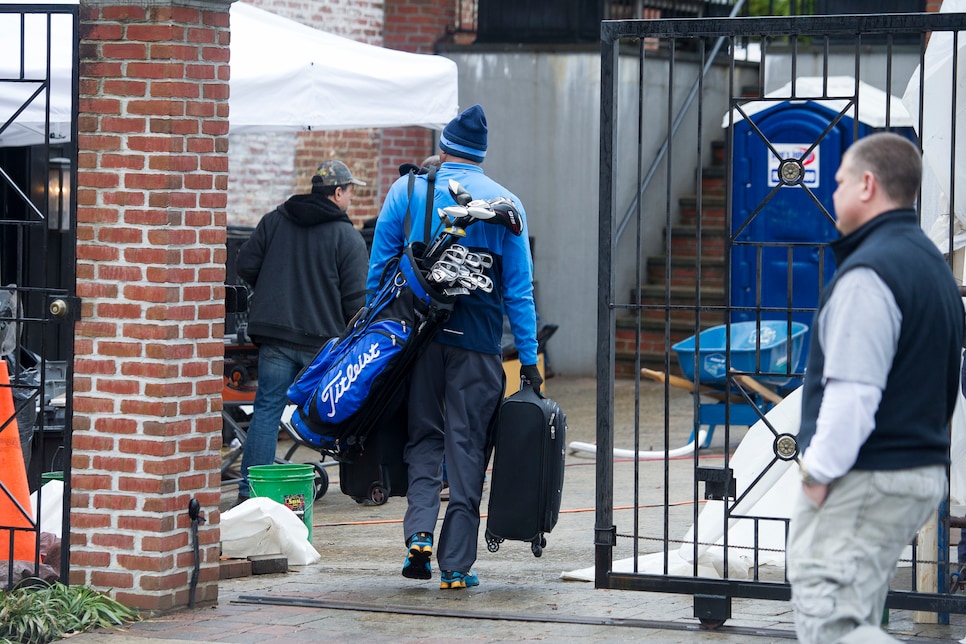 The Titleist bag contains a driver under a Titleist 915D headcover, TaylorMade R11 driver, TaylorMade Burner SuperFast 2.0 fairway woods another driver from Nike, Nike VR Full cavity irons, Nike Sumo hybrids, a couple of Titleist AP1 irons and a Scotty Cameron by Titleist blade-style putter.
Given the age of some of these clubs we have a word of advice for President Obama: Clubfitting. We also suggest he count his sticks before his next round. By our count one of the bags has 15 clubs and the other 19. Once he is no longer the leader of the free world it's possible his opponents will be less inclined to look the other way on such an infraction. Such is life as a private citizen. Then again, his gamers might be on the next moving van.