The Loop
What Augusta and Chinese teen might mean for golf
The walls are crumbling around what was once America's most exclusive men's club, what with women and children now given the run of the place. More or less.
The Augusta National Golf Club will invite a 14-year-old boy to play in the Masters next spring, this in the wake of having conferred membership on Condoleezza Rice, its first female member. What next, public play days?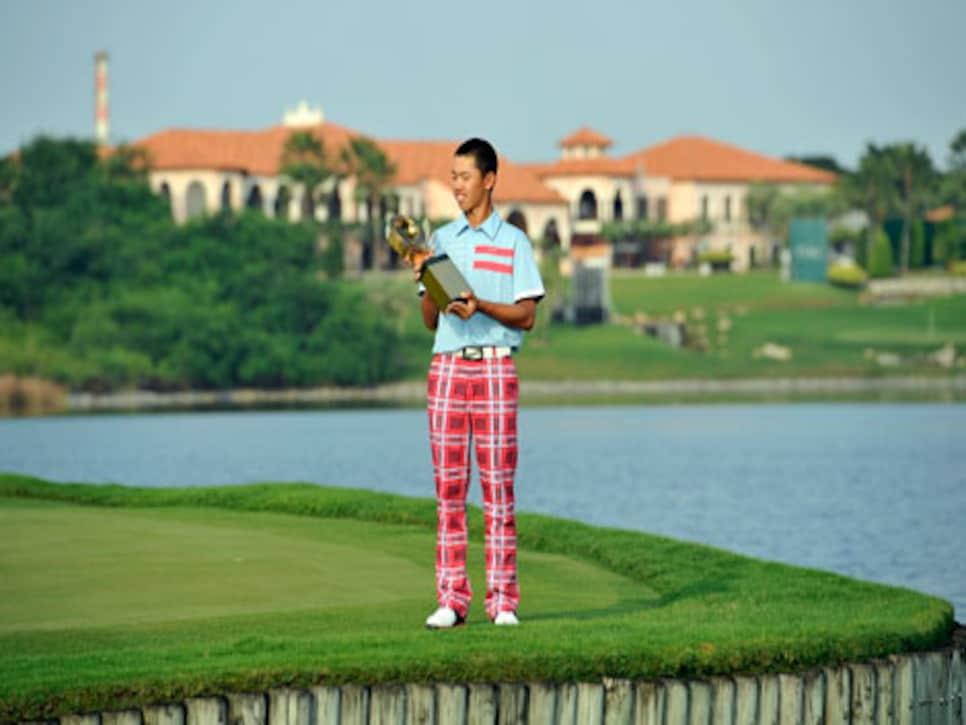 That said, the greater story here is not that China's Guan Tianlang, by virtue of his victory in the Asia-Pacific Amateur Championship on Sunday, will become the youngest ever to play in the Masters. Instead, it's the latest example of what might happen should China embrace golf other than superficially.
Guan, who turned 14 less than two weeks ago, won by a stroke a tournament created by the Asia Pacific Golf Confederation in conjunction with Augusta National and the Royal and Ancient for the purpose of growing the game in the region. As an incentive, the trophy for winning is a Masters invitation.
Thus Guan will become the second Chinese 14-year-old to play in a major championship in a 10-month period. In June, Andy Zhang played in the U.S. Open at the Olympic Club. What each also has in common is that they train, at least part of the year, in Florida.
Golf remains largely an elitist sport in China, though it is growing; the number of courses there has increased from 170 to nearly 600 in the last eight years, according to a story by China Daily. We asked Dan Washburn, an expert on golf in China and a contributor to Golf Digest and Golf World for his thoughts on what impact Guan might have on Chinese golf. His email response:
"Guan's historic achievement certainly can't hurt golf's prospects for growth in China, but the obstacles the sport faces in the country are real. It will be interesting to see how much coverage Guan's Masters adventure attracts in China beyond the niche golf publications. Even Feng Shanshan, winner of China's first major, struggles for recognition in her home country.
[Related: The Best Courses Outside the U.S.
](http://www.golfdigest.com/golf-courses/2012-05/100-best-golf-courses-outside-us)
"Golf is going to grow in China -- there is no doubt about that. Trying to predict how fast or to what heights, however, is a fool's errand. But if this drumbeat continues -- Feng, Zhang, and now Guan -- Chinese golf is soon going to be hard for the world to ignore, no matter how far from the mainstream the sport continues to be in China."
If China does begin to tap its golf potential, well, consider what happened to women's golf when Korean parents began sending their daughters en masse to train in the U.S. China might not similarly dominate a men's game that has substantially greater depth and international influence, but it might upend the balance of power and put Asia on equal footing with the U.S., Europe and Australia.
Guan, meanwhile, has been playing golf in the U.S. at least since 2005, when he finished fourth in the six-and-under division of the Callaway Junior World Championship in San Diego. He won the 11-and-12 division of the tournament by 11 strokes in 2011 and tied for 22nd in the 15-to-17 division in July.
His introduction to international golf at the elite level came last April, when he was 13 and became the youngest player in European Tour history, at the China Open (he missed the cut). The story received considerable attention in precincts other than the U.S., to the point that the British bookmaker Ladbrokes offered 1,000-to-1 odds that by his 18th birthday he'd be ranked No. 1 in the world.
Don't bet on it. Beyond that, don't bet against him. Among those Guan defeated on Sunday was Australian Oliver Goss, a quarter-finalist in the U.S. Amateur and the winner recently of the Australasia Tour's Western Australian Open.
Guan, of course, won't win the Masters in April, perhaps sparing, to which freelance golf writer Dave Andrews jokingly alluded on Twitter, Augusta National from having to serve Happy Meals at the Champions Dinner in 2014.
But he will make history and headlines, helping fulfill the Asia-Pacific Amateur's mandate, to grow the game, possibly doing so in ways that would have been unimaginable only a few years ago.