ATLANTA -- According to the pairings sheet in front of me, Jason Day is not the only one teeing it up in the Tour Championship. Along with the red-hot Aussie, 28 other golfers will compete at East Lake Golf Club this week (Jim Furyk had to WD with injury).
Although the winner of the FedEx Cup gets a cool $10 million, a victory in Atlanta holds varying significance for each player. Here's a quick rundown of what a Tour Championship crown would mean to some of its entrants:
Jason Day/Jordan Spieth -- Player of the Year honors. Day becomes fifth golfer in last 40 years to win six times in a season (Tiger Woods, Vijay Singh, Nick Price, Tom Watson); with his winnings, Spieth can pull the trig on hair transplants.
Rickie Fowler -- The "Big Three" conversation officially changes to "Big Four."
Henrik Stenson -- Earns the nickname "Mr. Fall," a tongue-in-cheek nod to his FedEx Cup success and major shortcomings.
Bubba Watson -- $10 million buys an awful lot of hovercrafts.
Matt Kuchar -- New Sketchers ads. And if that's the case, well, I'm normally not one to root against a player, but...
Zach Johnson -- No doubt about it: coupled with his St. Andrews conquest, Johnson gains entrance to the Hall of Fame.
Dustin Johnson -- Sadly, until he wins a major, the lowdown on Johnson -- that he lacks the temerity to win the "big one" -- will remain.
Charley Hoffman -- Hoffman's on the short list of "most underrated player" nominees, and a win gives him his due spotlight. Also shows that, unlike Samson, Hoffman's power does not emit from his dreads.
Daniel Berger -- First PGA Tour victory, and locks-up Rookie of the Year.
Patrick Reed -- Ensures "Top 5 Player" will trend on Twitter.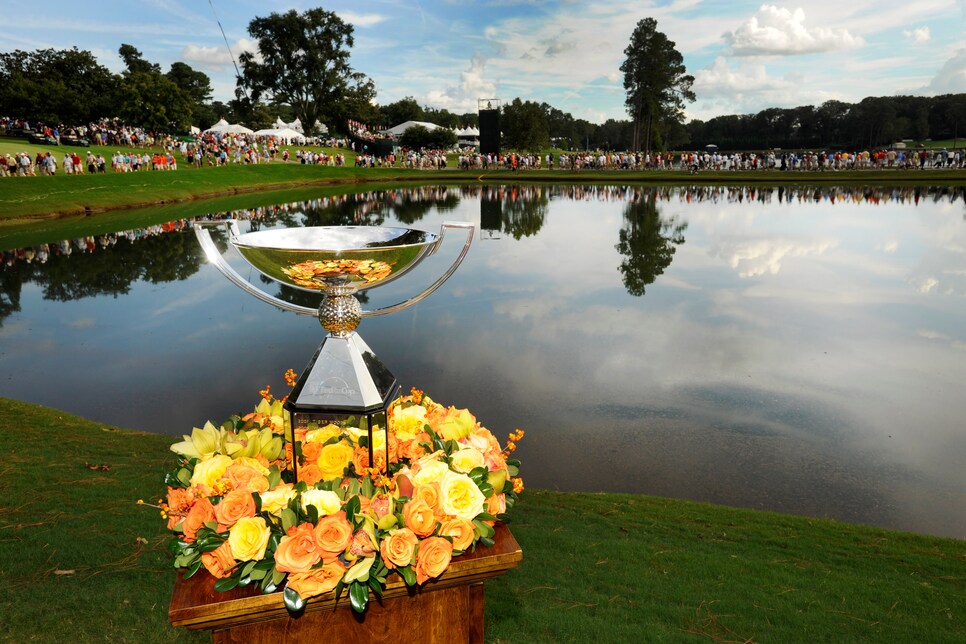 Brooks Koepka -- If Furyk is unable to play at the Presidents Cup, a win at East Lake gives the replacement call to Koepka.
Rory McIlroy -- Changes 2015 narrative from "lost season" to "Hey, three wins and eight top 10s out of 12 tournaments...that's a helluva year!"
Tiger Woods/Phil Mickelson -- Just seeing if you're still paying attention.
Justin Rose -- Gives belated appreciation to an under-the-radar campaign (nine finishes inside the top six).
Hideki Matsuyama - Changes "Big Four" conversation to "Big Five." You laugh, but I bet more than one writer would utilize such labeling.