News
The WGC-Match Play Selection Special Retro Diary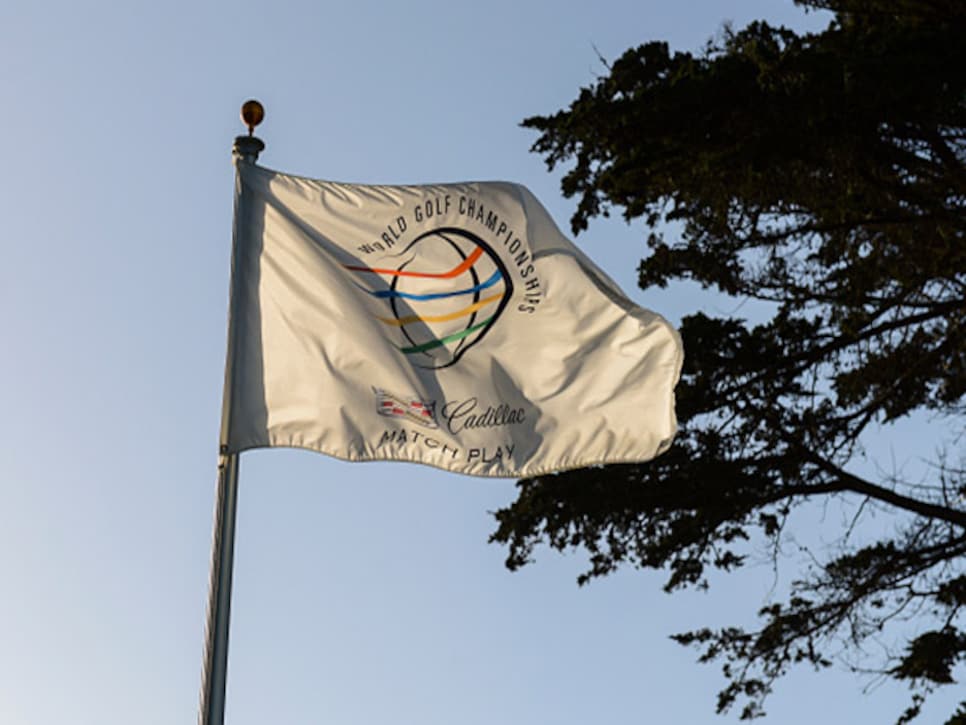 You know the story by now—the Match Play Championship has undergone a huge makeover, and the 2015 version will depart from its predecessors in venue, sponsor and format. We're through with Accenture, for one—Cadillac has stepped in to take over the year's second WGC event. We're also through with the unpopular desert course at Dove Mountain, which has been replaced by TPC Harding Park, a gorgeous track just steps from the ocean in San Francisco. The biggest change, though, comes in the format—instead of a 64-man, single-elimination tournament that made for an exciting Wednesday but a very unpredictable weekend, the PGA Tour has made a brilliant fix to keep its stars in the mix for at least three days.
I've heard an annoying amount of chatter about the new format being "difficult to understand." It's not. It's emphatically, unequivocally not. Let me explain the new format to you in two sentences. There are now 16 groups of four golfers each, and from Wednesday through Friday, everyone will play round-robin matches again the three other golfers in their group. The 16 group winners will advance to a single-elimination bracket that will resolve itself in four rounds on Saturday and Sunday.
Done! Not confusing, right?
Best of all, the Golf Channel decided to hold a selection show on Monday afternoon to pick each of the groups. As a college-basketball fan, I am adamantly in support of selection shows in general, and since the Match Play Championship is my favorite non-major of the year, this was right in my wheelhouse. There was no way I was missing this. Truth be told, there was no way I wasn't loving this. I set my DVR to record, and now I'm going to take a page out of Bill Simmons' playbook and revisit the 90 minutes that kicked off April Madness in a retro diary.
Let's hit play, and while we're at it, let's pray for a Patrick Reed-Harris English match-up.
0:00 — We open with aerial shots of San Francisco's Golden Gate Bridge, and the words, "match play is the purest form of golf." I have no idea what that means, and I suspect that it's nonsense, but I'm so excited that I don't care. Purity! Old Tom Morris! Stroke play is nothing but a damn gimmick, just like the forward pass in football, and the dunk shot!
0:01 — They just showed Jim Furyk in a side-by-side shot with Dustin Johnson, which is like seeing a throw pillow next to a live grenade. Very unsettling.
0:02 — THEY HAVE PING-PONG BALL LOTTERY MACHINES! Yesss. On one hand, this means the process probably isn't corrupt, which is something I was secretly hoping for. On the other, we get the kind of suspense that only pneumatic tubes and repurposed plastic balls can deliver.
0:02--0:14 — Talking and commercials. Note to Golf Channel: If the NCAA basketball selection show is only an hour, you can probably make due.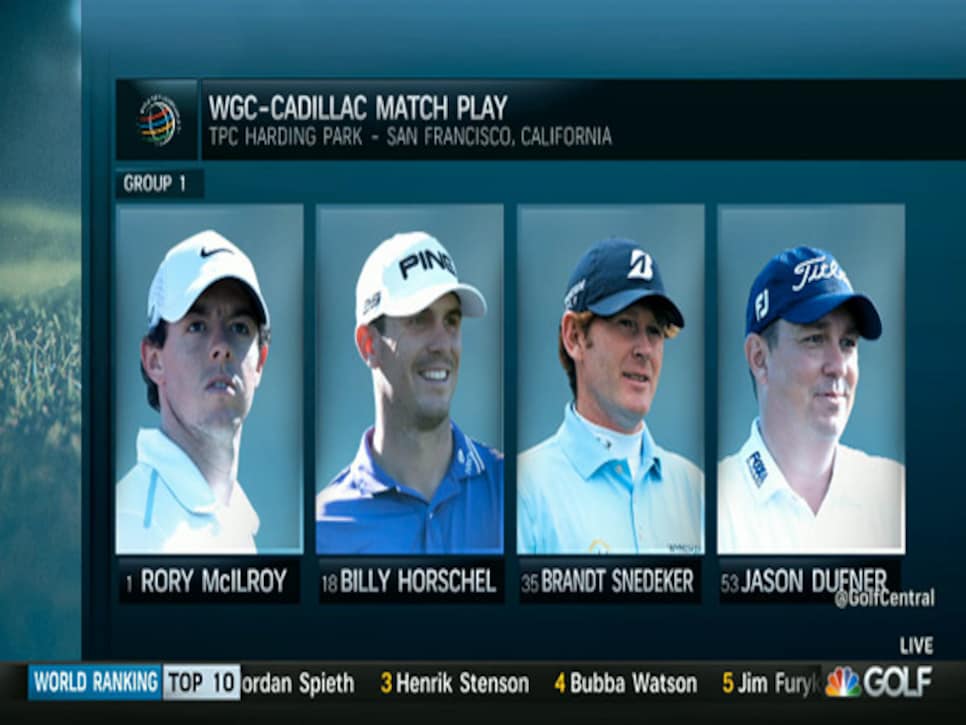 0:15 — Our first group! And holy hell, is it a doozy. Rory, Horschel, Snedeker and Dufner. There goes the suspense about the group of death, because this is it: There won't be a better group than the No. 1 player in the world, the reigning FedEx Cup champ, this year's Pebble Beach winner and a slim, single Duf-Daddy.
0:16 — "You always have to watch out for Brandt Snedeker," says Tripp Isenhour, which makes Snedeker sound like the one dog in the neighborhood that gets into everybody's garbage.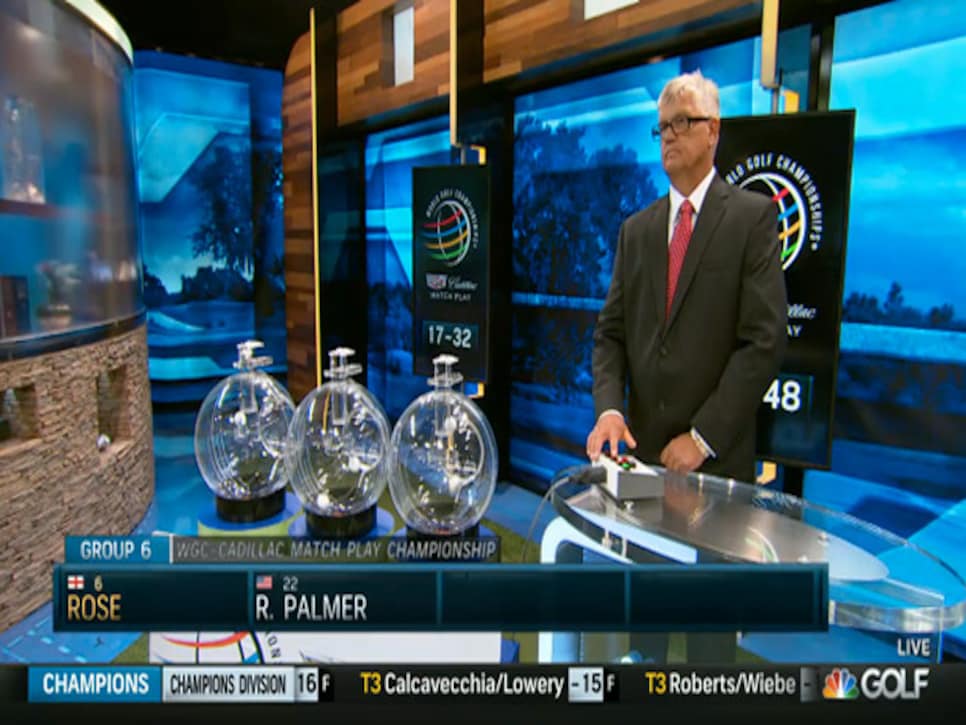 0:17 — PGA Tour rules official John Lillvis (above) is the man in charge of the ping-pong balls, and he cuts a very stoic figure. I think deep down, he understands that this is the most important thing he'll ever do in his life, in golf or otherwise. Personally, I would trade everything to be in his shoes right now. However, I'm deeply concerned that there's no oversight to keep him from slipping number decals onto the balls before the camera zooms in. Who's officiating the rules official?
0:18 — Matsuyama, Na, Luiten and Levy are Group 16. Group of death ... by boredom. (I actually really like Matsuyama, but the others make Charley Hoffman look dynamic.)
0:19 — Group 8 has Dustin Johnson and Victor Dubuisson, both terrific match-play golfers. But you know how you always hear people ask, "if you could dinner with three people, dead or alive, who would you choose?" If you actually get the chance to do this, my gentle advice would be to avoid these two gentlemen. Unless you love experiencing the emotion of bafflement.
0:20 — With Charl Schwartzel and Matt Jones joining them, Group 8 is our first four-continent group. I'm not sure why I like this so much, but I do. It's like watching four armies converge on Game of Thrones. Dubuisson would totally be a Lannister. DJ would be Hodor.
0:22 — Ryan Burr is killing it as host with his big board of names. He treats his giant graphics with the same seriousness as the CNN hosts on election night, but unlike CNN, the Golf Channel doesn't need 18 pundits with laptops and bad opinions to support him. Burr is a one-man army. He hasn't cracked a smile once. A real pro.
0:23 — Chris Kirk has the most sneaky toughness of anyone on Tour—remember when he out-gunned Rory over 36 holes at the Deutsche Bank last year, and Tom Watson just sort of ignored it?—and he's going to win Group 9 over Adam Scott, Paul Casey and the better Molinari. Mark that one down.
0:28 — The player I'd least like to face in match play is Bubba Watson. Not only is he super long, but even if he wins, he's probably going to complain a lot and yell at spectators. It just seems like an unpleasant experience. Oosthuizen, Bradley, and ... oh my God ... MIGUEL ANGEL JIMENEZ are in his group. Bubba and Jimenez play Wednesday, and if you've ever wondered if you're a bad person, simply tune in and see if you're rooting against Jimenez. If yes, turn yourself in to the nearest police station.
0:30-1:00 — The groups keep coming, and there are some dandies. Rickie Fowler got totally screwed by drawing Graeme McDowell, who may eat him alive. Spieth and Every landed in the same group, which gives us the most polished young player in the game versus the most outspoken. Justin Rose, Jason Day and Patrick Reed came away with the best draws, and will probably steamroll their way to the Sweet 16 (but no Reed-English, sadly). Group 14 managed to out-dull Group 16, courtesy of Kuchar, Mahan, Gallacher and Ben Martin. As far as dark horses, I'm loving Brendon Todd in Group 3 (the Stenson group) and recent Euro Tour winner Thongchai Jaidee in Group 5 (Furyk). Group 12 will fly under the radar, but it's terrific: J.B. Holmes, Brooks Koepka and Russell Henley, who went 5-0 in NCAA match play at Georgia for his career. Then there's Group 11, which delivered a Walker-Poulter Friday match that will hopefully see them both at 2-0 and fighting for the weekend.
1:00 — I love this tournament so much. Can we get the person who re-designed the format to tackle the FedEx Cup next?
1:01 - 1:29 — There were four players interviewed over the course of this special: Harris English, Jamie Donaldson, J.B. Holmes and Jimmy Walker. Apparently Charley Hoffman wasn't available.
1:30 — That's a wrap. All in all, a terrific special that only has me more stoked for the most unique event of the year (shut up, Stableford scoring nerds). I will be glued to my TV for five straight days beginning Wednesday, and this was a tasty appetizer. In fact, I take back what I said before about the length—next year, let's make this an all-day, eight-hour special, triple the size of Ryan Burr's player board, sign Dubuisson and DJ up as co-hosts, put John Lillvis in a wizard hat and a black robe and declare the whole thing a national holiday.