WGC-Dell Match Play
Scottie Scheffler, Rory McIlroy are one win away from creating epic goodbye for WGC-Match Play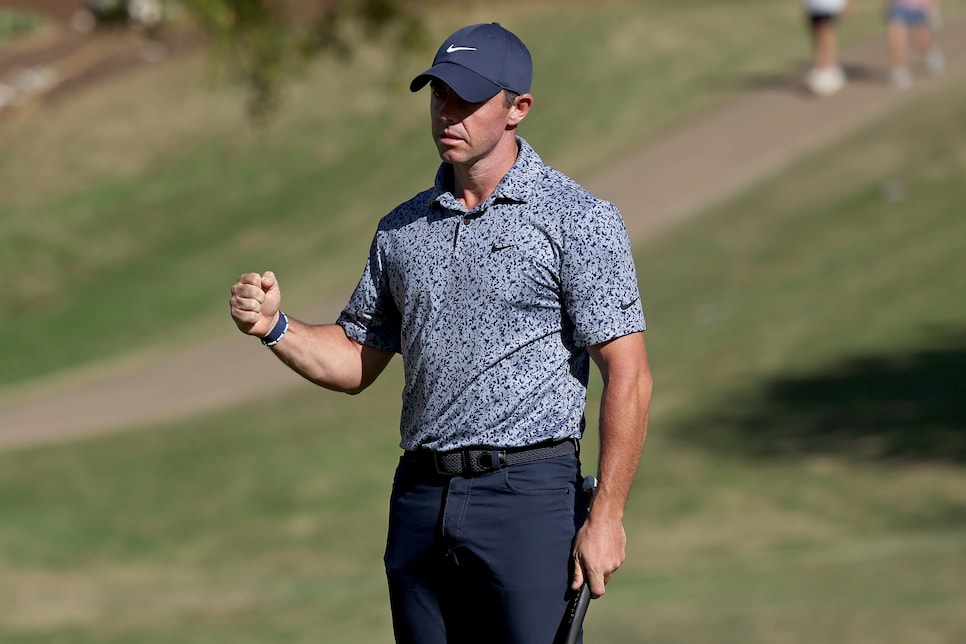 Rory McIlroy reacts after making birdie on the 18th hole to beat Xander Schauffele 1 up in the quarterfinals of the WGC-Match Play.
Harry How
AUSTIN — Someday, when we're talking about the old WGC-Match Play events and remembering all the winners, it will be worth taking a moment to recall the hot Saturday afternoon in 2023 when, minutes apart, Scottie Scheffler ended his quarterfinal match against Jason Day with a near-ace and Rory McIlroy buried a 12-foot birdie on 18 to advance against Xander Schauffele.
Perhaps we'll be able to say they were on a path for a poetic meeting in the last Dell Technologies Match Play at Austin Country Club. Or perhaps not—we'll have to wait until Sunday morning and their semifinal matches to know for sure. Regardless, it was the kind of conclusion, amid a crowd brimming with energy and a certain debauched spirit, that this tournament seems to deliver on a regular basis, even as its detractors moan about TV-unfriendly weekend hypotheticals that never seem to happen.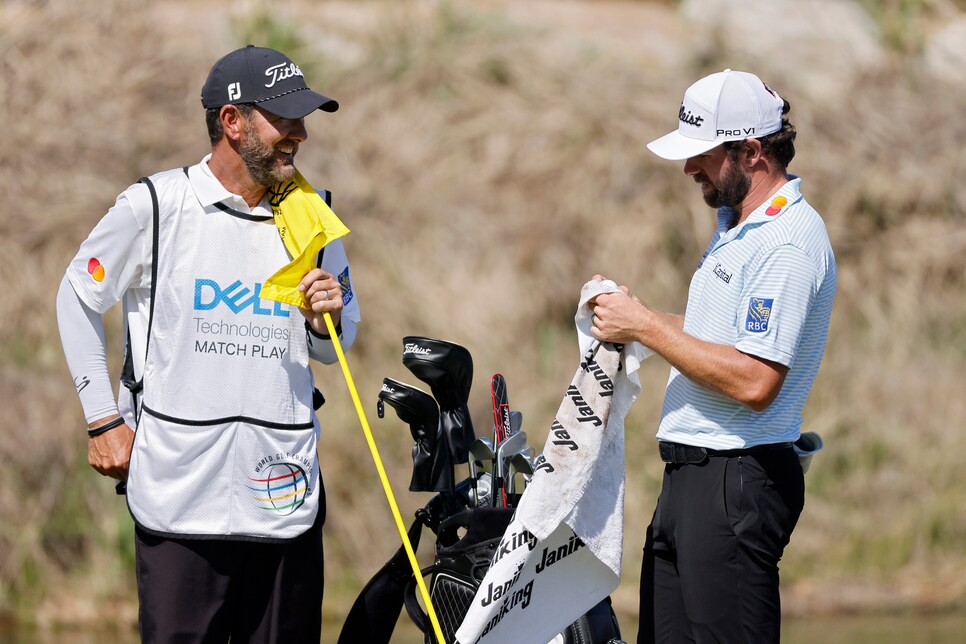 Cameron Young, with new caddie Paul Tesori on his bag, has reached the Match Play semifinals for the first time.
Mike Mulholland
Of all those tremendous weekends past, this might have been the most rewarding quarterfinal finale yet: the World No. 1, Scheffler, came from 3-down to beat Day; McIlroy outdueled Xander Schauffele in a tremendous Ryder Cup rematch; Sam Burns defeated Mackenzie Hughes 3 and 2; and Cameron Young led for all but the first three holes in beating Kurt Kitayama 1 up.
Early on Sunday morning, Scheffler takes on Burns, one of his closest friends on the PGA Tour, and McIlroy draws Young­—and the large portion of the crowd will no doubt be rooting for a dream final between the defending Match Play champion and Texas alum in Scheffler and World No. 2 McIlroy, who holds four major championship titles and won the 2015 Match Play.
It didn't look good for that possibly final early in the quarters. Day, newly rejuvenated and very much back in top match-play form, followed up his morning victory against Matt Kuchar—a win that denied Kuchar the outright match wins record over Tiger Woods—by winning four of the first six holes against Scheffler.
"There's not much you can do," Scheffler said of the start. "I think he birdied 1 and birdied 4, 5, and then eagled 6. So it's, like, hey, man, if you're going to do that, then tip my cap to you; that's just good golf and there's nothing you can do to stop it. If he was to keep up that pace for the whole round, I would just say the same thing; just take my hat off, shake hands and tell him great job."
At that point, Day sought medical attention for an issue that was initially reported as vertigo, but later changed to allergies. Whether it was feeling poorly that halted his momentum, or whether he was bound to cool off, Day cooled off. He made bogey on 8, Scheffler buried a 29-foot birdie on 9, and though Day held him off for a couple more holes, Scheffler's birdies on 12 and 13 gave him his first lead of the match. Then Day yanked his approach on 14 almost into the water, and gave another hole to Scheffler, and the World No. 1 hit perhaps his most important shot of the match on the par-4 15th, burying an eight-foot birdie putt with Day just four feet away. They split that hole and traded birdies again on 16 before Scheffler's dynamic shot on 17 to effectively end the match:
As soon as Day got to the green and saw how close Scheffler was, his hat came off to congratulate the winner. Scheffler has now played just three WGC-Match Plays and made the semifinals in each. On Sunday, it could be three straight finals for the two-time defending champ. His record overall is 15-2-2, including 10 straight wins, which is somewhere beyond spectacular.
One match behind him, McIlroy underwent a similar narrative, falling 2 down to Xander Schauffele on the front nine before engaging in a seesaw battle that saw him chip the margin to 1 down heading into the 13th. A McIroy birdie there tied things up, and then it was pure nerves for 14 through 17, when Schauffele had the better opportunities. McIlroy nearly chipped in his second shot on the par-3 17th, but decided a bad putt is better than a bad chip and managed to save par and dodge the biggest bullet of all when Schauffele pulled his short birdie attempt.
"I felt like I definitely had the better of him," Schauffele said. "I had looks where he didn't, and he made putts when I was just kind of waiting around."
McIlroy was on fire from five to eight feet, and it kept the match all square as they strode to the 18th tee. There, a handful of reporters and volunteers scurried to the woods' edge, hoping to see from straight on a repeat of McIlroy's wunderdrive from Thursday. Instead, he pulled his shot left into a stand of trees beside the fairway. The outcome was unclear, and the same could be said for Schauffele's drive, which also went left, though not as far left as his opponent's. As the players walked up the fairway, there was one ball behind a tree, having caught a branch or trunk, and the shot would force the player to make an awkward punch. McIlroy fully expected to see his TaylorMade—since his shot seemed worse—but instead, it was a Callaway.
"He thought it was his ball when he walked up and then kind of walked past it," Schauffele said, "and I was, like, oh, my goodness, no way."
Or, as McIlrloy put it, "You need a little bit of fortune in these things."
McIlroy was farther up, still to the left of the fairway, but with a clean look. Schauffele attempted to pull off a miracle punch around the left side of the tree, but it couldn't quite catch the slope to get a rightward bounce, and settled off the green. Meanwhile, McIlroy pitched to 12 feet, and wasn't interested in testing fate on an extra hole:
"I think winning the Match Play is always a massive accomplishment because of what you have to go through," McIlroy said. "It's seven rounds, and especially this week, I feel like a lot of my matches have been really, really close, so to be able to pull them out when I've needed to has been very gratifying."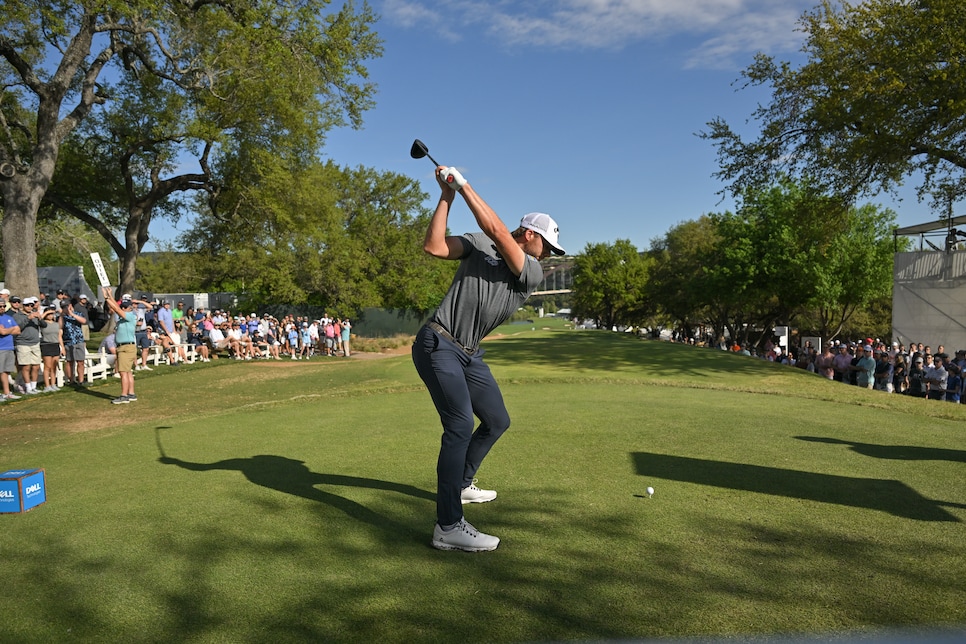 Sam Burns swings on the 12th tee box during the fourth day of the WGC-Match Play.
Ben Jared
McIlroy faces Young in the second morning semifinal, and the 25-year-old has been spectacular all week, winning all five matches. He never even visited the the last three holes before his tight quarterfinal against Kitayama.
As for Scheffler, he gets his good friend Burns, who hasn't been quite as stellar as the other three semifinalists by the statistics, but has been putting the lights out and winning close matches, including a nailbiter against Patrick Cantlay in the morning round of 16.
Golf has a way of frustrating our deepest wishes for a classic mano-a-mano duel, but if there was ever a time when perhaps the great clash of the titans seemed inevitable, it's this week at the final Match Play in Austin. The semifinal challenges will be massive for both Scheffler and McIlroy, but now they're just one win away from setting up what would be a spectacular sendoff for one of the most exciting non-majors on the calendar.
If you have to go out, you might as well go out on top, and there's nothing that would stir the appetite for an eventual match-play resuscitation—be it next year, 2025, or somewhere down the line—than a final that leaves us wanting more.