The Loop
Westwood back in the hunt once again, hoping 2013 will end his major-less run
GULLANE, Scotland -- Here he comes again.
With 15 top 10 finishes in major championships already behind him -- a number of those tantalizing and ultimately agonizing brushes with victory -- Lee Westwood is yet again in position to potentially end his Grand Slam torment. A second round 68 at Muirfield has the 40-year-old Englishman in good shape for what figures to be a hot and dusty weekend on the southern shore of the Firth of Forth.
Related: Was Muirfield setup fair?  Out in the relatively calm morning, Westwood made just the sort of fast start he must have been looking for. Soon enough he had wiped out the shot he dropped in the opening round and was out in 30 and four-under par by the turn. Another birdie came along at the par-4 12th hole, before three bogeys in the last six holes put a bit of a damper on proceedings. "I felt pretty comfortable," he said. "I was hitting the ball well over the first 12 holes. And putting nicely. Then the course got really difficult. The finish is tough. The last three holes are especially hard. So it's like most major championships. It's a grind out there."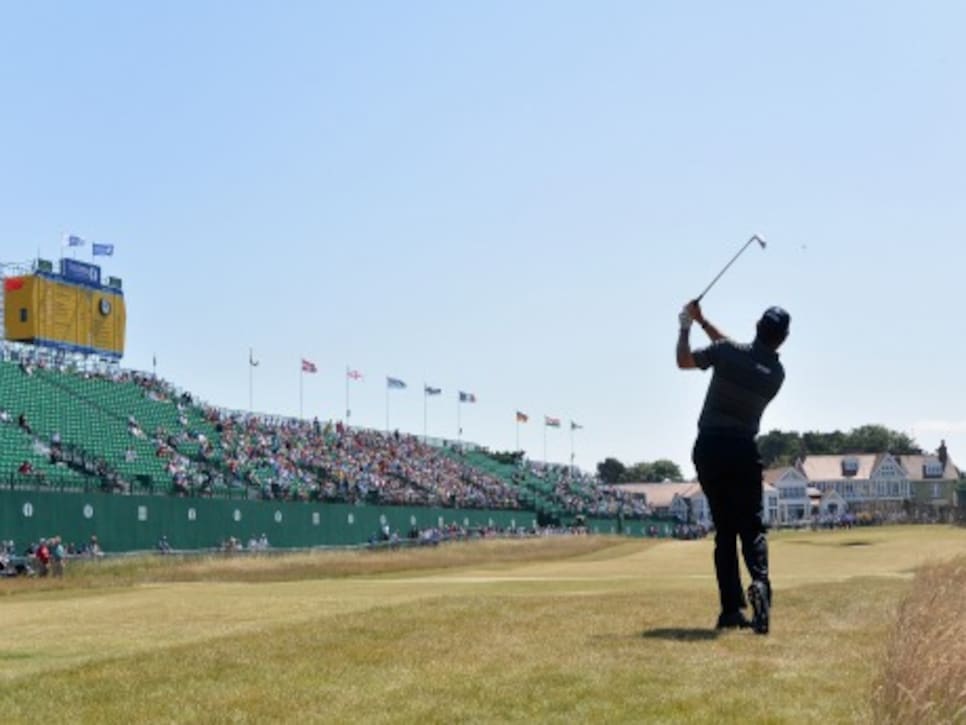 Faced with an easterly breeze -- the exact opposite of the previous day -- the field was forced to re-evaluate on most tees. For example, where the first had been the hardest hole on the course on Day 1, 24 hours later many players were taking irons off the tee and still reaching the green comfortably in two shots.
Related: GIF: Lee Westwood hits a drive into outer space  "It was a very different test today," agreed Westwood. "You come out in the morning and expect to have slightly better scoring conditions. And they were; the greens were slightly softer. I made pitch marks on the second and third greens. But they firmed up pretty quickly.
"I was pleased to be six-under par after 12 holes. I was playing some great stuff. But it was getting harder, tougher to score, tougher to get it close." Still, few are better equipped to cope with difficulties. One of the world's best tee-to-green, the dry, fast-running conditions allow players to putt from well off the parched greens. And that, given the newly-minted Florida resident's well-known (relative) weakness with the shorter, more lofted clubs, allows some welcome margin for error.
"We had an advantage this morning," he acknowledged. "Plus, I always seem to putt these greens well. I got a couple of tips on getting tension out of my arms and that has given me a bit more control. I'm getting the ball on line nicely. And I've gauged the pace as well. I'll kick back this afternoon on the couch and watch some others struggle."
Related: Rory McIlroy struggles to turn his mental game around Westwood's obvious satisfaction with both his form and his position was based on the fact that, pre-round, he felt one-over par for the championship would be right in contention. So to be two under represented a huge bonus.  "It could be leading at the end of the day, you never know," he said with a smile. Not that he was looking too far ahead. He knows better from bitter past experience. But there was no doubting his glee at being done early on what he clearly felt was going to be increasingly testing conditions. "I'm just concentrating on what I've got going on at the moment," he deadpanned. "I'm pretty happy-go-lucky and do my own thing. But watch this afternoon, then you'll see miserable."