The Loop
West Coast Swing: Clitz Busch
The West Coast swing continues...
I was back in San Diego for Thanksgiving. I met up with my parents, a brother, a sister, a niece and some nephews. I also got a chance to play with one of my Dad's golf buddies, Clitz Busch, a young man with a sweet swing and quite a  competitive bite. I had to birdie the last three holes to limit my losses to $5.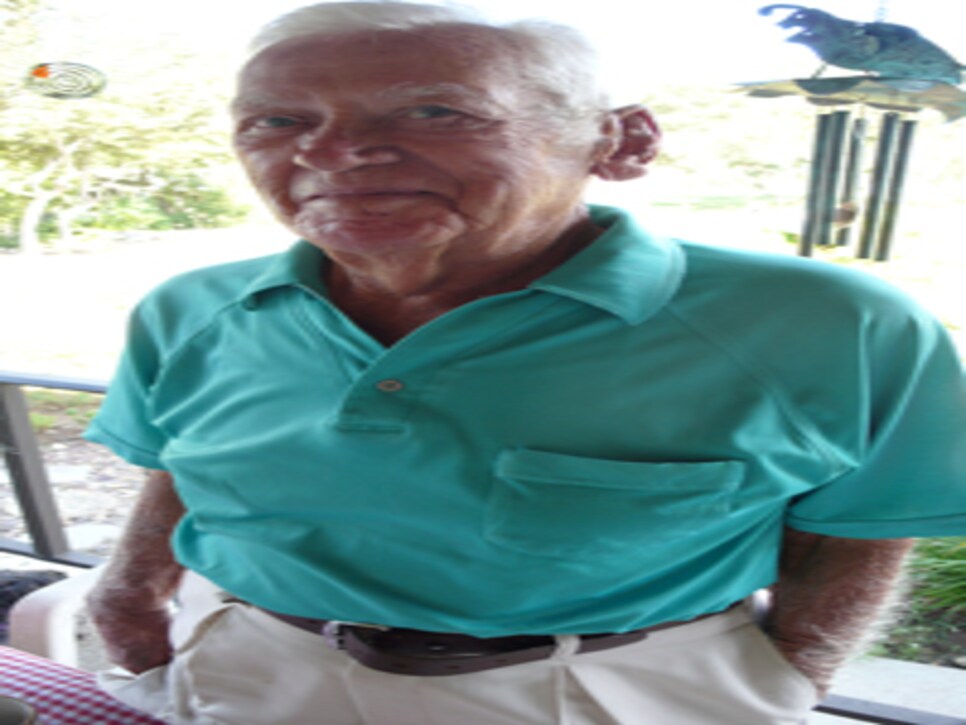 Busch, 90, plays five days a week, carries a 15-handicap and has 43 aces at his home course, Skyline Ranch C.C. Skyline has nine holes with two sets of tees so members have an option to go 18. It's a par 58, 2,818-yards with 14 par 3s and  four par 4s. As a guest, I pay $2 to play nine, $4 to play 18, but it's in good shape and there's no doubt, it's golf.
Busch's eyesight is fading and he'll tell you that once the ball leaves the club face, he can't see where it's going. If he can't see the flag on his approach shots, my Dad helps him get lined up using clock-coordinates: "The pin's at 4 o'clock, Clitz," my Dad will say. Clitz usually hits it to within the half hour, thus qualifying him as a true feel player.
During and after the round I had the chance to pick Busch's brain about golf, the swing and marriage.
You'll be 91 in March, how's your health?
I've had two surgeries on cancer of my bladder, I have high blood pressure, I can't see and I can't hear, other than that I'm in good shape.
How long have you been married to your wife, Jolene?
We've been married for almost 60 years.
What's the key to a successful relationship?
No. And my wife got rid of our computer because we were getting too many e-mails.
Any tips to somebody looking to improve their game?
I'd say 75 percent of all golfers need lessons. It's funny how so many people stay with making the same mistakes. You can get resolve with lessons from a pro without too much trouble. My contribution to the game was that I marshaled for 20 years when the pros came to San Diego. That's where I learned about the swing--watching their grips up close--that's when I started getting good.
When did you get your first set of clubs?
I was in the Navy in 1943 and I won some money in a poker game. I went ashore and bought my first match set. I can remember there weren't that many in the pro shop. I got a driver, a spoon, a mid-iron, a mashie and a niblick, which was like a pitching wedge.
What's your favorite course?
I have to say Pebble Beach. I played it once, in probably 1947. I paid $8. I was even par through six holes before the wind and the rain came. I didn't break 90.
Wait, you paid $8 to play Pebble?
Yes. I got ripped off. [Laughs.] I still have a receipt from a day I played Waialae Country Club in Hawaii in 1944. They charged us $1.50 back then.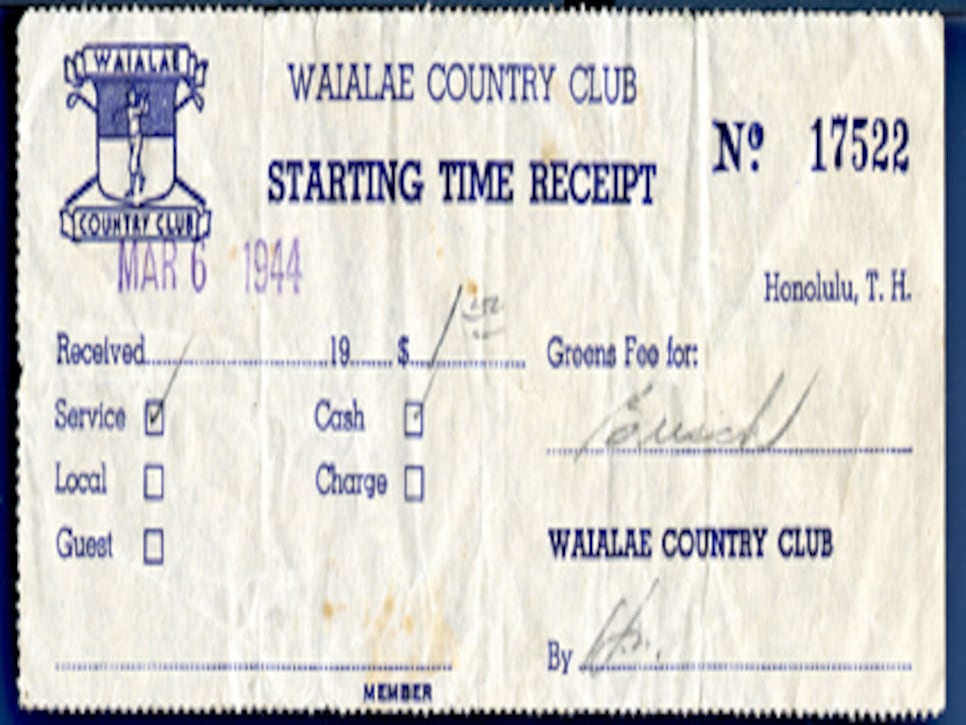 I read the recent article by Tom Watson in Golf Digest. I follow all of his points except one--drop the right foot back--I'm going to try that.
I have to ask, what's the story behind your name?
My name is Clarence, but my brother gave me the nickname "Clitz" when I was a little kid.
Here's a short video of Busch navigating his game:
Quite an inspiration, right? Especially for young guys like my Dad, who just turned 76.
Here's hoping we can all play five days a week when we're 90. As for playing Pebble for $8, that'll never happen.