PGA Tour
The rain would not go away Friday at the Wells Fargo, and Saturday looks even worse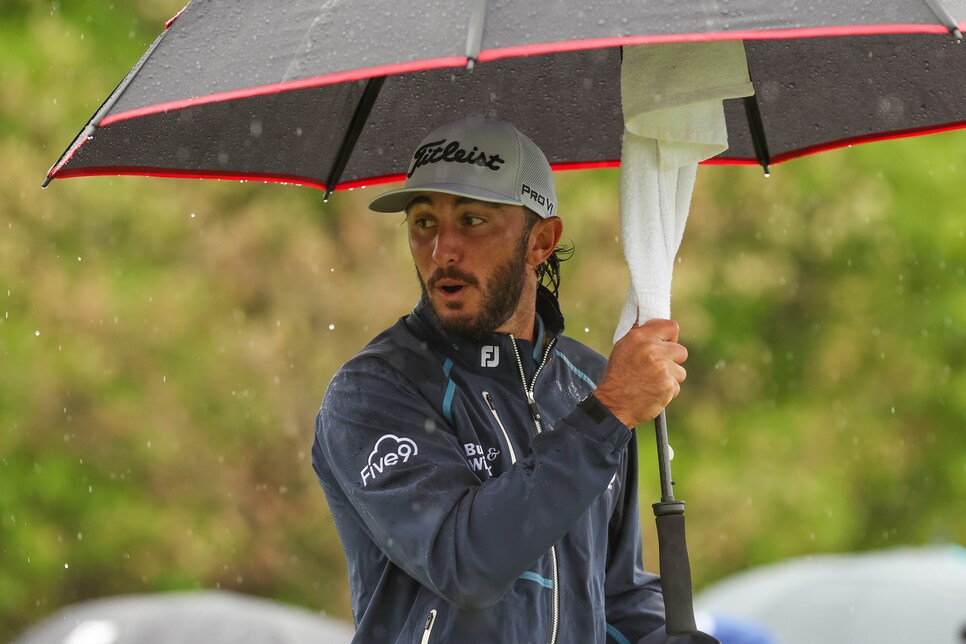 Max Homa walks under an umbrella off the second tee during the second round of the Wells Fargo Championship.
Gregory Shamus
POTOMAC, Md. — Max Homa figured they'd get eight holes in, and even that felt optimistic. The radar forecast around TPC Potomac on Friday showed green, yellow and some more green, promising to make the second round of the Wells Fargo Championshiip a slog that could well bleed into Saturday, when the weather's supposed to get even worse.
A semi-miracle then, that Homa—and the rest of the field—snuck in 18 holes, albeit 18 very wet ones. Even more impressive was Homa's four-under 66, tied for the best score of the day after Thursday yielded seven scores of 65 or less.
"I'm shocked," Homa said after posting a seven-under total at the halfway point, three shots behind 36-hole leader Jason Day, whom he played alongside in the first two rounds. "I told [caddie] Joe [Greiner] this morning I thought we might get to 8. The greens have held up really well. There's obviously a lot of puddling in the fairways, we're in a pretty low area here, but the greens held up. I don't know about the better end of it. We did just play 18 full holes in the rain, so it's hard to say we got hooked up, but maybe, who knows. I'm just happy to be done."
Happy to be done, and looking forward to some guilty-pleasure snacking.
"Jason [Day] and I have been talking about it for like two and a half hours, that we can't wait for it to be done and kick our feet up," Homa said. "I know he's got his bus here so he's going to go hang on the bus. I'm going to go sit on my bed and I think I deserve a soda after today, maybe some cookies, some kind of candy, I don't know. I'm going to kick my feet up."
If soda and cookies are his rainy day go-to, he'd do well to make a quick 7-Eleven run before he returns to the golf course on Saturday. The one-year-only move of this event from its normal spot, Quail Hollow in Charlotte, which will host the Presidents Cup this fall, to the D.C. area has coincided with a brutal weather week. The sun was nowhere to be seen on Thursday but there was no rain and wind, and the scoring average was nearly a shot under par on the par-70 layout. Friday's steady downpour made this already beefy track—there are just two par 5s, one of which is an increasingly rare proper three-shotter at 641 yards—play even longer, and the field averaged over 72.5.
"[The rain] does widen the fairways, widens the greens a lot, but they really didn't shorten the course all that much today," Day said after a 67. He's seeking his first victory since winning this event at Quail Hollow in 2018.
"I hit more longer clubs in today than I did yesterday. I felt like I had maybe a handful of 4-irons and 5-irons out there today and luckily enough I hit the majority of those close. But yeah, when you have conditions like this, it's really hard to commit to a shot because you're going in there and you're doing it kind of a lot quicker than your normal pre-shot routine, so you have to force yourself to hit the shot and trust that."
Commiting to shots is key—as is feeling comfortable playing with droplets falling off your clothes and hanging around on your clubs.
"I grew up in this stuff," said James Hahn, the San Francisco Bay Area native who's four back at six under. "This is kind of the reason why I left California is because of weather like this. It seemed like the year that I left, it was raining 100 days out of the year and so I would practice in this every day. So I feel comfortable. It kind of brings me back to the good old days when I was young and carefree and just wanted to go out and play golf."
Rory McIlroy also grew up with gray skies in Northern Ireland, but he looked more like a Floridian on Friday. The defending champion entered this week having not played competitively since his remarkable performance on Sunday of the Masters, when he shot eight-under 64 to finish solo second. He was four under through six holes on Thursday but played the rest of his round one over and faded from contention on Friday with a three-over 73 that was plagued by a number of wayward drives. Matthew Wolff also moved the wrong direction, matching McIlroy's 73 after an opening-round 65 that he said came virtually out of nowhere.
Denny McCarthy, who grew up 10 minutes away in Rockville, Md., and is staying with his parents this week, nearly fell over after he lost his footing on the par-4 13th, but somehow managed to find the fairway. He's at six under after two rounds and in good position to challenge for what would be a dream first PGA Tour victory.
Players will tee off earlier than anticipated—between 10:45 a.m. and 12:30 p.m. local time—on Saturday off both tees, the clearest sign that tournament officials are expecting a battle. Sunday should be dry, but temperatures are not expected to get to reach even 50 degrees. In addition to the soda and the cookies, Homa might want to invest in some hot chocolate.