The Loop
Welcome to National Anthem Controversy Season, Baby!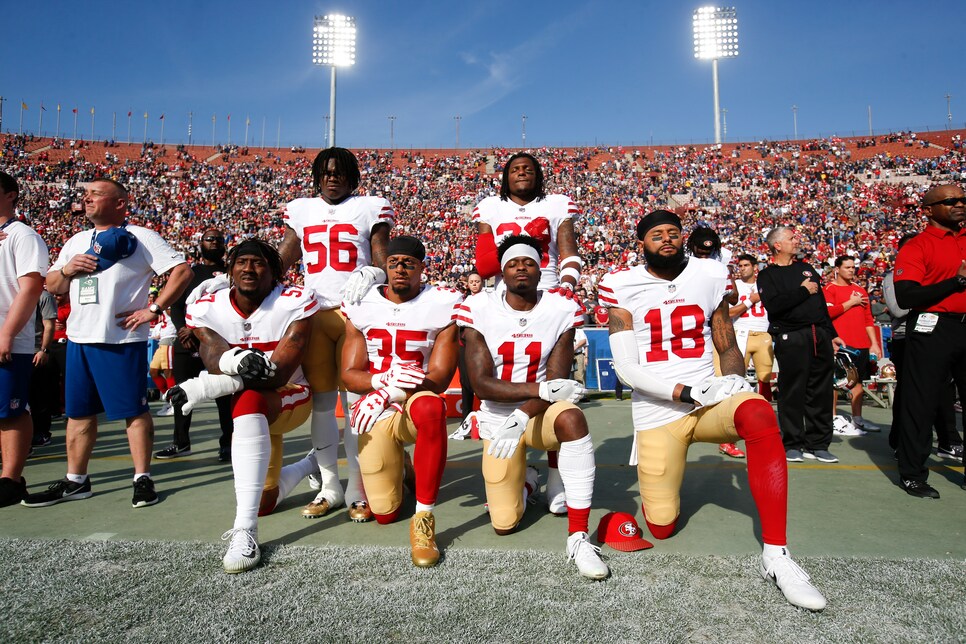 Hey everyone, NFL opening weekend is almost upon us, which means it's time for every American sports to gear up for the greatest time of the year: National anthem controversy season!
That's what I'm talking about! That's why I love sports! I wish other sports would have anthem controversies, because the discourse is so exciting and so useful that I hate to see it confined to the NFL.
Look, it's been a long summer. We've had to suffer through great tennis and great golf and the exciting NHL and NBA playoffs and the best World Cup in recent memory and a possibly historic baseball season. Sometimes, I'm not sure how we made it through. But we did it, guys! We soldiered on, and now it's time to listen to people argue about the national anthem for six months.
At the end of the day, this is what sports should be all about. You can keep your on-field drama, your breathtaking displays of athleticism, and your strategic coups—give me an annoying and endless morality play that is absolutely inescapable even if it's already driven you far, far away from the NFL.
The best part about it? It's a complete quagmire. Since it so perfectly reflects the bitter polarization in our country, there is absolutely no chance of meaningful resolution anytime soon. So if you were discouraged because all the forever wars happen overseas, cheer up: We're going to be fighting this meaningless culture war for decades!
Flop of the Week: Carlos Gomez, Tampa Bay Rays
That's enough sarcasm from me: Let's get to the real comedy! Carlos Gomez leads major league baseball in getting hit by pitches, mostly because he crowds the plate a lot, and I guess when you get beaned that much you start to get bored. Gomez clearly was sick and tired of the old "rub the bruise, walk to first" routine, and charging the pitcher was too cliche, so he opted for a classic soccer-style flop:
I love that, and it only makes me want more. More flops, more mound charges and fake charges, more tears, and maybe even a raucous celebration. Imagine someone getting hit in the ribs and and then reacting like they just won the World Series as they run to first? The entertainment possibilities are endless, and Carlos Gomez is a true pioneer.
The Owned Team of the Weekend: New York Yankees
The Yankees went into their four-game set against the Red Sox 5.5 games back, and even though there are still two months of regular season to play, it presented the chance for hope or disaster. Sweep them (unlikely), and suddenly it's a dog fight. Win three games, and there's hope. But lose three, or get swept? Then we're talking disaster.
It was a disaster. And not just because the Yankees lost all four games, and now sit 9.5 back in an impossible situation. It was the way they lost—an absolute thrashing on Thursday, two shut-down performances by Red Sox pitchers on Friday and Saturday, and then a dose of total heartbreak on Sunday for good measure. Leading 4-1 in the bottom of the ninth, Aroldis Chapman, normally amazing, managed to walk three batters and then give up a two-run single. Clinging to a one-run lead, this happened:
And then, one inning later:
That, my friends, is devastating. I'm a Yankee fan, and I woke up this morning to various stories about manager Aaron Boone saying "this won't define us!" That's nice and all, but it's never good when you have to make that explicit.
The stakes in the AL East are huge, as I've written before, because while the Yankees could very well end up with the second-best record in baseball (they trail the Astros by percentage points at the moment), a second-place finish in the division means they'll have to play a one-and-done Wild Card playoff, and even if they win it will screw up their rotation for the next round.
Of course, the divisional ship has sailed at this point. And the worst point is that the series exposed every weakness Yankee fans expected of their team all season—the feast-or-famine lineup that can get shut down totally by great starting pitching, and the weak bottom half of the rotation that can't hold up against a great offense.
Bottom line, I think we just watched a team die.
Endangered Record of the Week: Seattle's 116 Wins
Seattle won 116 regular season games in 2001, a record in the 162-game era, and that was good for a winning percentage of 71.6. The Red Sox are currently 79-34, for a percentage of 69.9. Granted, they would have to finish the season absolutely red-hot to get close to Seattle, but at this point it's absolutely possible. And I only bring this up because, well, Seattle didn't the World Series. And they got beat that year in the playoffs by...hold on, let me check the records...oh, it was the New York Yankees! Who would probably play Boston in the ALDS this year if they can win the Wild Card game. How very interesting!
Non-American Sports Thing of the Week: This Hurling Goal
Last week I included a darts highlight video which, though I didn't understand it at all, was pretty awesome. This week, I give you Irish hurling, and a man named Shane O'Donnell:
Now, it would be glib and fun to say something like "I have no idea what just happened, but I know it was great," but the fact is that I do have some experience with hurling. I spent a college semester in Dublin, and a few friends and I bought used hurling sticks and would occasionally drink beer and take penalty shots on a field near our dorms. In hurling this involves lifting the ball from the ground and hitting it in the air, and it's stupidly difficult. So I actually know how hard it is just to execute a basic move, which makes O'Donnell's goal all the more impressive for me. It's like a spectacular Lionel Messi goal, except in a sport that matters in literally just one country. In short, I have an idea of what just happened, and can confirm it was great.