The Loop
Weight Loss for Golfers: A tele-seminar
Golfers, overweight? Seven of 10 of them are, Larry Jacobs said, "and the other three are not in the best shape, either."
Jacobs is a weight-loss coach, who in recent years has turned his focus to golfers. He has another of his four-part tele-seminars, Weight Loss for Golfers, scheduled to begin on Sept. 28. A former aspiring tour professional, Jacobs, in addition to working with recreational golfers, has worked with those in professional golf circles, as well, including Dottie Pepper, Champions Tour player Allen Doyle and Don Trahan, the latter (pictured below, before and after) a swing coach and the father of PGA Tour player D.J. Trahan.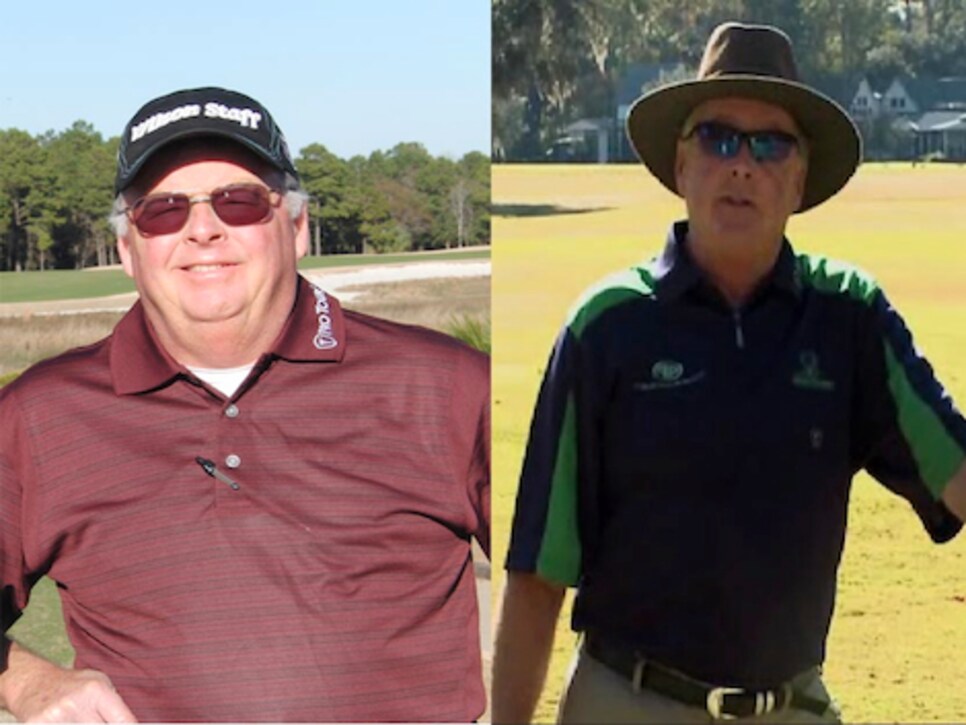 "I'm going to be 60 in October," said Jacobs, who established his reputation with his Thin for LIfe program that he began in the '70s. "A lot of baby boomers and seniors are headed onto the back nine of life, so to speak. Excess weight detracts from them being able to play this game the way they want.
"I merged my passion for golf with nicheing out my Thin for Life program and began working with golfers. I make the whole thing like a game of golf. The front nine is from the time you and I wake up until after lunch. The back nine is after lunch until it's time we go to bed. I like to make the claim that this is a game unlike golf, that you can shoot par or under almost every day of your life. Even if on the front nine you had a bogey or two, you've still got the rest of the day and can still shoot a decent score."
Jacobs promises results, provided one works his program, or he'll refund your money.
"I make a huge promise to them," he said. "I promise them that they can go from a fat storer to a fat burner in two weeks or less without dieting, starving or counting calories, or your money back. That's a pretty big promise.
"It's a simple format. We're not using any kind of high-tech anything. Just a knife and fork, sneakers and a certain way to think. People have had tremendous turnarounds."
Each session lasts from 60 to 90 minutes and can be viewed or heard in a number of ways. There are call-in sessions, too, with Jacobs answering questions either by email or phone.
The cost of the Weight Loss for Golfers tele-seminar series this month is half price, $497. Jacobs wouldn't give specifics on how it works, but suffice it to say it doesn't recommend a hot dog at the turn.