The Loop
Weekend Tip: Hit it farther like this wounded veteran
If you've been wondering why I've been AWOL from the Instruction Blog the last two weeks, it's because I've been on the most awesome golf trip anyone could imagine. I just spent the last 12 days touring the greatest courses of Ireland with 11 wounded veterans who play golf as part of their rehabilitation. The experience has been the most rewarding of my life. To read my blogs about the trip and see a slideshow, click on the link here.
All of these veterans are inspiring beyond belief, playing golf with traumatic brain injuries, with only one arm or one leg--or even no legs. Take Marine Sergeant Tim Lang, for example. He lost his right leg in a bomb blast in Iraq. The explosion sent him 75 feet into the air and he landed on pavement, breaking his back in four places. During his recovery at Walter Reed he met Jim Estes, a PGA professional who founded the Salute Military Golf Association (SMGA). Estes convinced Tim to try golf. Less than four years later, Tim is an 8-handicapper and won a long-drive championship. I played with him at Dooks and Royal County Down. He averages close to 300 yards off the tee, and that's no exaggeration.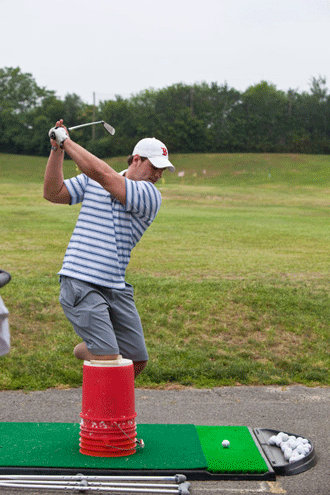 Marine Sergeant Tim Lang and his makeshift practice aid that promotes a free arm swing.
The photos here show how he developed his incredibly powerful golf swing, and it shows what Bob Toski and Jim Flick have long said: Distance comes from the free releasing of the clubhead through impact, not from a powerful lower body. The lower body provides stability, but a relaxed grip pressure and free arm rotation through impact, coupled with solid contact and a correct angle of approach, is what really creates optimum ball speed. I've seen very few people compress the ball as well as Tim does.
As part of Tim's rehab two years ago, he devised a prop for his right leg that he made from plastic paint containers mounted on each other, adjusted for the correct height. He glued foam he found at a furniture store on top of the cans to protect his knee. [#image: /photos/55ad75edadd713143b426eda]|||Tim-2A.gif|||
This allowed him to hit 500 balls a day. He was successful in a tournament using his prop (below), bringing it onto the course for all his shots, even putts.
The next time you hit balls, you might think of Tim and his paint cans. Try to keep your lower body as stable as he does, making a complete backswing. After setting the club in a good position at the top, keep your shoulders turned and simply swing your hands and arms down, delivering the clubhead into the ball on an inside path.
You'll be amazed how much distance you can generate--and how straight your shots will go-- when you simply allow your arms and hands to swing the club freely.