The Loop
Weekend Tip: For a Fried Egg, Leave the Clubhead in the Sand
In the November issue of Golf Digest, just out on newsstands today (Ernie Els on the cover), Golf Digest Teaching Professional Rick Smith presents a very effective tip for that horrible predicament--the buried or fried egg lie in the bunker. Follow what Rick has to say if you have this problem this weekend, and you'll get the ball out every time. And remember to follow me on Twitter @RogerSchiffman.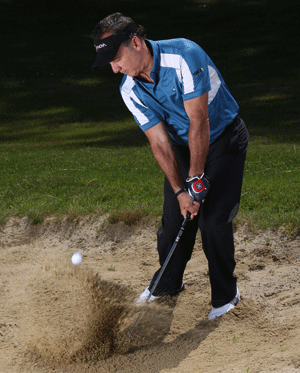 To dislodge the ball from this lie, you need to make a few adjustments from your traditional greenside-bunker swing. Take your normal bunker stance, including opening the face of your most-lofted wedge, but instead of having the club enter the sand two inches behind the ball and skimming through it to a full finish, I want you to leave the clubhead in the sand.
You're going to make a steep swing that enters the sand just behind the ball with a lot of downward force and no follow-through. This type of swing will thrust the ball out with a whole lotta sand.
Keep in mind the ball will roll more than usual when it lands, so it might be tough to get it close to the hole. But you can't ask for much else than to be putting after facing this awful lie.