The Loop
Weekend Starter: Will Tiger Woods play in the Masters? (UPDATE: No, but there's still other stuff to talk about)
With all the great storylines heading into the Masters, the thing people seem to want to talk about most is whether Tiger Woods will tee it up next week at Augusta National. From trying to read into a Tiger tweet to trying to decipher the activity of Las Vegas sportsbooks, people are looking for any sign that might indicate his playing plans. Wait a minute, is that Tiger on his way to Augusta now?!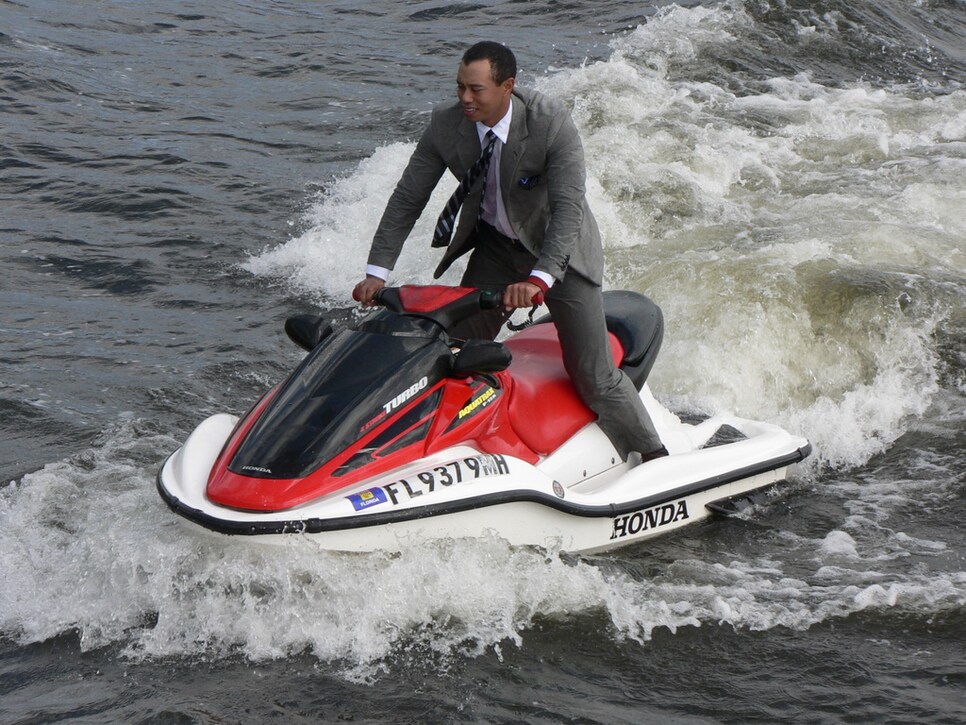 Woods, of course, is still recovering from two off-season back surgeries. As far as anyone knows, he's been limited to chipping, putting and that 9-iron on a simulator he shared with the world. Might he be at Augusta National for the Champions Dinner? Sure. But he will not hit a shot on Thursday unless he's filling in for Arnold Palmer as an honorary starter. At least, we're 99 percent sure of that. . . Either way, don't believe anything you hear on April Fool's Day.
UPDATED: At 8:05 on Friday night (late even for Tiger as far as news dumps), Woods announced he will NOT be playing in the Masters (I was right!), but that he will attend the Champions Dinner. We're still trying to confirm if that was him making his way to Augusta on a jet ski today. . .
And if you're tired of talking about Tiger, here are some other things to discuss on the golf course this weekend:
1. The Masters: We promise, no more Tiger talk. OK, starting. . . now! The year's first major championship is upon us, and again, there are so many great storylines. Can anyone beat Jason Day? Will Jordan Spieth repeat? Does Steve Williams Adam Scott have another major in him? We can't wait for next Thursday.
2. Robert from Wheel of Fortune: From the best golfers in the world to the best game show contestant in the world. Check out what Robert Santoli did on a recent Wheel of Fortune, which stunned even host Pat Sajak:
This would be like someone winning the Masters with a score of 30 under.
3. The Final Four: Despite being in an auction pool, two normal bracket pools, a knockout pool, and an upset pool, I was eliminated from all before the Sweet 16 was finished. That's probably why I'm not excited for this as usual. Plus, one semifinal pits a team (Syracuse) whose coach was suspended nine games this year for NCAA violations vs. another school (UNC), which is currently under NCAA investigation. Heartwarming!
4. James Kiki's bracket: It could be worse. I could have the best bracket going in the country and still have NO shot at winning. That's the sad case of James Kiki, a refugee from Sudan, who works in Syracuse and currently has the best of more than three million entries on Yahoo!'s contest to win $50,000. What's the problem? He forgot to pick a winner in the championship game. Ouch. "I don't want to think about it," Kiki told Syracuse.com. Don't blame you, man. Kiki said he meant to pick Villanova over UNC in the title game. Guess that means we're both rooting for Oklahoma on Saturday. . .