The Loop
Weekend Starter: The Spelling Bee, Kesha's stirring performance, and what's up with Jordan Spieth?
It's a question that's been circling the golf world for several months now: What's up with Jordan Spieth? The answer? Not much has changed. Sure, people will point to the back-nine collapse at Augusta National and a couple of missed cuts, but when did we start expecting perfection from golfers? Oh, right, Tiger Woods. But seriously, the level of concern around Spieth's game this year has been a bit much.
Coming off one of the great seasons in golf history, it's natural for expectations to heighten. Has Spieth played to the same level in 2016? No, but he's not as far off as people are making it seem. In 12 PGA Tour events this season, Spieth has finished T-21 or better in all but the two starts in which he missed the cut. He has an eight-shot win and a runner-up at the year's only major. Yes, that one didn't end how he would have hoped, but would we even be talking about him struggling if he had come from behind on Sunday to finish T-2?
For all the recent criticism of his ball-striking, Spieth still ranks 16th in strokes gained tee-to-green -- not that you could tell by how hard he is on himself when he hits a bad shot, something he's trying to correct.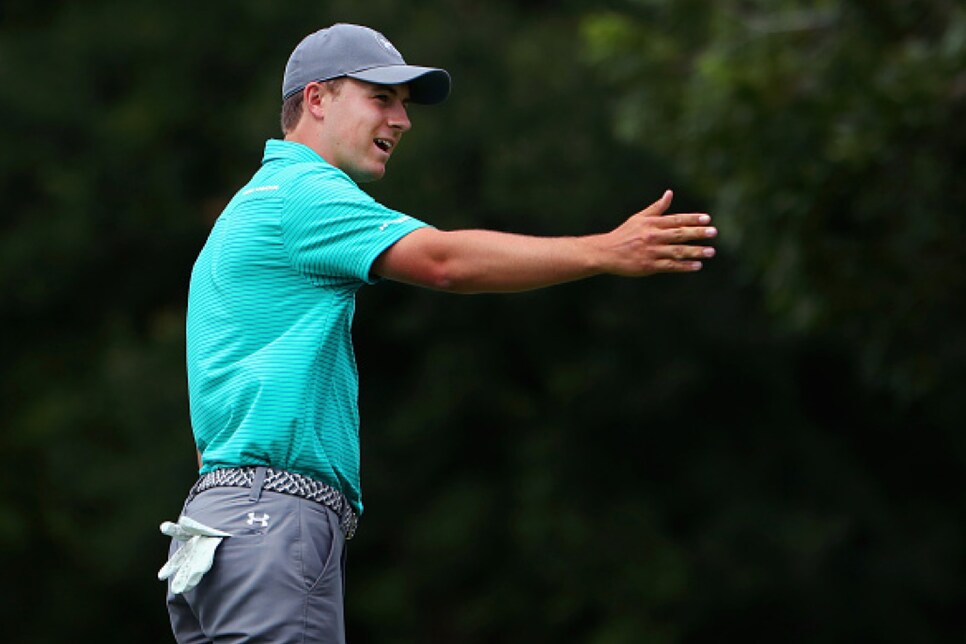 It's not last season when he finished fourth, but it's pretty good. His strokes gained putting has slipped from ninth to 32nd, but again, pretty good. And his opening 67 at Colonial was pretty good. Add it all up and he's having a pretty good season. It's not the great one he had last year, but that can change in a hurry. He'll enter next month's U.S. Open at Oakmont having seriously contended in the last FIVE majors. Would you seriously bet against him not being in the mix again? In any matter, here are five other topics that we'll be talking about on the golf course this weekend:
1. Dean & DeLuca Invitational: Yes, there's a new title sponsor, but it's the same old Colonial. And it's a solid field that includes, yes, Jordan Spieth. By Sunday evening, the Texas native could totally change the mostly negative narrative that's swirling around his season.
2. NBA Playoffs: We've got some major excitement with the defending champs on the ropes after the greatest regular season in league history. The Golden State Warriors stayed alive on Thursday night (Funny, people weren't saying Steph Curry was injured as he strutted around for 31 points...), but they still face a 3-2 deficit and a trip to Oklahoma City on Saturday night. Sadly for them, a loss would make those 73 wins in the regular season look a lot less impressive.
3. Kesha: The pop star drew a standing ovation for her performance (along with my main man Ben Folds) of Bob Dylan's "It Ain't Me, Babe" at the Billboard Music Awards. The performance wasn't going to happen due to Kesha's ongoing legal battle with her producer, but thankfully, it did. With all apologies to acts like Pitbull, this is artistry:
4. Spelling Bee: Despite serious basketball and hockey going on Thursday night, it was this event that stole the spotlight. I flipped over midway through the final showdown between Nihar Janga and Jairam Hathwar -- and I couldn't turn away. The two went back-and-forth spelling words I couldn't even begin to announce before they were finally declared co-champions after 25 rounds. The event also included a couple of incredible moments like this:
In the end, though, it was all class, sportsmanship, and jaw-dropping spelling. Well done, guys.
5. Stanley Cup Finals: Admittedly, I know nothing about this. Only that the Sharks will take on the Penguins and that somewhere, there's probably a great wildlife joke to be made. Oh, and I know the Sharks hail from San Jose and the Penguins are Pittsburgh's team. Is Mario Lemieux still playing? Kidding. Watch out for Sidney Crosby. I hear he's pretty good... hockey knowledge!