The Loop
Weekend Starter: Should tour pros be allowed to play in shorts?
Earlier this week, the European Tour decided to allow players to wear shorts in practice rounds. This was a big deal because anything in golf that involves even a little bit of change is a big deal. Keep in mind, the new policy doesn't affect tournament rounds, and yet, the whole ordeal was treated as some sort of huge revolution. To quote the great Allen Iverson, "We talkin' about practice, man."
Really, what are we making this such an important issue? Does your weekly foursome enforce a strict pants-only dress code? Who cares if players want to wear shorts during practice rounds? Who cares if they want to wear shorts during actual rounds?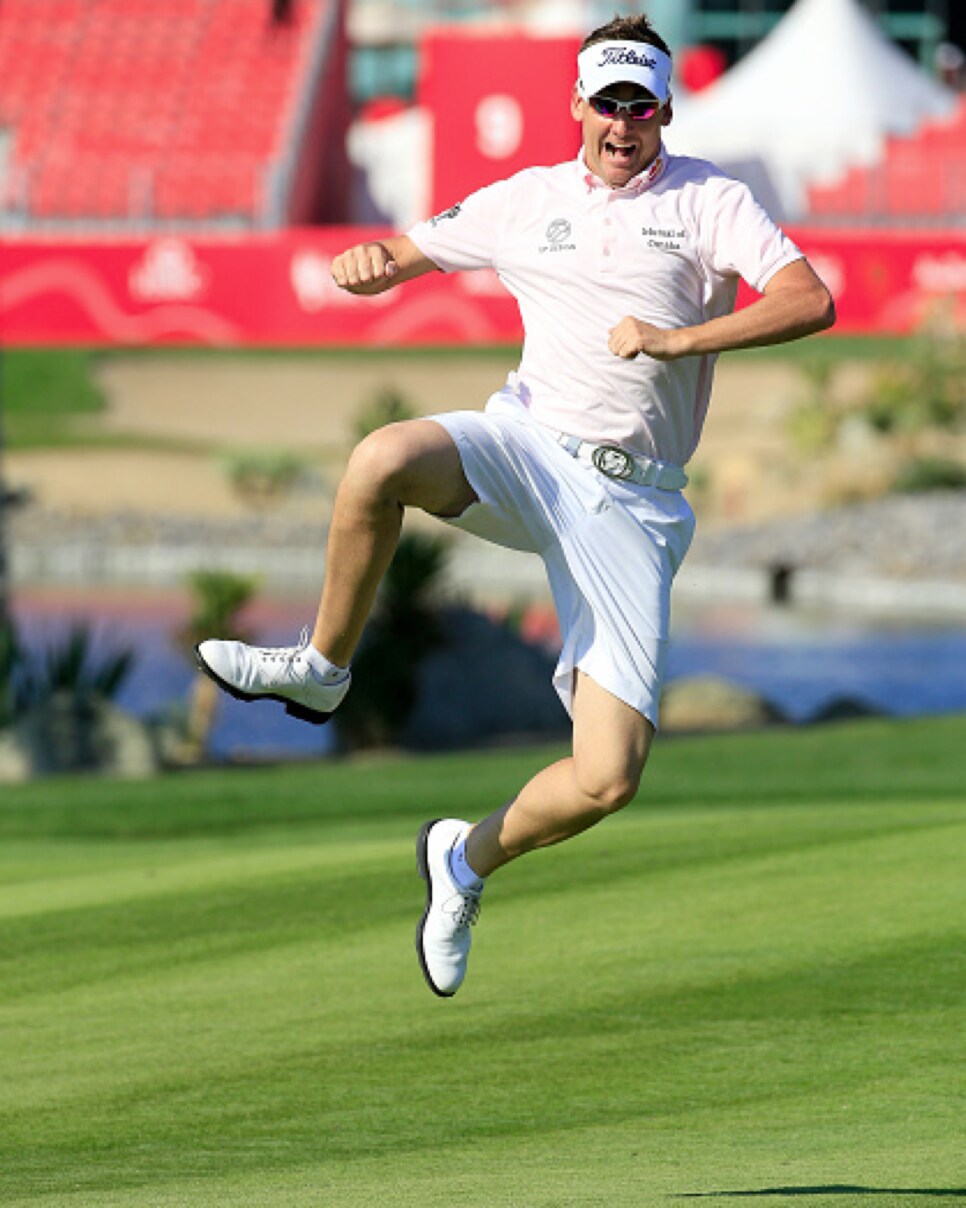 If it's going to make these guys that happy -- and keep Ian Poulter from complaining -- what's the harm? Here's what else we're talking about this weekend:
1. Abu Dhabi Golf Championship: As you're probably aware by now, four of the world's top six golfers (Jordan Spieth, Rory McIlroy, Rickie Fowler and Henrik Stenson) are in the Middle East. The other key players heading into the weekend? Andy Sullivan, the only three-time winner on the European Tour last year, and Bryson DeChambeau, the reigning U.S. Amateur champ, who plans on turning pro later this year.
2. That other golf tournament: Sorry, but with all that star power in the Middle East, the PGA Tour's CareerBuilders Challenge hasn't gotten as much attention. However, the TV times for the Palm Springs event are a lot better for those in the U.S. and the tournament features Phil Mickelson. If he's going to do stuff like this every day, it's worth your time:
Off the flag, spin it back 15 feet and into the hole. Go out and give that one a try at your home course.
3. Brady-Manning XVII: Arguably the two greatest quarterbacks in NFL history will go head-to-head for (we think) one last time in Sunday's AFC Championship Game. While Tom Brady is still at the top of his game, Peyton Manning has been reduced to mainly handing the ball off and praying his fluttering passes won't get intercepted since returning from a foot injury. On the bright side for Peyton, no matter what happens, he's still the better golfer.
4. That other football game: It's crazy, but a game that might feature the NFL's two best teams, the Carolina Panthers and Arizona Cardinals, is playing second fiddle in the NFC Championship Game. After seeing what the Panthers did to the Seattle Seahawks last week, it's hard not to give them the edge at home. But how can we not root for Larry Fitzgerald and the Cardinals after this:
5. "Mozart In The Jungle": Almost as if Amazon could read my mind (Or have I been hacked? I've been hacked, haven't I. Damn you, "Mr. Robot."), it offered a special deal last weekend and I accepted, mainly because I was intrigued by their Golden Globe winning comedy. So far, it's been well worth the money. With fantastic music and a terrific lead actor, Gael Garcia Bernel, playing Rodrigo, an eccentric yet inspirational conductor (what a cool character), it's easy to see why the critics have fallen for this one.