Equipment
Webb Simpson talks about his equipment, the anchor ban and the last club he bought with his own money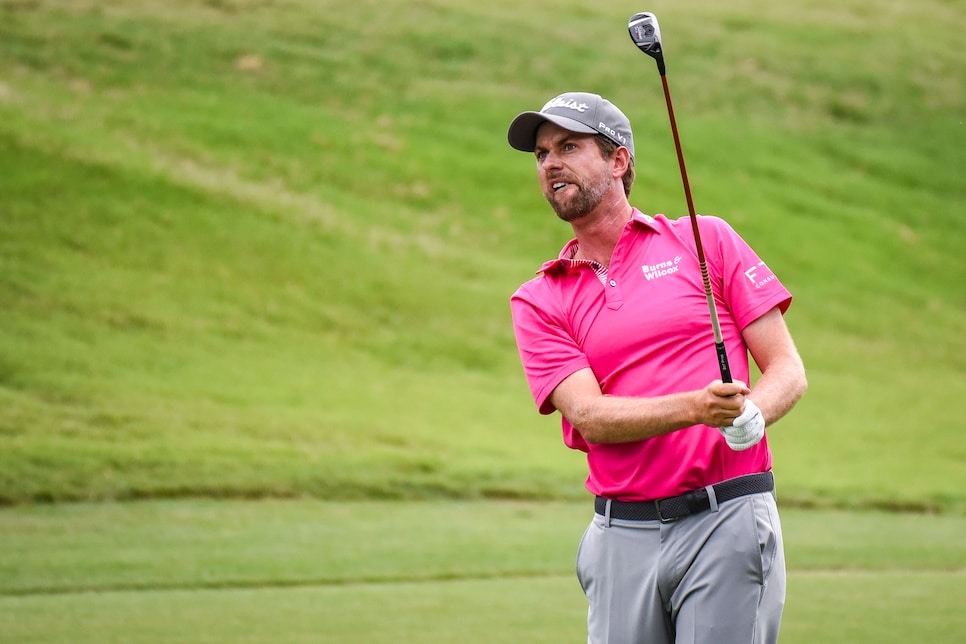 Webb Simpson captured the Players Championship last week with an interesting array of clubs in his bag. Whether it be five metalwoods, an iron set starting at the 5-iron or the Arm-Lock style of putting he employed, Simpson's sticks certainly weren't the norm. The 2012 U.S. Open champion spoke with Golf Digest Equipment Editor E. Michael Johnson about his clubs, his thoughts on the anchor ban and had an interesting reply when asked about the last club he ever bought with his own money.
The set makeup caught a lot of people's eyes. Five headcovers is a little unusual for a PGA Tour pro. Why about the hybrids appeal to you versus long irons or even utility irons?
With the new tech in these hybrids I can get the desired height that I want with them. Also, I'm able to, with the modern ball being less spinny, I can flight them down if I need to. Week in and week out we play in wind but the greens are firm. So you don't always want to hit it low and you don't always want to flight it high. I'm able to do both with these hybrids whereas if I had the 4-iron to match my set I wouldn't be able to hit it high enough. So it's a perfect combo of height, but not spinny height.
When you won the 2012 U.S. Open you had Titleist's 680 MB irons, now you have the 718 MB's. What is it about the muscleback design—one that isn't overly forgiving—that appeals to you, and is there anything unique about the grind or lie angles?
The irons are completely standard. I haven't done a thing to the sole or lie angles. I've always played blades. They just look good to me. I also believe I have more feel with them and can work the ball a little more with them. Although the miss will be a little more forgiving with, say, an AP2, I'd rather have a little more feel in terms of working the ball. It's just a personal preference.
You had great success with the putter this weekend. When the anchor ban went into effect, were you surprised the Arm Lock style was still legal?
I was surprised with the ban itself. None of us long putter or belly putter users were near the top in putting. So I think Keegan Bradley winning the PGA and Adam Scott winning the Masters and me winning the U.S. Open caused a quick reaction. But I told myself that although I didn't agree with the decision, I was going to focus all my energy on learning a new method and improving rather than being upset about it. As for Arm Lock, to be honest, it took me a while to understand all the rules about where it can and cannot be in relation to the elbow joint. The butt of the putter isn't technically anchored to anything. So I'm not sure I was surprised, but I'm glad it's legal.
Does the old belly putter you used to win the 2012 U.S. Open still reside in a place of honor?
It does. It's in the trophy case still. [Editor's note: Simpson intentionally broke the Ping Craz-E belly-length putter before the anchor ban went into effect to prompt him to move on to a new style of putting]
You've been with Titleist for more than a decade. How has that familiarity helped you from an equipment standpoint?
What sets Titleist apart is their guys are out there every week asking us questions, They pay attention, they watch us hit balls, they watch what we're doing, what we're after. They get to know us so well that when it comes time to test or if they have an idea for you about a different club or different shaft they've already narrowed it down and make it simple and clear. There are so many different shafts out there and companies have so many different versions of even with driver heads, it can be overwhelming. But 10 years in, I know that when Titleist comes out with new equipment, they're already going to have it chiseled down to where it's only three or four things to try. So having that longstanding relationship makes the process a lot cleaner and a lot faster.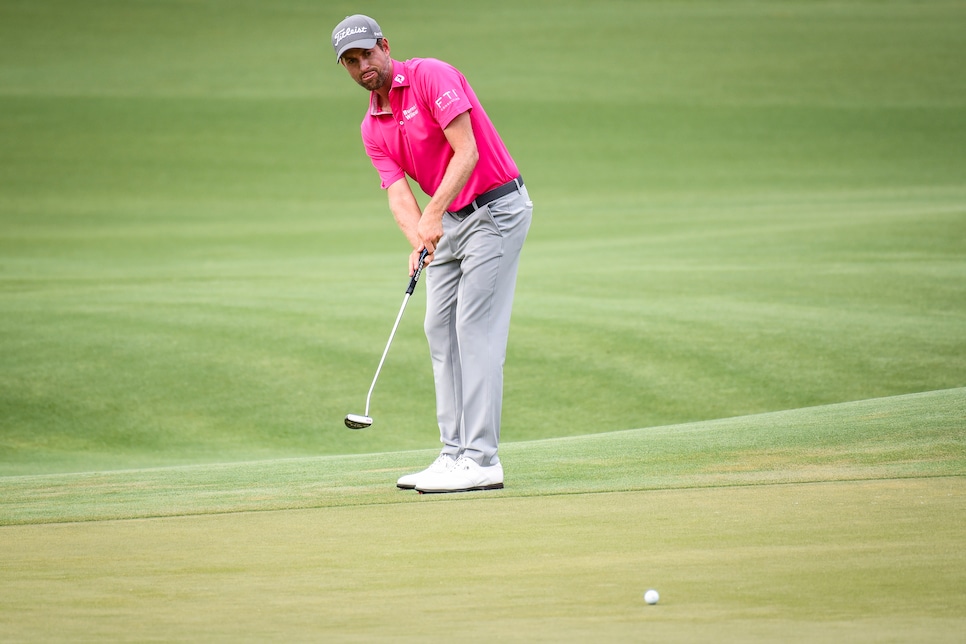 You've been doing a little driver head, driver shaft searching this year but have settled on a pretty good combination now. What were you looking for?
Like most people, I was looking for distance but with control. switched to the 917D2 head at Honda [Simpson had been playing the 917D3] and then switched to a 46-inch Graphite Design Tour AD IZ 5 X shaft instead of the 45-inch shaft I had been using and went all in on the change. I played well the first week with it and drove it well and have played pretty good with it ever since.
You used a Pro V1x ball at the 2012 U.S. Open and now use the Pro V1. What do you look for in a golf ball and how do you go about testing when Titleist presents you with a new option?
First thing I do is ask questions. I want them to ell me all about it. Fordie [longtime tour rep Fordie Pitts] knows my game really well. If the ball isn't going to be better for me, he's not going to suggest it. Then, I do like to see some numbers on TrackMan, but ultimately the final say for me is take it on the golf course and hopefully there will be windy conditions and I'll see how it reacts in the wind and around the greens. I'm a little less meticulous about the ball then my clubs, but it's important that when I hit a solid 7-iron that I look up and see it in the proper window for flight.
Is it more difficult to see discernible differences when testing a ball than it is a club?
For me it's easier to see differences when I'm testing clubs. If it's a new shaft or a new head I feel like I can notice launch conditions a little easier than if I'm just testing a new ball. So yes, I would say so.
You play a lot of pro-am golf. What are some of the common mistakes you see amateurs make with their equipment?
A lot of amateurs use clubs that are too heavy. It's not that they are weak, but they don't have the proper golf muscles to swing the clubs they're swinging. They should use more forgiving irons. I see a lot of 10- to 12-handicappers using very small irons and they need to realize they're going to miss a lot more shots than those hit solid. I mean, they're plenty of days when I'm missing shots, too. But most important is most don't understand why they play a certain club or shaft. I've always thought clubfitting is super important for guys like that.
What kind of bounce and grinds do you use on your wedges and has tour rep Aaron Dill done any of his handiwork on your wedges?
Aaron is the man. He's a wizard in that truck. I have a K-Grind on my 60-degree and a 54-degree SM7 S grind with 14 degrees of bounce for my sand wedge. I've been playing the same grind on the sand wedge for a couple of years and I switched to this lob wedge this year. Guys will change wedges at different venues as the conditions change, but I don't ever change.
Last question: What's the last club you ever bought with your own money?
That's a great question. I don't remember because I think the last one I bought with my own money was actually my dad's money. It's been a very long time.
What Webb Simpson had in the bag at the Players Championship:
5-wood: Titleist 913Fd, 18 degrees
Hybrids: Titleist 913Hd (20 degrees); Titleist 915Hd (23.5 degrees)