News & Tours
Webb Simpson had plenty to say about the USGA's announcement on distance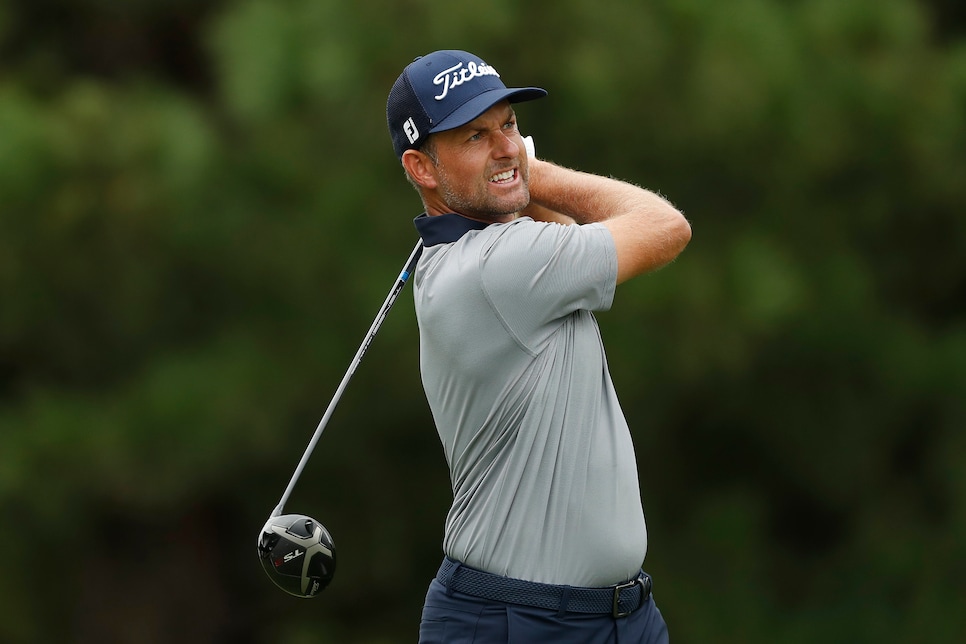 A number of manufacturers and the PGA of America issued what amounted to a "no comment" when asked about the proposed changes to equipment rules and testing that the USGA and R&A announced Tuesday, in additional to highlighting six "areas of interest" regarding distance. Even the PGA Tour was fairly noncommittal, only saying it was interested in, "ensuring any future solutions identified benefit the game as a whole without negatively impacting the PGA Tour, its players or our fans' enjoyment of our sport."
One of the tour's top players, Webb Simpson, however, had plenty to say.
Speaking to the media at the Waste Management Phoenix Open as he defends his title there this week, Simpson got right into it, backing up his comments with some specific examples.
Regarding the proposed limiting of shaft length to 46 inches, Simpson said, "My first problem I have with the driver length is if a 6-foot-10 really good golfer comes out, are we really going to tell him he can't use anything longer than 46 [inches]?"
Simpson then turned the conversation from equipment to golf course architecture.
"I just think the issue comes down to golf course architecture," Simpson said. "We need more doglegs. We need tighter fairways. We need longer rough. We need smaller greens. We need more firm greens. All those things I just named save money, saves water, saves land that you have to build a golf course. We know that 8,000-yard golf courses are not the answer. Brooks Koepka shot 16 under at Erin Hills." For that Open Erin Hills measured more than 7,700 yards.
Simpson went on to discuss how tree placement could help curb distance.
"At Augusta on 13, we don't need that tee 40 yards back," he said. "What they need is a mid-sized tree 20 yards in front of the tee box and five feet left of the tee box because the issue right now is guys can tee it up on the right and they can even cut it, some of these guys, over the trees. Well, if you put a tree there, guys can't do that. It's just like the fourth hole this year at Winged Foot. It's a dogleg-left par 4 but there's a tree there with branches so the bombers can't hit their cut over that bunker, so a lot of the bombers just hit 3-wood."
Simpson is not merely sticking his head in the sand to what's happening at the professional level with distance. The 35-year-old former U.S. Open champion understands there have been advancements with clubs and balls. He just believes there are ways other than turning the equipment rules on their ear to get there.
"The driver, the face is a lot thinner. They're bigger. I understand that," he says. "But I don't think an equipment rollback does anybody any good when we can change the way golf courses are designed. It's better for amateurs, it's better for pros, and there are plenty of golf courses on the PGA Tour that have stood the test of time because of the way they're designed."
Simpson's thought about courses has some merit. In the last full PGA Tour season, 2018-19, six of the 12 toughest courses in relation to par measured 7,261 yards or less. Among them are some of the more memorable venues on tour: Pebble Beach G.L., Harbour Town G.L. and Colonial C.C. A pair of behemoths, Medinah No. 3 at 7,613 yards and Kapalua's Plantation Course at 7,518 yards, ranked 43rd and 44th, respectively.
A seven-time PGA Tour winner who has earned more than $41 million, Simpson is well positioned to speak on the topic as a player who has had significant success without bombing the ball. Since 2012, the Wake Forest grad has not ranked higher than 97th in driving distance, which he achieved in 2015. In addition to his own comments, Simpson believes the PGA Tour needs to be vocal on the topic as well.
"I think their voice should be very loud," he said. "I respect the USGA and R&A a great deal, and I know their intentions are great, but I don't think an equipment rollback is what we need. I think we need to tweak our golf courses."