News
Webb Simpson finally rids himself of 'anchor' that was holding him back, ties for Tour Championship lead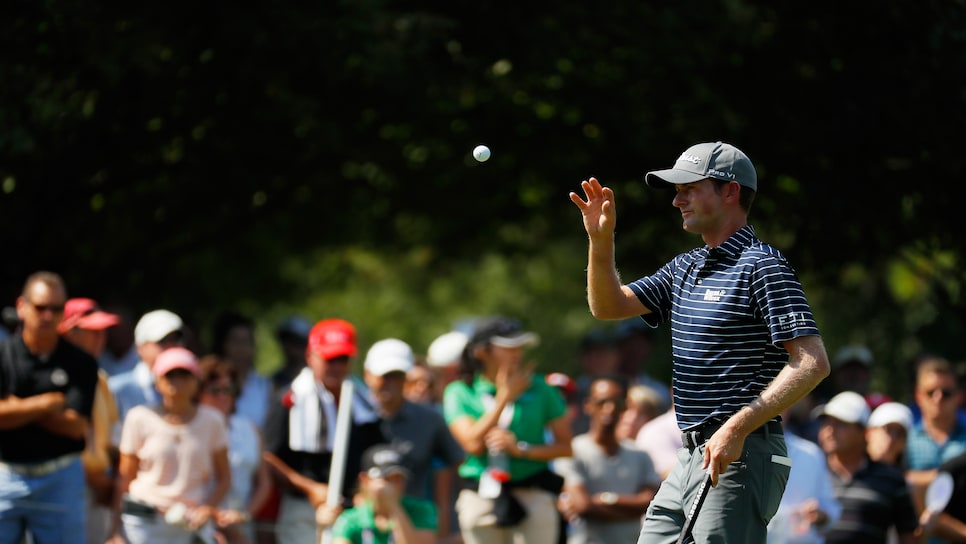 Kevin C. Cox/Getty Images
ATLANTA — The word "process" is thrown around a lot in golf. For Webb Simpson it really is more than a cliché. And his process has been a long one. That's what happens when something you've done for 11 years gets taken away.
On Jan. 1 of last year, a ban on the anchored stroke went into effect, and Simpson had to abandon the technique he used with his belly putter since college that had won him four titles on the PGA Tour, including a major at the 2012 U.S. Open at the Olympic Club. He made the switch a year before the ban, but this past May finally reached a turning point with the flat stick, employing a grip that had been suggested by another long-wand user, Tim Clark, that is a part claw and part securing the shaft against his left forearm the way Matt Kuchar does.
"It was just I had to relearn a skill in the game that I played for 20 years of my life," Simpson said Friday from the Tour Championship, where he is competing for the first time since a run of four straight years in the season-finale from 2011-2014. "That was tough."
Since the ah-ha moment on the practice green at TPC Sawgrass four months ago, Simpson's stock has steadily been on the rise. Following a tie for 16th at the Players he posted top-10 finishes in five of his next 11 starts, including a tie for ninth at last week's BMW Championship.
Through 36 holes at East Lake, Simpson is tied for the lead at seven under with Justin Thomas and Paul Casey following a 67 on Friday that had the makings of something really good early on.
Simpson surged to the top of the leader board in the 30-man field thanks to five birdies over his first 11 holes. But he gave two of the strokes back, however, on the 13th after pushing his tee shot into the trees, taking two hacks to get back to a playable position, another to reach the green and two putts for double bogey.
It was a momentum killer for sure but nothing more as he played the rest of the way in even par.
"After I birdied number 11, I just started making a few loose swings, a few loose shots, but I held it together nicely," he said. "Besides number 13, I managed my game well."
Another reason Simpson has been able to see better results is an improved short game under Pat Goss, who also coaches Luke Donald and has worked with Simpson on that area of his game for the last two years.
Simpson has always been good around the greens but is doing a better job using the bounce on his wedges and playing the short shots with more loft, according to Goss.
"There's less dig and de-loft," Goss said. "He can produce more spin and the ball is coming off less hot." This season, Simpson ranks 13th on tour in strokes gained/around-the-green and has seen a slight uptick in his overall numbers in the statistic from a season ago.
This week he also employed the same strategy he often uses at majors, simply walking the course with Goss for a practice round and chipping and putting rather than going full out.
Having played at East Lake a number of times before, it's easy to do that.
He's also glad to be back at a place that is the reward for what has been a very good and consistent year, even if it is a longshot for Simpson, 16th in the points standings to start the week, to win the FedEx Cup and its $10 million bonus out of nowhere much the way his fellow Wake Forest alum Bill Haas did in 2011. For that to happen, Simpson has to win the Tour Championship and have Jordan Spieth tie for 10th or worse; Thomas to finish T-4 or worse; Dustin Johnson to finish third or worse; and Marc Leishman, Jon Rahm and Rickie Fowler to tie for second or worse.
That doesn't concern Simpson now, though. There's still 36 holes to go. And he didn't realize what he was missing, until it was taken away.
"Sitting at home last year watching the guys play … anytime you don't advance you feel the sting of it," he said. "The important thing that I did was I didn't second guess anything I was doing, I just continued to reevaluate my plan and make sure I was doing the right stuff."