The Loop
We taste-tested the latest crop of PGA Tour player beers and Graeme McDowell's won
Pop quiz: You get a large shipment of PGA Tour player beer delivered to your office and you work at Golf Digest. What is the only appropriate thing to do?
If you answered "Drink them," you get half a point. If you said "Do a taste test," you get full credit. If you guessed neither, we're concerned about you.
So here's the deal. GolfBeer Brewing Co. makes three beers with three PGA Tour pros: Graeme McDowell, Keegan Bradley and Freddie Jacobson. The beers all have a style that reflects the golfer: G-Mac's Celtic pale ale, Keegan's New England lager, and Freddie's Scandinavian blonde ale.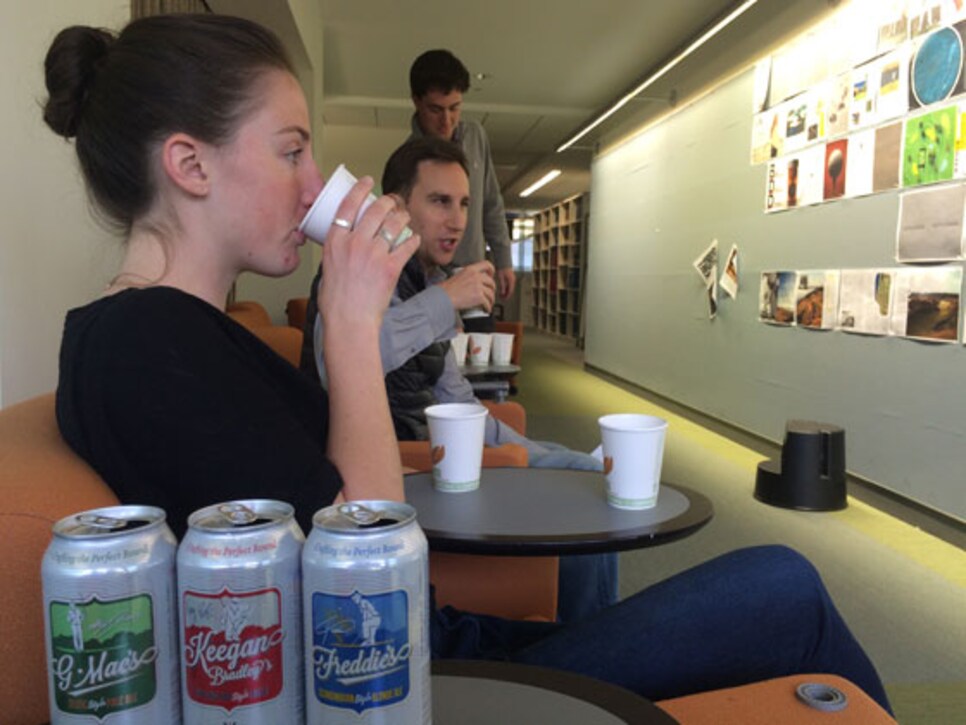 To conduct a blind taste test of these three beverages, we gave everyone three cups with a complex numerical key* and drank. (*The three cups were numbered 1, 2 & 3 and only one person knew which number matched up with which beer.)
We then dragged* seven kind volunteers to participate in the study. (*Most of them ran from their desks as soon as they heard the cans open and begged to be a part of it.) They then drank the beers and ranked them on a scale of 1 to 3 with 3 being the best. Here's a look at everyone hard at work, including Keely Levins, who took copious notes throughout: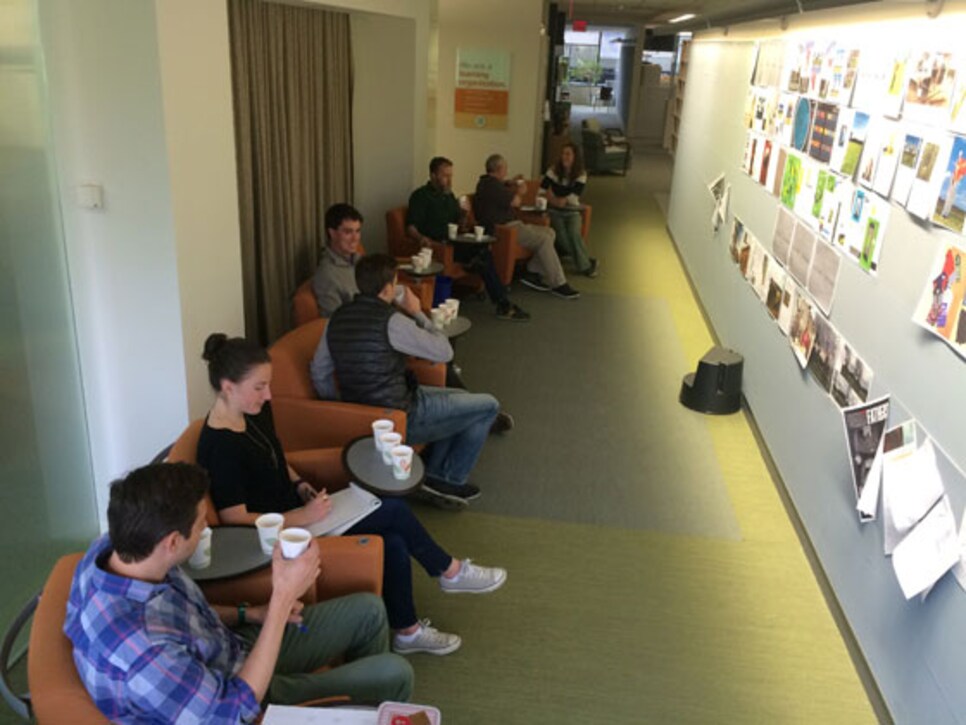 And here's a video of the festivities arduous task:
Our ranking after tabulating the scientific results? 1. G-Mac's pale ale; 2. Freddie's blonde ale; 3. Keegan's lager. Sorry, Keegan. Actually, the numbers were pretty close. Here's a full breakdown of the brews:
1. G-Mac's pale ale (16 points)
The good: "Nutty/oaky undertones." "A lighter, fruity flavor. Kind of like a more flavorful Heineken. Any type of beer drinker would appreciate this taste." One tester went as far to remark, "I want to hang out with the man who brewed this."
The bad: "I'm not a pale ale guy." Don't hang out with G-Mac then!
2. Freddie's blonde ale (14 points)
The good: "Light," "smooth," "crisp." "I could drink this ALL night."
The bad: "Frat beer," "watery," "light." Yes, "light" was both a positive and a negative comment. To each his/her own.
3. Keegan's lager (12 points)
The good: "A little bit of an aftertaste, but that's not a bad thing." "If you enjoy a bolder type of beer, this will fit your palate without being too heavy."
The bad: "It's a bit heavy." Again, to each his/her own.
Overall, we'd recommend you trying all three beers. And if you can get away with doing it in your office during work hours, even better.