Short Game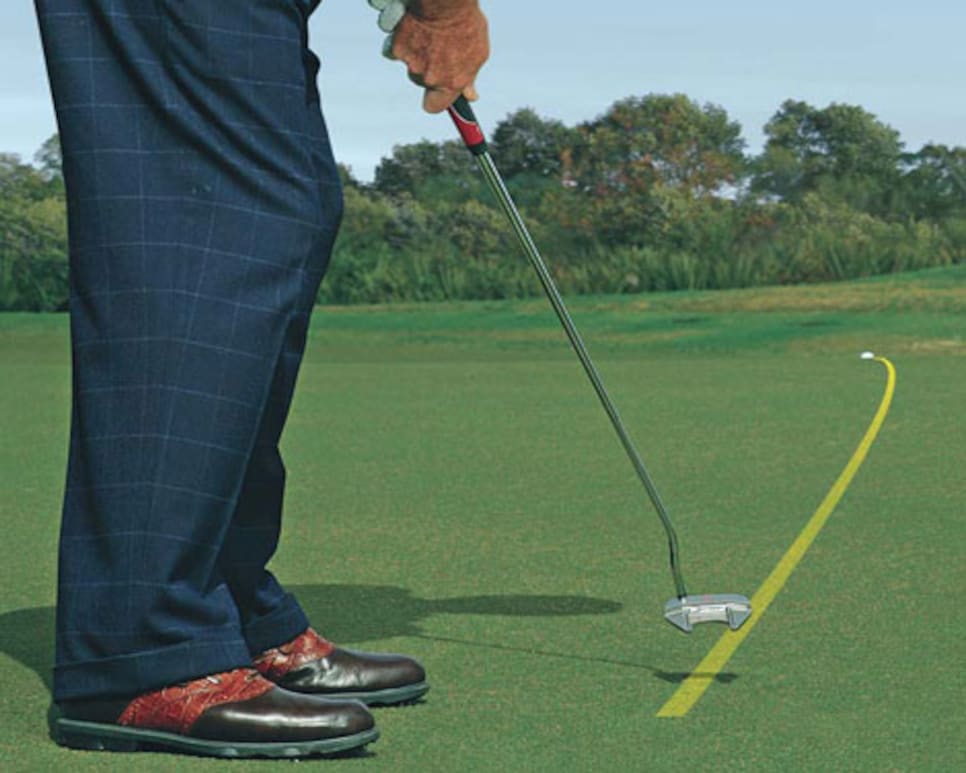 PICK A POINT: Read the downhill part first, and pick a target spot just over the crest of the hill.
A putt that goes up and then down is the most difficult putt there is. The key is good speed. I like to get an overall sense of the putt by walking to the hole just off the line, feeling the roll of the ball with my feet. I do this briskly, without affecting the pace of play.
Try separating the putt into two parts: a slow uphill putt followed by a fast downhill putt. Pick a point just over the top of the hill, and make sure you get the ball to that spot or just past it. But don't overdo it. You have to hit this putt harder, but I see a lot of people knock it way past. You want a speed that would roll the ball about 15 inches by the hole.
I decide on the downhill part first. Then I consider any grain or wind on the uphill portion. Remember, if the putt breaks, it will break more on a fast green and less on a slow green.
A good way to develop a feel for speed is to find two holes on a practice green, one that runs uphill for 30 feet or so and another that runs downhill. Putt each of them a half dozen times, and note the roll.
I want the average golfer on my pro-am team to help on the par-3 holes. He or she probably gets a stroke on those holes and should make more pars on them just because they're shorter. But you have to aim for the safe part of the green, which isn't necessarily the fat part. Aim for the area where there's the least amount of trouble -- even if it's the fringe or fairway near the green.