The Loop
Watson grateful for another Open exemption
LUTZ, Fla. -- "I have good news," was the way USGA President Jim Hyler began telling Tom Watson he'd be getting a special exemption into the 2010 U.S. Open at Pebble Beach. Watson knew all along he had a pretty good shot at getting in the 156-player field -- via the same way he had in 1993, '96, 2000 and '03 -- but until it was official, he said he "was toying with the idea" of entering the tournament through sectional qualifying. "I wasn't definitely going to, I'll tell you that. But I wasn't definitely not going to either."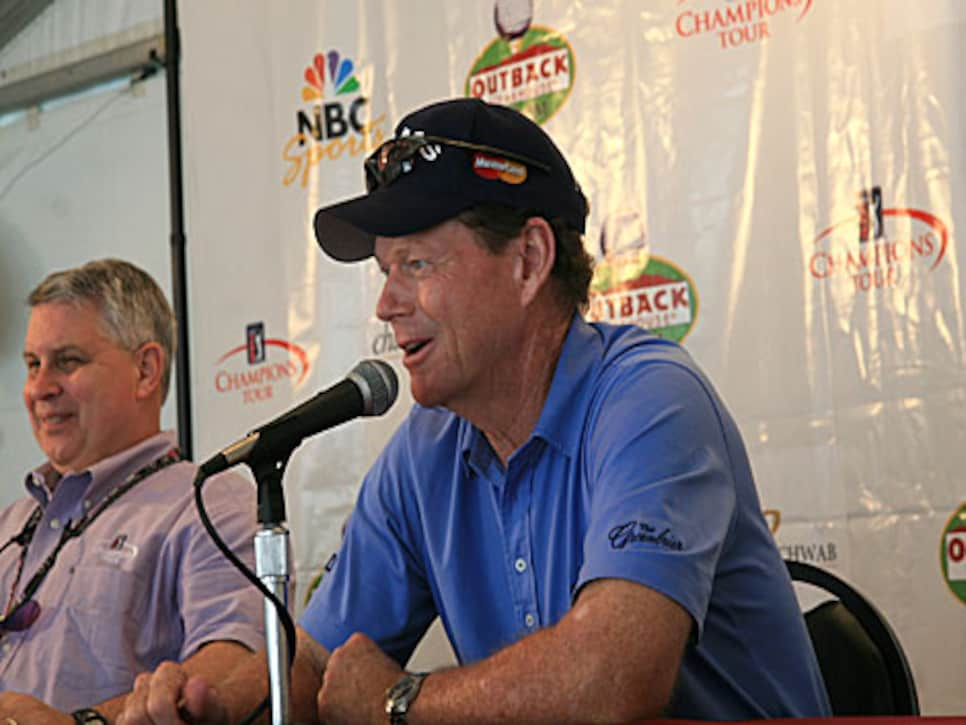 The venue and the national championship just mean that much to him.
A dozen or so times as an undergraduate at Stanford University, Watson said he made the hour-and-a-half drive down to Pebble -- always stopping at a donut shop in Monterey, Calif. to pick up a dozen glazed ones he'd wash down with a quart of milk. After befriending the starter, he'd get on for free, play as a single and race around the course, finishing up before the group behind him had completed the front nine.
The year after graduating, Watson played in his first U.S. Open, which was held at Pebble. "I have vivid memories of playing that week [in 1972]," said Watson, 60. "The greens were dead on Tuesday and Wednesday. They were blue, and black and just hard as a rock ... the last round I shot 76 and passed nearly 30 people."
Watson's father, Raymond, was the person who got him so smitten with the championship. "My dad could remember every U.S. Open champion there ever was," he said. "From 1895 on. We'd always play a little game, and say, 'Alright, who won the 1934 Open? ... Who won the '43 Open? Ah, that wasn't played.'"
In recent years, the USGA has been shrewd with its special exemption choices. Nick Price, in 2005 was the last player selected, and he rose to the occasion, shooting rounds of 72-71-72-72 at Pinehurst No. 2 to finish T-9. Watson, in his previous four special exemptions finished T-5, T-13, T-27 (at Pebble) and T-28. "The way that he has played certainly warrants an invitation," said Price. "They felt that my game was strong enough that I could still win when they gave one to me, and I think that's the case with Tom going back to Pebble Beach," said Price. "I don't think an American-born golfer has ever played links courses like he does. He's head and shoulders above just about anyone."
Since his days of waking up before 5 a.m. on Saturday mornings to drive to Pebble, Watson has continued his self-proclaimed "love affair" with the course, albeit in more primetime hours. With both the AT&T Pebble Beach National Pro-Am and Walmart First Tee Open held in Monterey, Watson has played 27 years-worth of tournament rounds since his 1982 chip-in on the 17th hole. He hasn't teed it up in a U.S. Open since his last special exemption in 2003, but in that first round at Olympia Fields he shared the lead after opening with a 65.