The Loop
Watney in pole position to be youngest FedEx Cup champ
EDISON, N.J. -- In a golf landscape that has tilted toward youth, will the PGA Tour's FedEx Cup playoffs -- which start Thursday with the Barclays at Plainfield CC -- follow suit?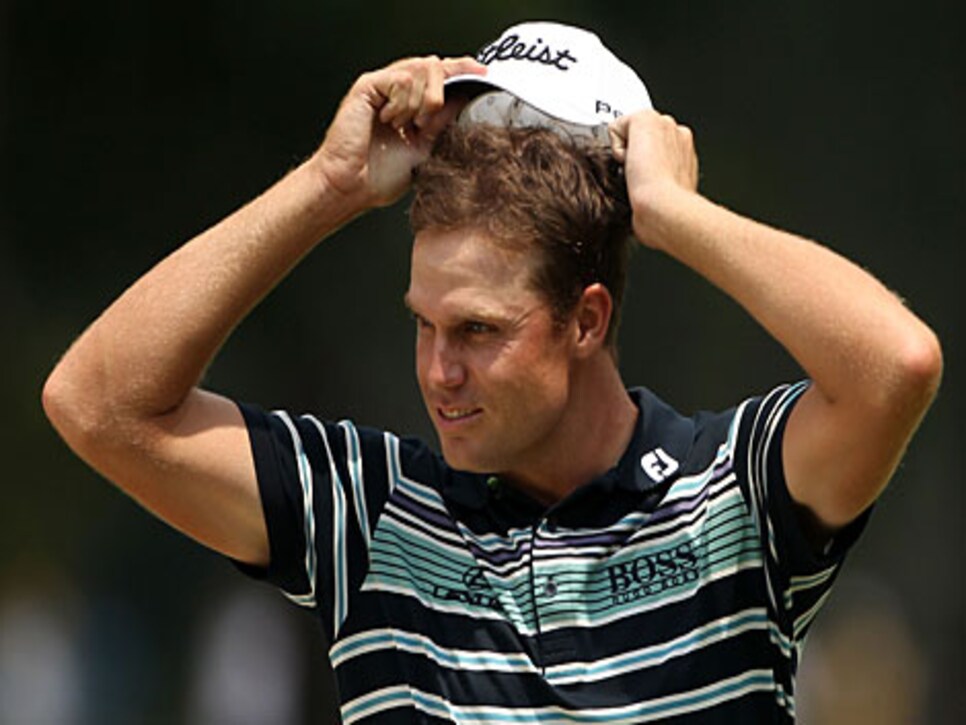 Photo by Andrew Redington/Getty Images
During 2011, 13 players in their 20s have accounted for 14 PGA Tour victories compared to 14 winners producing 16 wins in their 30s and six winners of seven events by golfers 40 and over. This is not to say golf has become snow boarding, but things have changed. The twentysomethings' 2011 performance comes on the heels of a similar result in 2010, when 13 of them accounted for 16 victories.
Five of the last eight major-championship winners -- Louis Oosthuizen, Martin Kaymer, Charl Schwartzel, Rory McIlroy and Keegan Bradley -- were in their 20s when they ruled on the game's biggest stages.
"You're seeing kind of a generational change," said 26-year-old Webb Simpson, who arrived at the Barclays after winning for the first time at the Wyndham Championship. "A lot of young guys are playing well. I think young guys are giving other young guys confidence."
The four previous FedEx Cup champions have been Tiger Woods (31 years old, 2007), Vijay Singh (45, 2008), Woods (33, 2009) and Jim Furyk (40, 2010). Woods didn't qualify for the playoffs this season. Singh is No. 36 in points, and Furyk is 60th. Simpson is No. 3, with 44-year-old Steve Stricker between himself and the FedEx Cup points leader, Nick Watney.
"Without Tiger, there is a whole new lineup of players that you have to talk about and think about," eight-time major champion Tom Watson observed recently. "Phil [Mickelson] is still in the mix, but you've got a lot of kids who have been waiting for opportunities, and they're taking them."
Watney, who turned 30 a little more than a month after winning the 2011 WGC-Cadillac Championship, is in a strong position to become the youngest winner of the FedEx Cup. "I'm very pleased with the year so far, but we have a long way to go," Watney said. "I'm excited to see if I can hold up in these next four events. The [auto racing] pole position is a good analogy, because you have to play well to stay there."
Even in his absence, Woods has a presence in the role his ascension to mega-stardom in the late 1990s on upcoming golfers. "A Tiger effect is starting to take," Watney said. "Tiger made golf cool, and a lot of these guys that are winning now were 14, 15 years old when he first came out. I think the quality of players that are coming out now is maybe as high as it's ever been."
If not Watney, it could be someone such as Jason Day. The 23-year-old hasn't won this year after claiming the 2010 HP Byron Nelson Championship but was T-2 at the Masters and second at the U.S. Open and starts the playoffs 14th in the standings.
"It's nice when you see a young kid do well -- I think that kind of spurs on the rest of the guys," Day said. "The next generation is starting to come forward. Any one of these guys can win out here if it's the right week for you and you get everything going. It's just very hard to be a multiple winner. That's one thing with the new breed I guess we have to learn: Can you have two or three wins, can you keep it going? Obviously I've won my first tournament, but now I'd like to win a lot more."
That is the kind of attitude that would please Watson. "You can be too quick to anoint somebody," Watson said. "Jack [Nicklaus] had it right about Rory McIlroy after he won the U.S. Open by eight shots. You just don't anoint him as the next great player. It takes a while. How many tournaments is Rory McIlroy going to win in the next three, four or five years? When he wins the next tournament and the next tournament after that and the one after that, then you can say, maybe he's got something. It's easy to talk about potential."
At age 41, Mickelson is many years removed from when he started replacing potential with results. With 39 PGA Tour victories, Mickelson is tied with Watson and Gene Sarazen for 10th place on the all-time ranking. He has won once in 2011, is ranked sixth on the FedEx points list and isn't ready to let the next generation walk on by without offering some resistance.
"I don't think there is anything physically different that will prohibit guys from well playing in their 40s," Mickelson said. "But for me -- for most guys -- it's motivation. How motivated are you in your 40s to continue to try to play golf at the highest level?"
Mickelson says he is plenty motivated. So are his younger counterparts.
"It's almost turned into old vs. young guys," Simpson said.
The playoffs are another proving ground, whatever their ages.
Additional reporting by Stephen Hennessey