The Loop
Watching Love the elder statesman, remembering Love the rising star
MEDINAH, Ill. -- Watching captain Davis Love III at the Ryder Cup this week, it is hard not to turn back the clock. Of the golfers I've covered in one form or another since the mid-1980s, Love, at 48 only five years younger than me, has been a constant. Not only has he been one of the best players of his generation but a familiar face and reliable quote, a class act.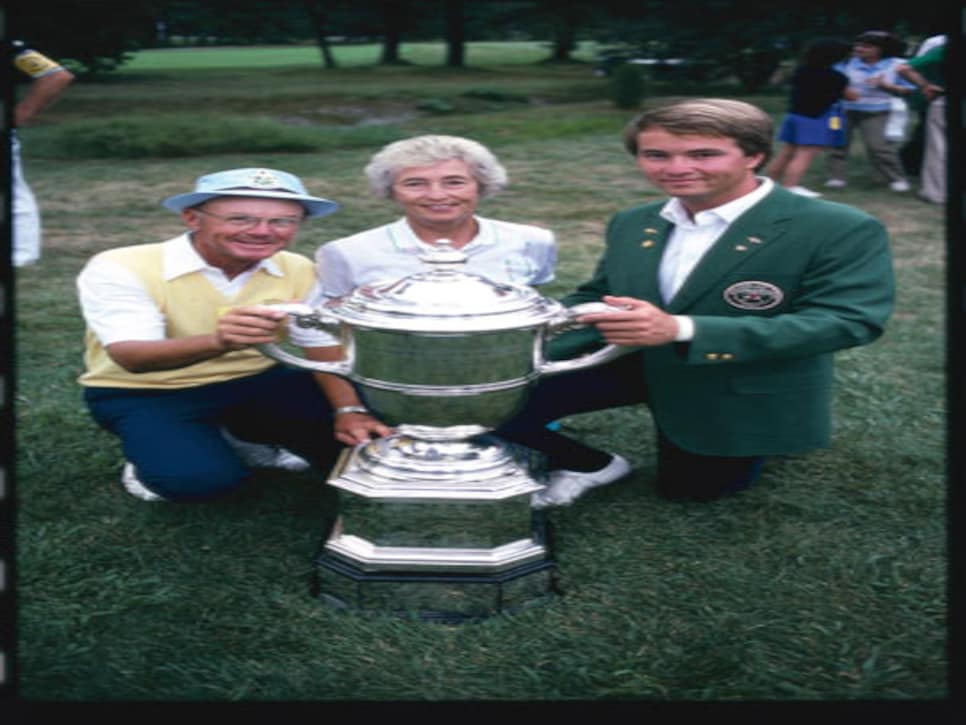 I doubt that I'm the only golf writer within a few years either side of 50 at Medinah CC this week who doesn't see Love in his role as captain of the American side and pause to think about where the time has gone. For me, he is a marker of the miles traveled since he was just getting started in his career and I was getting started in mine.
I met him on a spring afternoon in 1984, driving up from Southern Pines, where Golf World was then located, to Chapel Hill, where Love was a student golfer at North Carolina. I was doing a story about fathers and sons in the sport. Not only was Love -- one of two sons of the noted teaching professional Davis Love Jr. -- a star for the Tar Heels, but Jack Nicklaus II also was on the team.
[Related: Fields: Lost In The Fog
](http://www.golfdigest.com/golf-tours-news/2008-11/gw20081107fields)
*Left: Love (with his late father, Davis, Jr., and mother, Penta) was a sure thing to be a star on tour.
As he would be during many subsequent interviews, Love was cordial and candid when we met at Finley GC. He (and anyone who saw him play at age 20 or so) knew he had a bright future in the game. Being a good talker sure wasn't going to be a bad thing.
A few weeks after visiting with Love in Chapel Hill, I saw him win the North and South Amateur at Pinehurst No. 2. The way he dismantled that classic course with his length is still vivid. A 7-iron to the par-5 fourth hole. Lots of wedges to par 4s. Seeing young Love pound a balata ball with a persimmon, steel-shafted driver, harshly unforgiving compared to today's high-tech equipment used by Bubba Watson and company, was an awesome sight.
I could only think it must have been the way people felt when they saw Jimmy Thomson or George Bayer bomb the ball with similar equipment in previous eras. Only Love wasn't merely a long-drive specialist. His swing, lovingly tutored by his dad, was textbook: long extension and full turn delivering an explosive hit that could send a 1-iron sky-high, a la Jack Nicklaus.
That was where many believed Love would wind up in those days heavy with potential, in the golf stratosphere having won lots of majors and broken plenty of records. Power to burn can be an exponential advantage for a golfer with a complete skill set, and Davis had it.
Then life happens and putts don't drop, and a man's career doesn't pan out quite as grandly as people thought it might. Measured against Nicklaus' records, Love came up short; measured against most anybody else, he stands tall, the way he always has.
Thumbing through the Ryder Cup program yesterday, I saw a photograph of Love and his dad working together. It was a photograph I took on the practice range of the B.C. Open in the fall of 1988. I don't know if it was the last picture anyone took of the two of them together, but it might have been. I had followed Davis around in a practice round at En-Joie GC, and the three of us ate lunch at Wendy's afterward.
Just a couple of months later, on a Sunday night that November, Davis Love Jr., 53, perished in a small-plane crash along with three other men on a foggy approach into the Jacksonville, Fla., airport. The tragedy rocked Davis' world, and no one will ever know how much it affected his career. But if, when the tears dried, Davis decided that it might be just as important to make time to ride a Harley or hunt a turkey as to always pursue golf greatness in fifth gear, who could blame him.
He didn't seem to possess the killer instinct common to the truly greats, or more important, the putting genius. Nowhere was the latter more obvious than the 72nd hole of the 1996 U.S. Open at Oakland Hills, when he three-putted to blow a fantastic chance to win his first major. He got that major the following summer in storybook fashion at Winged Foot, where the famous rainbow adorned his final putt.
That his Winged Foot triumph was his first and only major is still a bit hard to comprehend, given the preternatural talent Love displayed early on, but on the eve of his elder statesman's turn at Medinah he should be proud. Love has won 20 PGA Tour events -- a total surpassed by only 32 others in history -- and when his captaincy is over and he can again concentrate fully on his play, he is not a bad bet to win again.
This weekend, though, Love will have the baton, hoping his players make great music. As with all Ryder Cup captains, he will get too much credit or blame for what happens, not that wise decisions don't make a difference.
I looked at the transcript from Love's Wednesday press conference. It's more than six pages long. He's still a good talker. I think he'll be a good captain too.