News
Watch Vanderbilt, Illinois, Oregon and Oklahoma each advance to semifinals of the NCAA Championship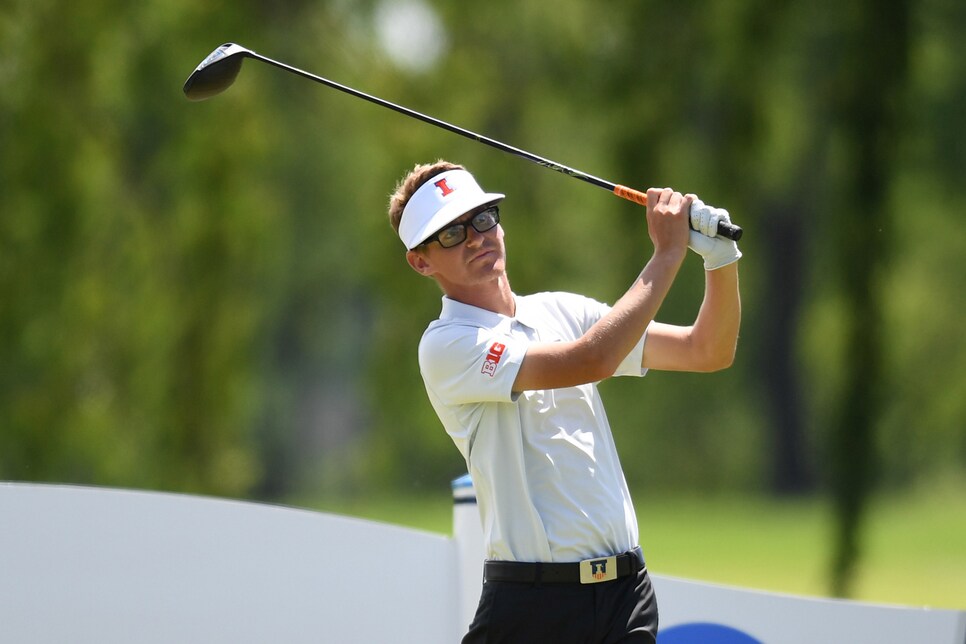 Four vibrant storylines remain alive at the NCAA Championship heading into Tuesday afternoon's semifinals matches at Rich Harvest Farms.
Can Vanderbilt break the jinx of No. 1 seeds failing to win the national title?
Can six-time match-play participant Illinois, the school that has advanced more times than any program since match play was adopted in 2009, finally win the title?
Can Oregon become the third school in the match-play era to repeat as national champions?
Can Oklahoma become just the third program (along with Texas and LSU) to win a national championships at both stroke play (1989) and match play?
Vanderbilt moved on to the semifinals thanks to a 3-2 victory over UNLV, with Patrick Martin, Matthias Schwab and Theo Humphrey claiming points for the Commodores.
The No. 1 seed moves on to play Oregon after the Ducks thrillingly qualified for match play on Monday afternoon, then took out Oklahoma State in their quarterfinal match, 3-2. Sulman Raza, the golfer who secured the winning point in extra holes in the 2016 finals for Oregon, won the deciding match against the Cowboys, taking out H. Wood, 3 and 2.
Illinois gained a bit of revenge with its 3-1-1 defeat of USC in the quarterfinals. The Illini had lost to the Trojans in the semifinals in 2015.
Small's squad faces Oklahoma after the Sooners pulled out a thrilling 3-2 win over Baylor. The Sooners lost their first two matches to their Big 12 rivals, but saw Rylee Reinertson and Grant Hirschman win their matches, 1 up, before Brad Dalke, the 2016 U.S. Amateur runner-up, defeated Matthew Perrine in 19 holes. Dalke had held a 2-up lead with two holes to play, only to have Perrine win both to extend the match.