The Loop
Watch the fan who made that Ryder Cup putt heckle Stephen Colbert and putt through Donald Trump's mouth
David Johnson became an unlikely part of Ryder Cup lore -- and an instant American hero -- when he was plucked from the Hazeltine crowd during Thursday's practice round and challenged to make a putt. As you know by now, Johnson showed up Henrik Stenson by draining the putt with Rory McIlroy's putter and winning $100 off Justin Rose. The putt and the awesome reaction are worth watching again.
Well, on Monday night, Johnson made an appearance on The Late Show with Stephen Colbert. And it was also awesome.
The clip starts with Colbert talking about Johnson's putt, but then you can hear someone heckling him from the audience. It's Johnson and Colbert invites him up on stage to make a putt through Donald Trump's mouth. The best part, of course, is Johnson doing that fantastic reaction again. Click here to watch.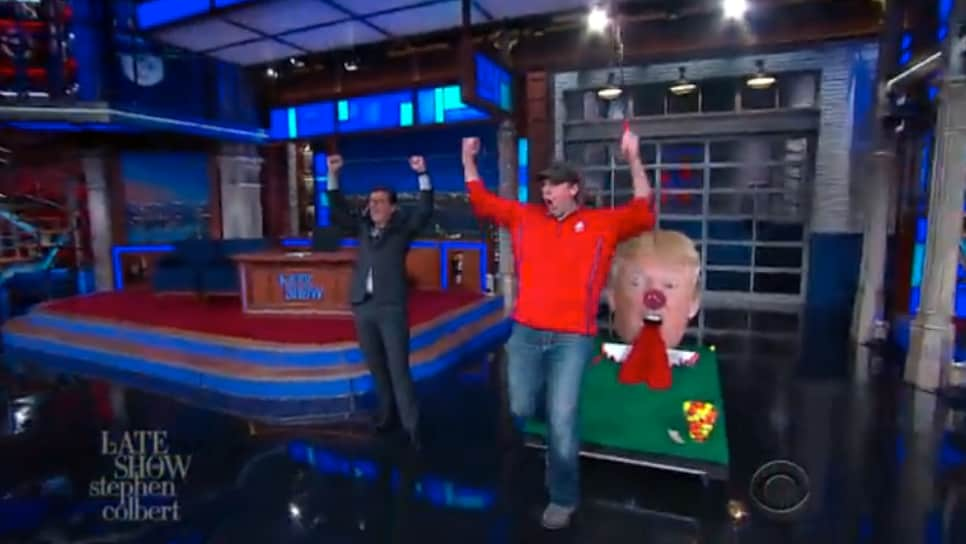 Funny stuff. We just wish Johnson would have really showed off by doing part of Colbert's monologue.