The Loop
Watch Russell Knox come up clutch when asked to repeat his winning putt from last year's Travelers Championship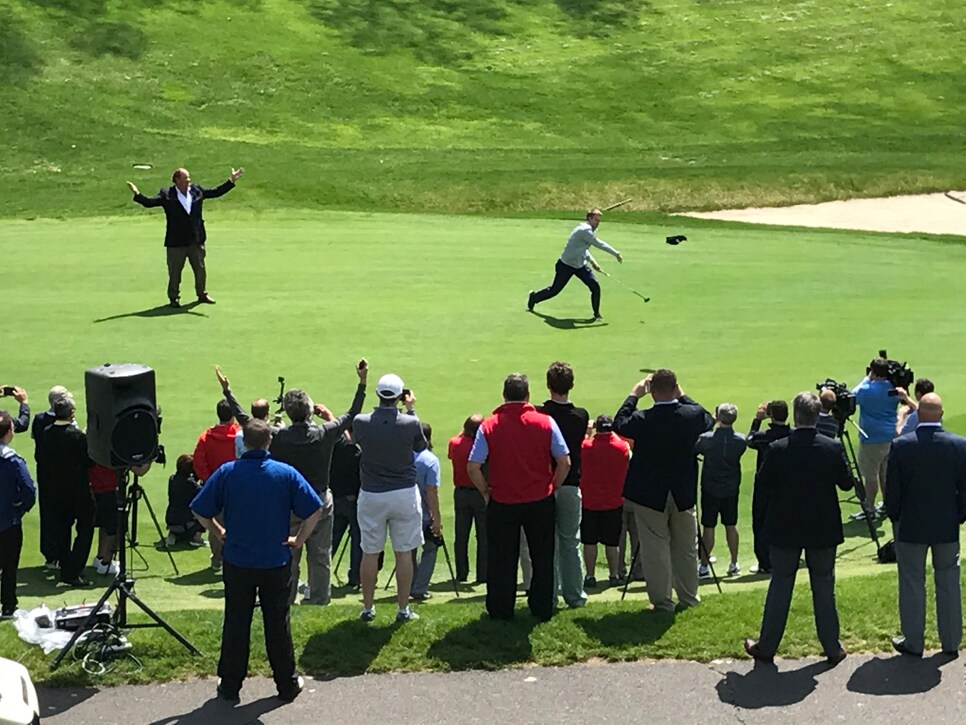 CROMWELL, Conn.—It took Russell Knox roughly 0.8 seconds to answer the question of what's the most vivid memory he has from his victory last year at the Travelers Championship.
"The putt on 18, of course," said Knox at the tournament's media day on Tuesday at TPC River Highlands. "It's the kind of putt you dream about as a kid, holing a putt to win a tournament."
For those who might not recall, Knox rolled a 12-footer for par on the final hole to win by a stroke over Jerry Kelly, and followed it up with one of the better celebrations of the 2015-'16 season.
It's the kind of putt that, naturally, people are going to want to try for themselves when they play the hole. Also the kind of putt tournament officials are going to want to maybe have Knox re-create for posterity.
Being the good sport that he is, Knox gladly walked back to the 18th green, with ESPN personality Chris Berman interviewing him on what was going through his mind as he stood over the putt that would give him his second career PGA Tour title. Then Berman got out of the way as Knox tried to prove last August's heroics were no fluke.
Of course, Knox repeated the hat toss just as easily.
We've got to hand it to Knox for coming up clutch. It's sort of a tricky situation for Knox here in that you don't want to not try to make the putt again, and yet the putt isn't a tap in. You miss it and, well, you sort of have a little egg on your face. So congrats to Knox for stepping up a second time.
Oh, and in case you think it's just some simple putt that anybody could make, out of 70-plus golfers who played in the afternoon outing at TPC River Highlands on Tuesday, only six managed to make the putt when they recreated it on 18.