The Loop
Watch Justin Timberlake, Stephen Curry and Alfonso Ribeiro dance at the American Century Championship on Saturday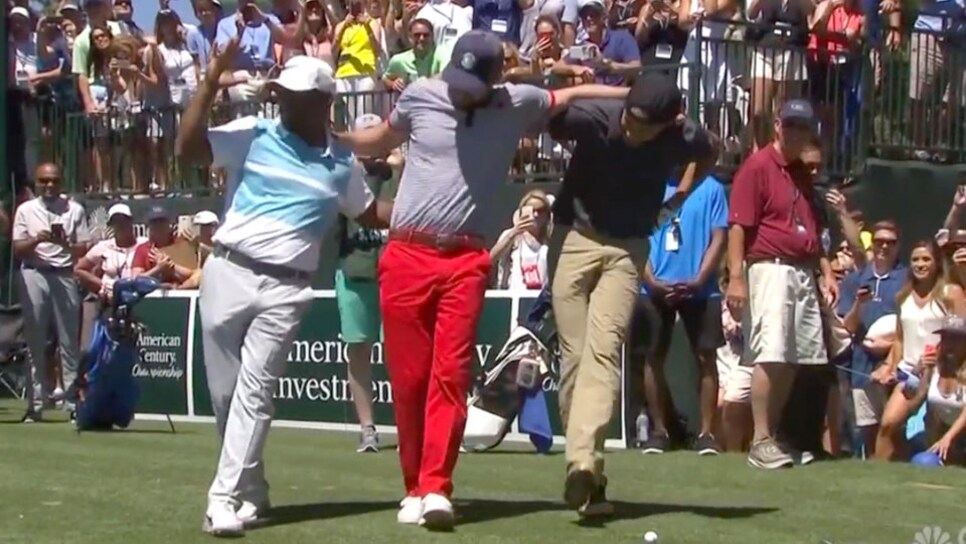 On a weekend with multiple momentous golf events occurring, such as the Senior Open Championship and the UL International Crown, a fun-loving competition is taking place in Lake Tahoe, Nevada: the American Century Championship.
In this three-day celebrity golf tournament using modified Stableford scoring, athletes, actors and musicians alike have their golf skills put to the test. And on Saturday, the world was fortunate enough to see two-time NBA MVP Stephen Curry, actor/musician Justin Timberlake and The Fresh Prince of Bel-Air star Alfonso Ribeiro play 18 holes together.
The trio never failed at keeping the crowd entertained, partaking in hilarious antics throughout the afternoon. Of course, the "Calrton Dance" was obligatory at least once, as all three broke out in dance on the 17th tee following a great shot by Ribeiro. Curry was a newcomer to the dance with Ribeiro, as he and Timberlake have broken it out at Pebble Beach earlier this year, as well as at last year's American Century Championship.
Curry then went on to even make fun of himself, "throwing his mouthguard" into the crowd at the tee box much like he did in Game 6 of the NBA Finals upon fouling out. Luckily, he didn't get fined $25,000 this time.
And after Timberlake's tee shot on 17, he thought, "Hey, let's dance some more." And Curry and Ribeiro joined.
Curry also went on to hit some three's and break some (plastic) backboards throughout the round ... and dance plenty more.
Though the three of them will not be playing together again on Sunday, they are far enough from the lead to not take the final round all too seriously. So, let's hope that they continue to entertain on the course.