The Loop
Watch John Daly get drenched in booze after winning 1st PGA Tour Champions title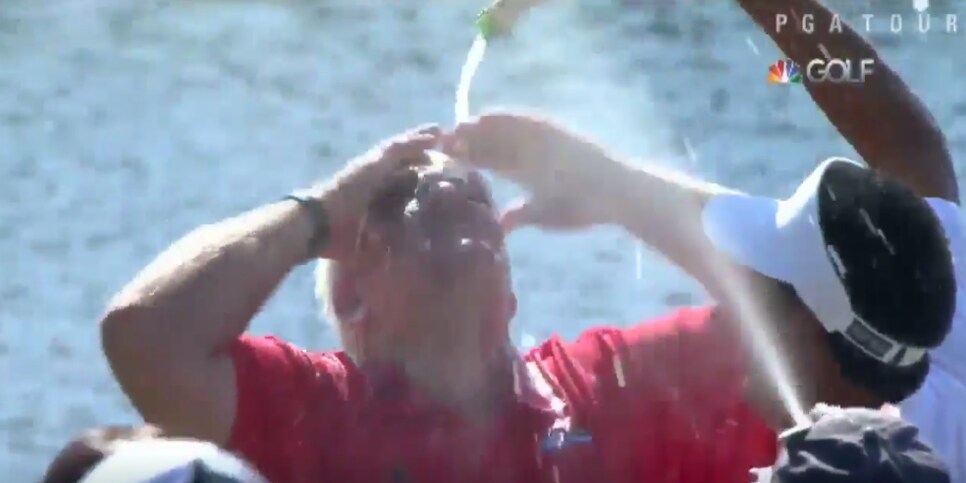 John Daly finished Sunday's final round at the Insperity Classic with three consecutive bogeys, but that didn't stop the 51-year-old from picking up his first PGA Tour Champions title. And doing it with plenty of flair.
First, there was the walk up to the 18th green -- with the tournament still very much in play -- in which he stopped to kiss the ground where Arnold Palmer's logo had been painted:
Then, after tapping in for a one-shot victory over Kenny Perry and Tommy Armour III, he got doused with booze. Obviously.
And finally, in his TV interview, he gave a tremendous plug for one of his sponsors, Vertical Groove Driver. It was classic Daly, who made his senior debut at this event last year and who won for the first time since the 2004 Buick Invitational.
Oh yeah, we almost forgot those outrageous American flag pants. Well, outrageous for anyone not named John Daly.
"A win's a win . . . Thanks to Insperity and all these wonderful people. And all these people behind me sticking to me," Daly choked up. "It's pretty cool."
You know what's also pretty cool? The senior tour when John Daly is winning. After the celebration dies down, we'd love to see Daly become a regular on leader boards again.