News
Watch Dustin Johnson's impressive lefty chip that led to par save at Harbour Town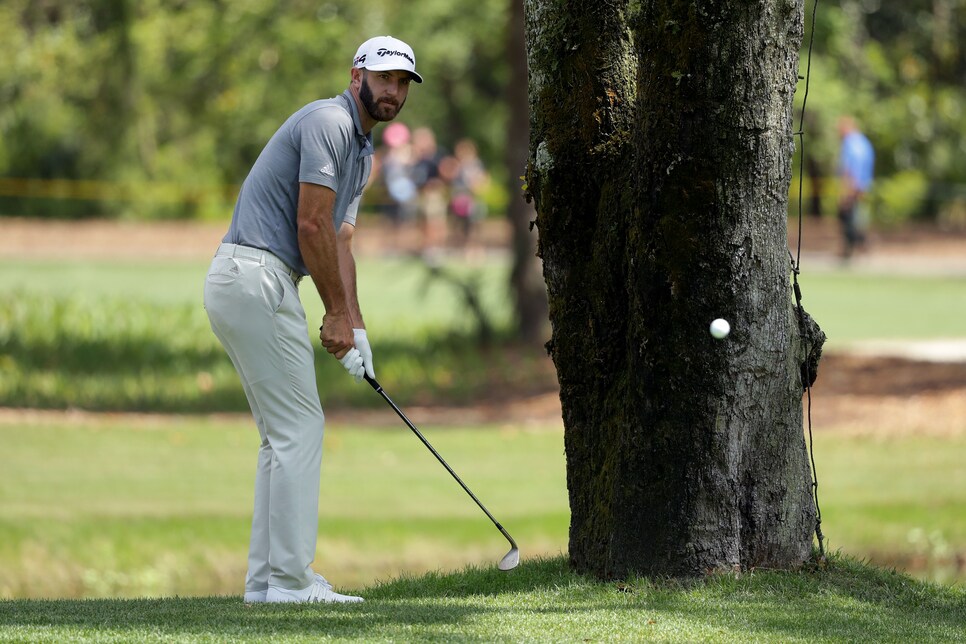 If you haven't heard already, you'll hear a lot more on Saturday and Sunday about how Harbour Town offers a more unique, strategic challenge than any course on the PGA Tour schedule. Both Matt Kuchar and Billy Horschel lauded the Pete Dye-designed track after their opening rounds for encouraging more creativity and shot shaping. Dustin Johnson took the whole creativity thing to a new level on Friday in Hilton Head.
After missing left of the green with his drive at the 190-yard par-3 seventh, Johnson arrived to the green to find his ball next to a tree, leaving him in an impossible spot to take a normal stance from. The world No. 1 had a few options, go full-Kuchar and hit it backwards like he did at Sawgrass in 2015, find a playable stance and hit it wherever he could, or the most dangerous of all, play it lefty. Johnson, who seems like a go big or go home type of guy, went with the dangerous option, and not only pulled it off but he nearly holed it for birdie:
We hear the cliche "that's as good as you could do" a lot in golf, and it seems applicable here, unless of course he drained it. Either way, on a shot where so much can go wrong so quickly, that is some deft touch from a guy known for bombing the ball with the driver. His playing partner Wes Bryan could learn a thing or two about trick shots like that.