The Loop
Was Valhalla's fourth hole too drivable Saturday?
__LOUISVILLE, Ky. -- Valhalla's fourth hole got a lot shorter Saturday at the PGA Championship. The tees were moved up to play the par 4 at 292 yards versus 372 yards the first two rounds. It sported a 3.311 third-round scoring average versus a 3.824 the first two days.
Too short? Too drivable? And too much reward without enough risk?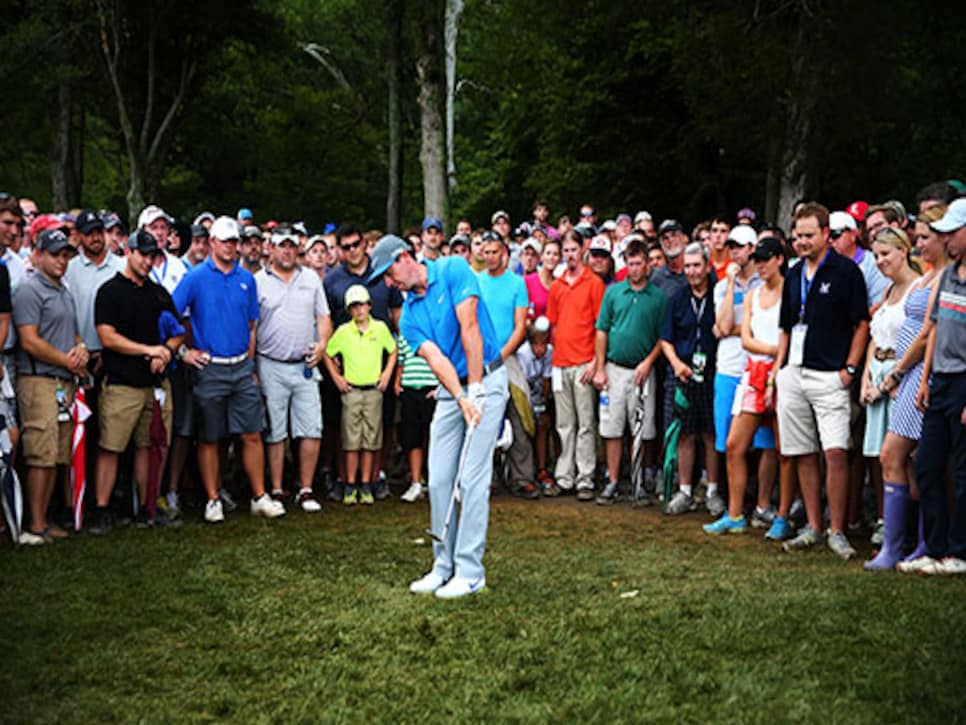 Rory McIlroy pulled his tee shot out of bound and had to drop on the par-4 fourth, but still managed to save par. (Getty Images)
Those seem like absurd questions considering the power of the 2014 PGA's leader board, a product in part of a setup that is allowing the world's best to play aggressive golf. When leaders Rory McIlroy and Jason Day came through the classic, drivable par 4, drama broke out. McIlroy pumped one into the creek way left of the green and had to sink an 11-footer for par. Day drove the green and had an easy two-putt birdie.
"They set it up a little bit easier today," Hunter Mahan said after his 65. "[It] seemed like front tee on 4 [was set] so basically everyone can hit that green."
And most tried with a 3-wood, with 88 percent hitting the green in regulation. Of the 69 who tried to drive the green (out of 74 golfers competing Saturday), just 18 actually landed it on and kept their ball on the putting surface. Seven made eagle and 41 more birdied.
Yet buried in the ShotLink numbers for Valhalla's fourth: the hole had produced no double bogeys or others the first two rounds. Saturday when it played 80 yards shorter? Two doubles and one other.
Maybe temptation was not a factor, but risk, reward and penalty worked very well in concert, making the move a welcome addition to a lively Saturday at Valhalla.