Equipment
Was Tiger Woods' camo-print red on Sunday at Carnoustie a winner?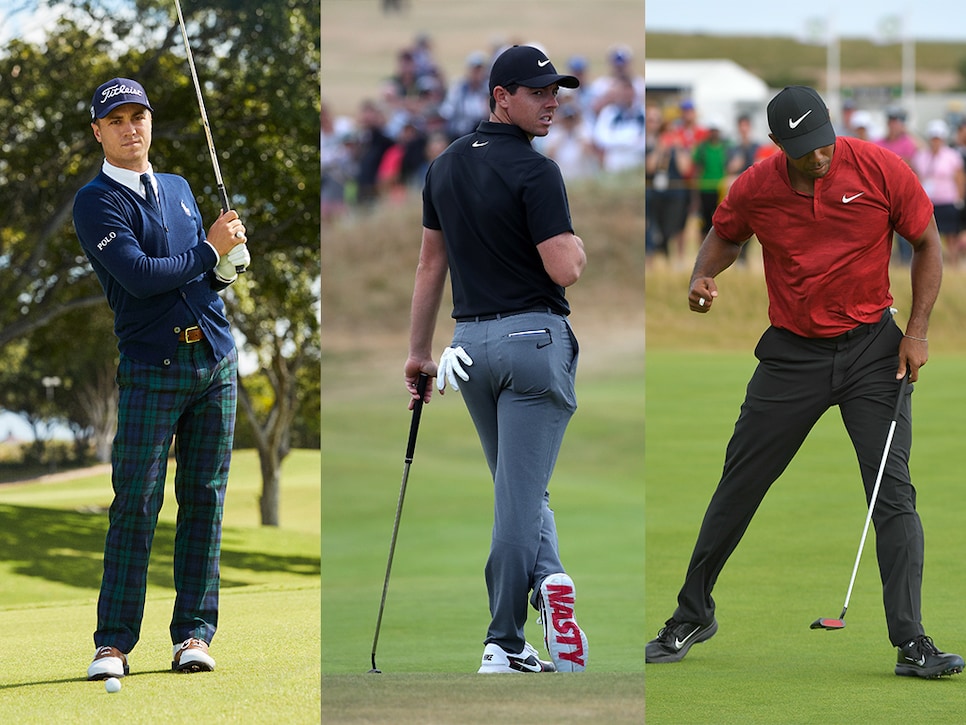 The Open Championship never disappoints when it comes to exciting finishes, and this year was no different with some of the best players in the world, including Tiger Woods, at the top of the leaderboard flashing on Sunday afternoon. Through heavy winds, bouts of rain and even a little bit of sunshine at Carnoustie, the weather was almost just as challenging to battle as the course was. It's never easy to prepare for sporadic weather conditions while maintaining a stylish look, but the Open is the best opportunity for the world's best players to prove how well they can pull off these looks. Here are some of the all-weather trends spotted at Carnoustie:
Tiger Woods' Sunday Camo Cameo: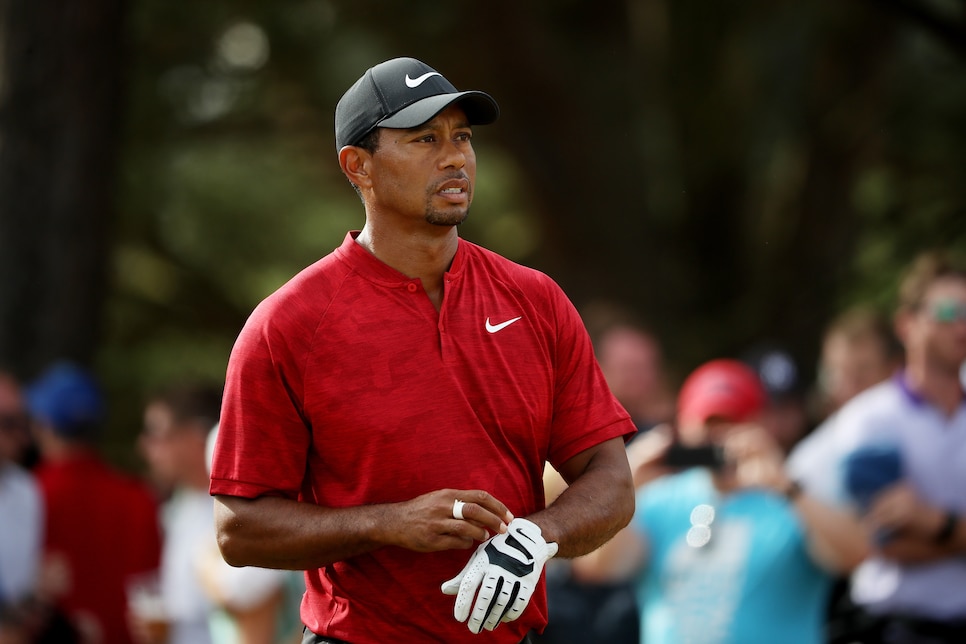 One of the most exciting parts of the final round at the Open Championship was watching Tiger Woods' charge. It was expected that he'd be wearing his Sunday red, but the 14-time major winner mixed his traditional shirt with some camouflage print. The TW Zonal Cooling Men's Camo Golf Polo ($85) has a two-button placket and a fold-over collar that creates a classic and cool look. The Zonal Cooling technology is ultra-breathable, and the subtle camo makes the solid a little more interesting.
A More Youthful Look for Bryson DeChambeau: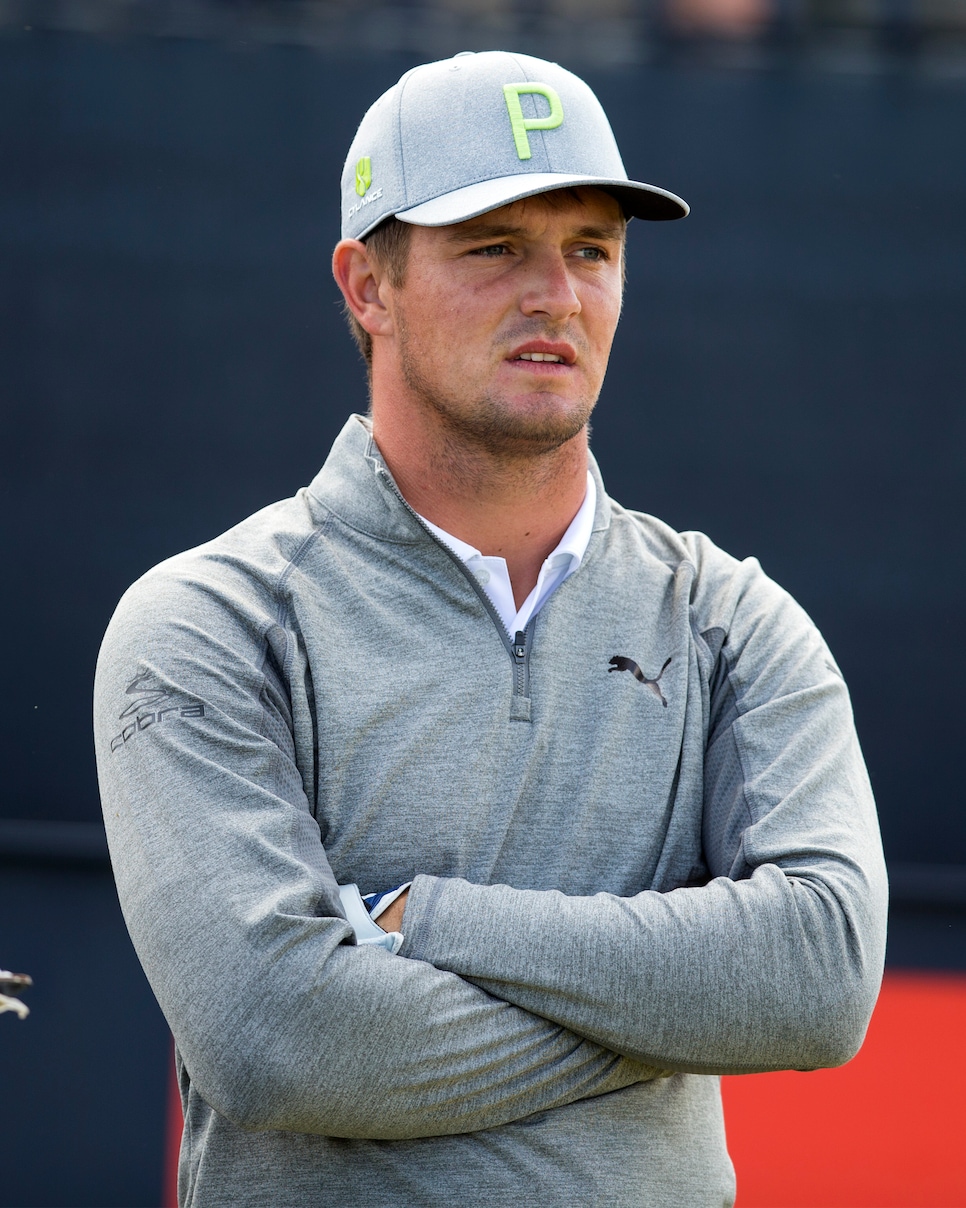 Bryson DeChambeau skillfully brought back the Ben Hogan-esque driving cap trend for his own unique on-course style. DeChambeau rocks the look week after week, but he put a regular golf hat into rotation during a Wednesday practice round for a younger, extra stylish look. The gray Puma P 110 Snapback Golf Hat ($28) allowed the 24-year-old to look more his age, and he looked athletic in it. The heather hat was highlighted by bright lime detailing and when paired with the Puma Men's Core Quarter-Zip Golf Pullover ($65), also in heather gray, pulled together a polished ensemble.
Jason Day may have not been on top of the leaderboard, but his sneaky T-17 reminds us that he is never far from the top. The same goes for his scripting. His subtle pink tartan-inspired look during the first round could have easily been missed but deserves a second look. His Nike Dry Pique Tartan Polo and Nike Golf Tour Premiere Shoes ($200) featured a plaid-like print that is easy to wear and match. The Nike AeroBill Classic99 hat in the same tartan print ($35) is also available if you're looking to try out the cool plaid trend.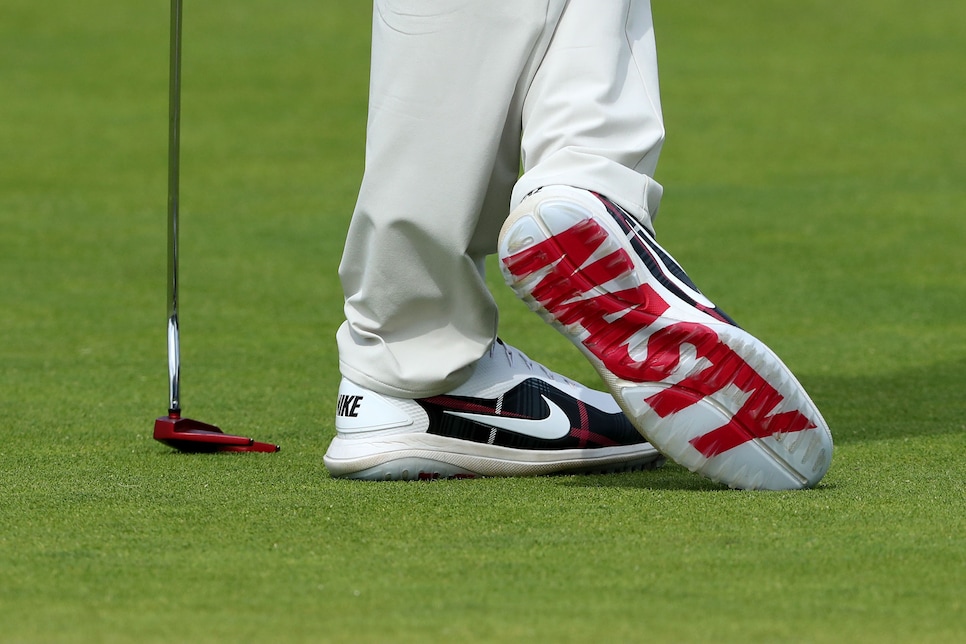 Nike's golf shoes became one of the biggest talking points early in the week, with the "NASTY" print on the outsole garnering a lot of attention, as an homage to Carnoustie's appropriately nicknamed "Car-nasty" label. The bold tartan print in black and pink was striking and add style to the simple black shoe. This version of the Nike Golf Tour Premiere shoe ($200) was sold in limited quantities on Nike.com and has since sold out. The regular version of the shoe—comes in a metallic shade, a contrasting black and white, a plain black and a plain white—has a unique FastFit Closure that uses pull taps to tighten and loosen the shoe for a secure and comfortable fit.
Jon Rahm and Rickie Fowler's Matching Second Round: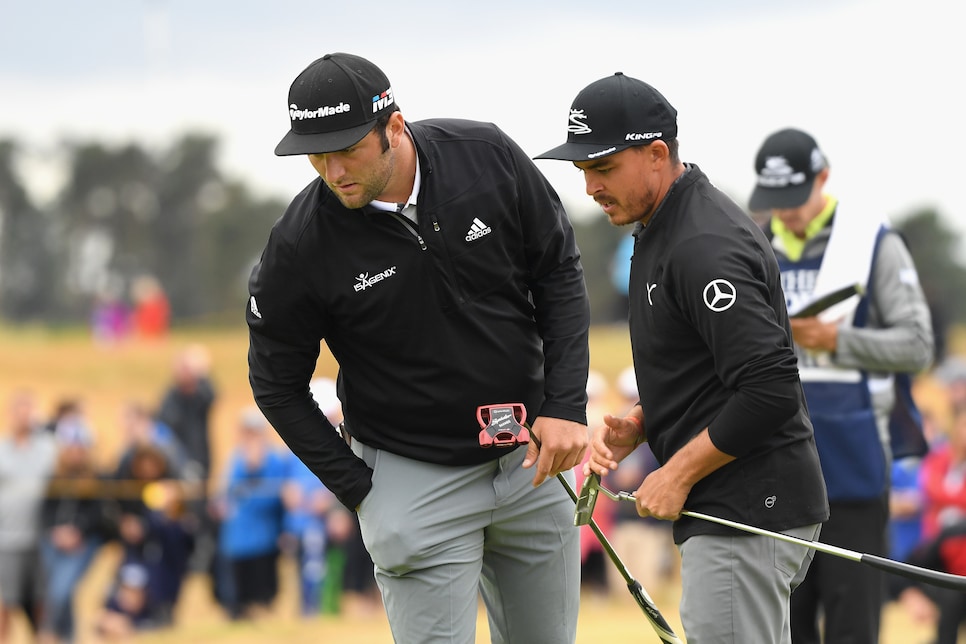 It's almost as though Jon Rahm and Rickie Fowler coordinated their outfits before the second round because they matched so well. Rahm showed up in a black adidas quarter-zip, the adidas Ultimate 365 Pants ($80) in gray and a TaylorMade New Era Tour 9Fifty Snapback hat ($35). Fowler had on a black mock neck Puma jacket, gray Puma 6-Pocket Golf Pants ($80) and custom black Cobra cap. When working with gray pants, always be mindful of what layering piece you have on hand in case the temperatures drop. Rahm and Fowler's black jackets matched their pants and the black hats pulled the entire look together. A clashing jacket will ruin a look quicker than a pop-up thunderstorm.
It wouldn't be a style roundup without analyzing Justin Thomas' looks: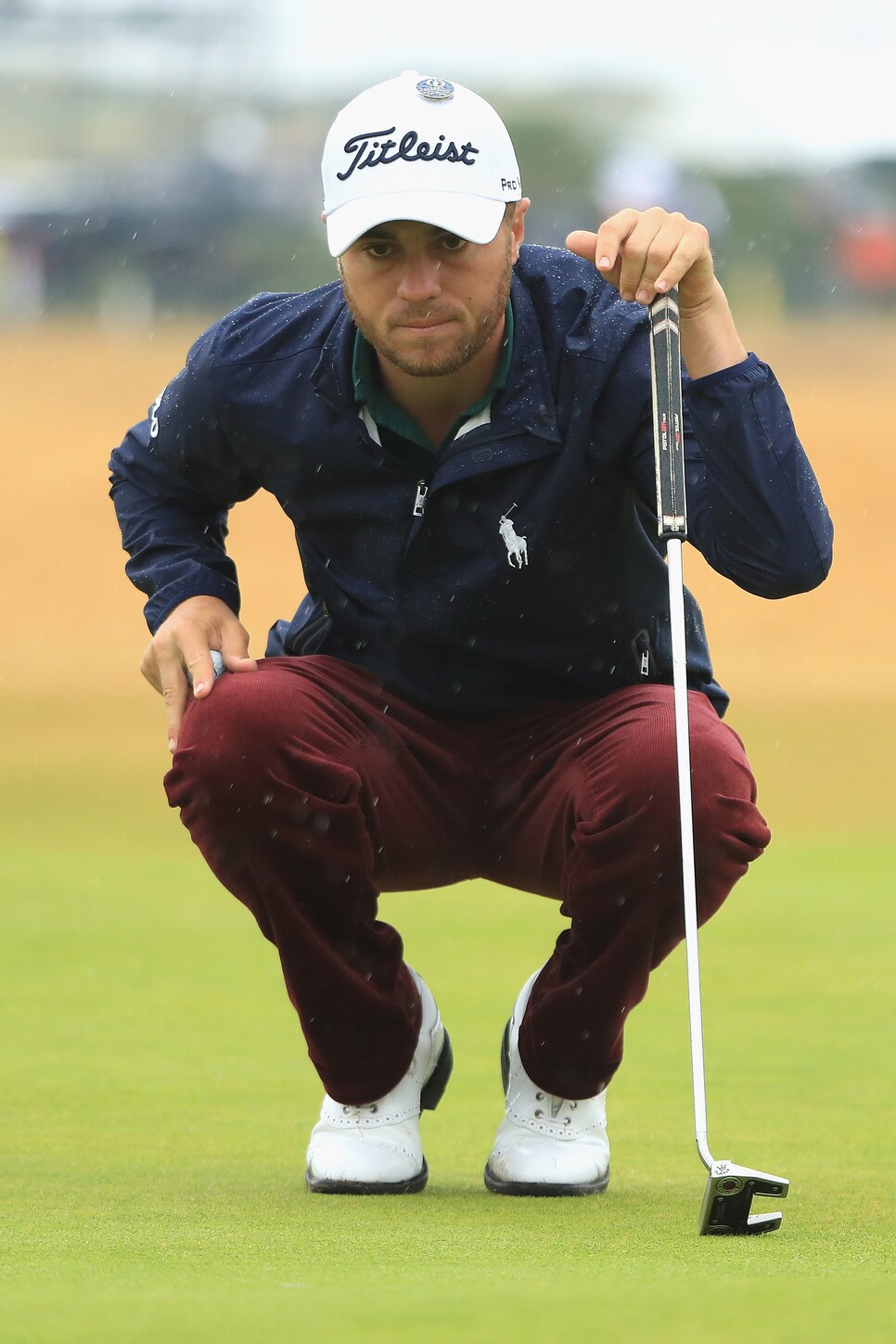 As always, Justin Thomas looked top-notch and pushed golf style limits. His maroon trousers during the second round in corduroy, were especially noteworthy. Believe it or not, corduroy for golf is on-trend and JT's wine-colored version was a big hit. These aren't just any corduroys, the Ralph Lauren 5-pocket Performance Corduroys are designed for golf with the right amount of stretch and a comfortable slim fit that is unlike any cords you've worn before.
The maroon shade is perfect for fall and adds sophistication to any look. Keep accessories simple, like Thomas' simple white Foot Joy Icon Golf shoes ($290) and Titleist Tour Performance hat ($27). Copy his scripting and pair with other winter-y solids like navy or dark green. Under his rain jacket is the Polo Golf Active Fit Stretch Lisle Polo ($90) that is a dark blue-green base with tiny navy stripes, a solid selection for the always dapper 25-year-old.
His first-round Polo Golf Tailored Fit Performance Pant ($99) also looked great paired with a navy Performance Polo ($90) and custom Foot Joys. The green colorway brightens things up without looking gaudy. They'll stay stylish through fall and will definitely be a hit during the holidays.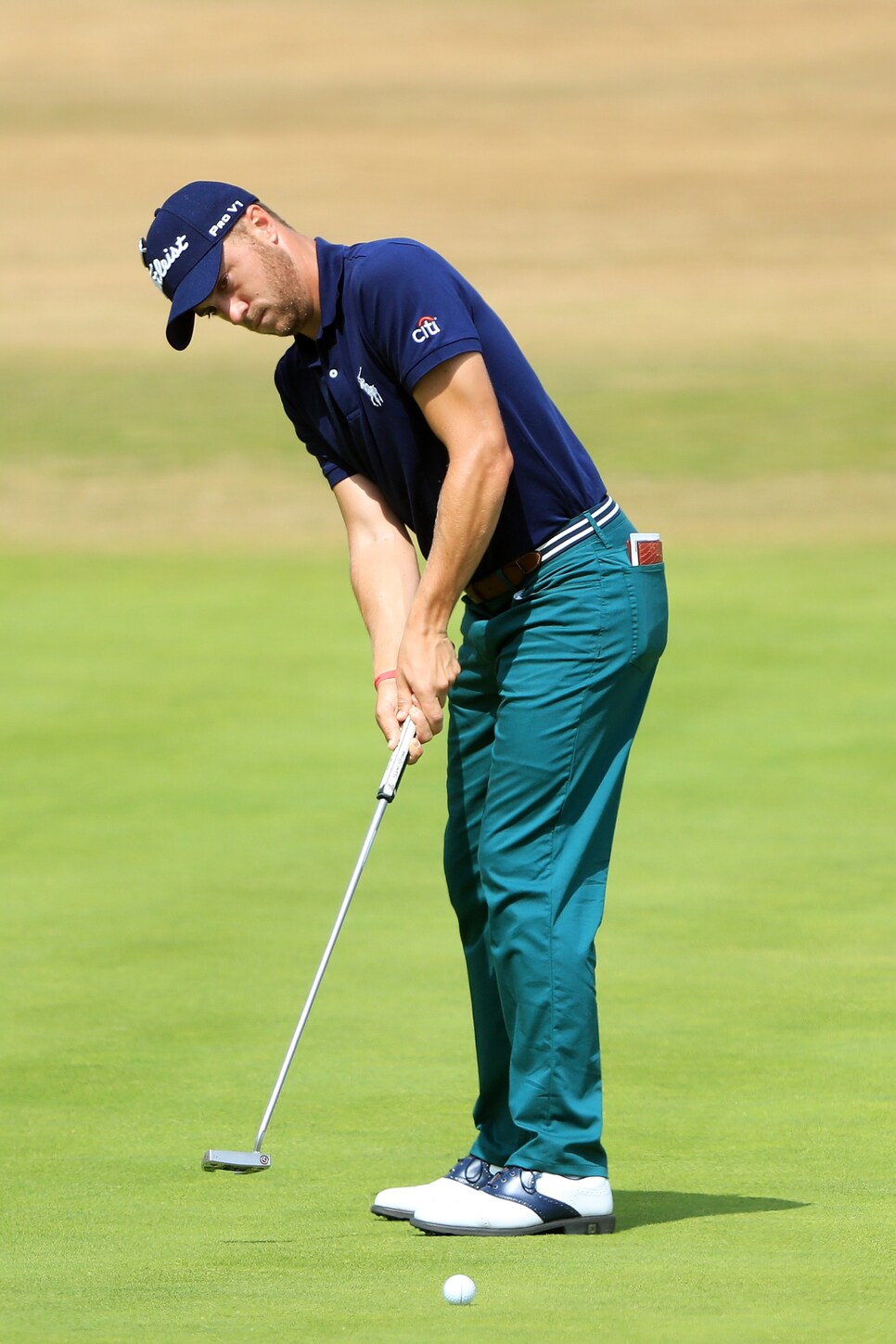 Thomas missed the cut, so we weren't able to see his weekend ensembles. On Sunday he was set to debut a tartan pant with his now signature cardigan and tie that was sure to impress. The Ralph Lauren Classic Fit Performance Pant in Blackwatch Tartan ($125) have a throwback look with a high-tech build. They wick away moisture and maintain a classic shape despite the conditions.