The Loop
Was there a winner in the year's first showdown between Jordan Spieth and Rory McIlroy?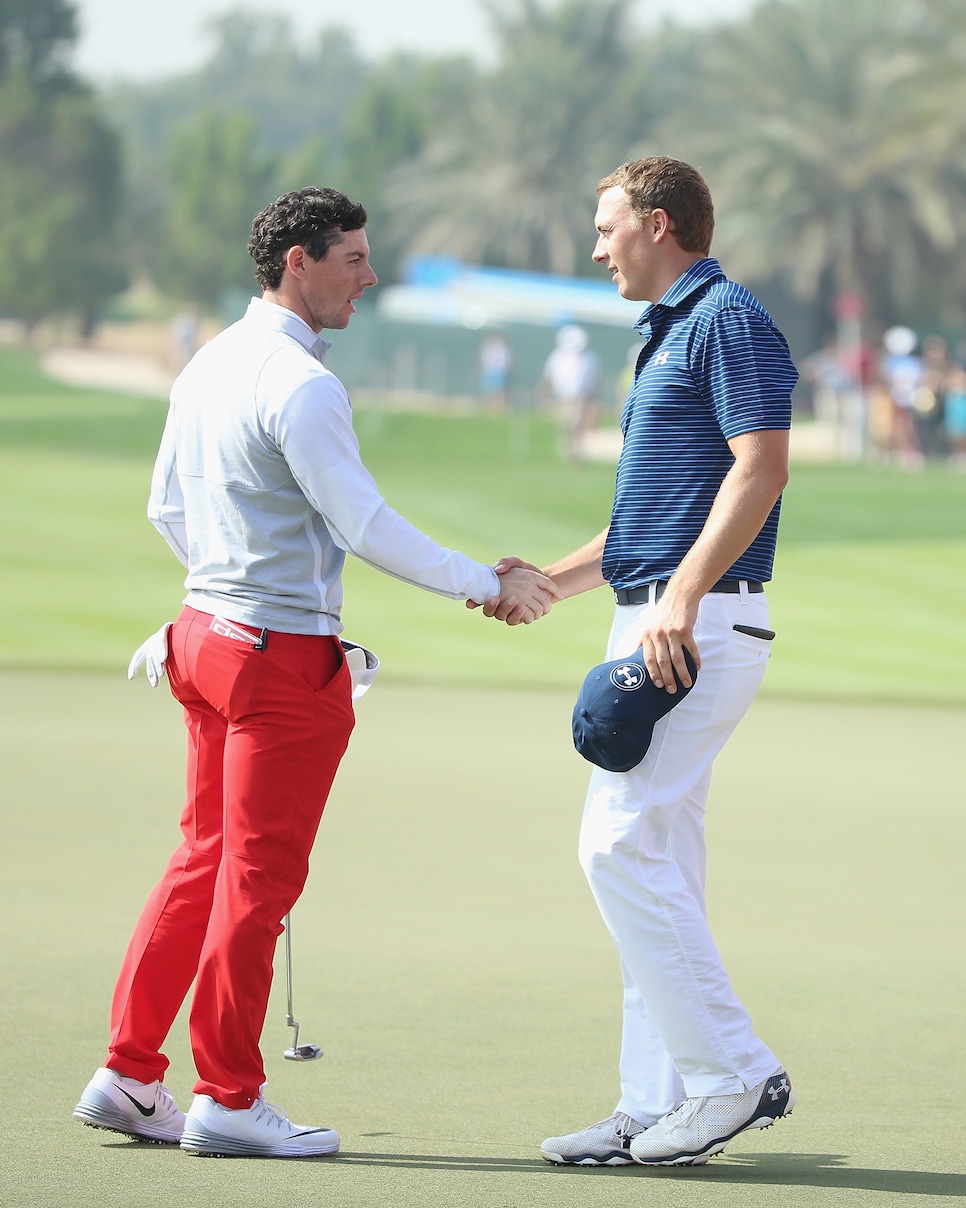 It's an intriguing and gratifying rivalry, the one between Jordan Spieth and Rory McIlroy.
There would seem to be room for resentment or coolness, especially from McIlroy. After joining Jack Nicklaus and Tiger Woods as the only players to win four majors before age 25, McIlroy was anointed the next dominant player to Woods. The golden swing, the power game, the ability to blow away a field all made him historically special.
But after the Northern Irishman won the last two majors of 2014, Spieth won the first two of 2015 to wrench away the new crown. The young Texan is No. 1 on the World Ranking and tops Golf Digest's list for money earners on and off the course. McIlroy, meanwhile, has dropped to third in the world, behind Jason Day.
Spieth and McIlroy are different—in nationality, playing style, competitive temperament. McIlroy is more the blithe artiste, forgiving himself mistakes in anticipation of true brilliance. Spieth is the grinding efficiency expert, never off his own back.
They also share striking similarities. They are ultra competitive, Spieth probably more naturally so but McIlroy possessing a self-made ruthless streak that can be detected in the relentless honing of his ever-more-cut physique. Each, though, is remarkably respectful of the other, generous in sincere praise of what they admire. They are only 22 and 26, yet neither has ever intemperately provided bulletin-board material for the other.
The Abu Dhabi HSBC Golf Championship was the first place the two have met since the tumultuous end of 2015 PGA Tour season, where McIlroy was hampered by injury as Spieth closed out Player of the Year by winning the Tour Championship and the FedEx Cup. For good measure, Spieth was coming off his eight-stroke victory at the Hyundai Tournament of Champions, an event McIlroy passed on playing.
It all seemed to give the motivation edge to McIlroy, who on Wednesday discussed his custom of writing goals on the back of his boarding pass during his annual flight from Dublin to Dubai (he said winning the Masters to complete the career Grand Slam is not something he has to write down). He was forthright about wanting to regain No. 1 and couldn't avoid implying that he hoped to send a message at Abu Dhabi, where he would be paired the first two rounds with Spieth.
"I want to play well this week, and if that means laying down a marker to someone or to the rest of the field, then that's great," he said.
For his part, Spieth spoke of his goals with his unique ability to praise others while being unabashedly ambitious—the humble Alpha male.
"I think there's two ways of going forward," Spieth said. "One is you can be satisfied and think about all the stuff you've done. Or two, you can look at what these guys who you've looked up to your whole life [and see they] have accomplished more than you have. Tiger, Phil, Rory, these are guys that have done more in the game of golf than I have, and I want to strive to get to what they have done. I want my name to go down in history for as many things as it can. That's where my mind is. I'm less satisfied with what's happened and more hungry to try and keep it going."
The day before, tournament organizers pitted Spieth and McIlroy, along with Rickie Fowler and Henrik Stenson, against each other in a race while riding Golfboards. Given the ankle injury from playing soccer that caused McIlroy to miss the Open Championship at St. Andrews and basically ruined the second half of his year, along with the fact that none of the players had ever ridden what are essentially motorized skateboards, the competition tempted disaster. Sure enough, after the four players defied instructions to use the low (6 m.p.h.) speed and instead shifted into the high (14 m.p.h.) speed, Spieth inadvertently hit the back of McIlroy's board as they went through a narrow gap. "Actually, Jordan nearly took me out," said Rory. Spieth sheepishly admitted, "I kind of slowed down and bumped the back of his board. Fortunately his ankles stayed on the board."
On Thursday they played, joined in the feature threesome by Fowler, the eventual tournament winner. Traditionally, battles between the best two players of their era rarely produce brilliance. As Jack Nicklaus used to say about playing with Arnold Palmer, "We tried to beat each other so bad we forgot about the golf tournament." But McIlroy opened strongly with a 66 accented by spectacular driving.
"That was the Rory that I have seen win majors," said Spieth, who fashioned a hard-working 68 with driving he termed "short and crooked." "If he keeps striking it like that I'm going to have to make up for it somewhere else."
Which is basically what Spieth has done to everyone in golf for the last year. But at Abu Dhabi, Spieth lacked magic, most notably with his putter. He followed with a 73 and two more 68s. Afterward, he admitted that his global schedule the past few months ("to see places that I had never seen before, on and off the course") was too ambitious. "I'm very tired, I am," Spieth said before flying to this week's Singapore Open. "The first day I was here I was striping it and since then I have been a little weak and my decision-making has been off."
Rory also lacked overall sharpness, surely due to rust. In his own Sunday 68 he eagled the par-5 72nd hole with a majestic fairway wood into the wind and a 35-foot putt. It would leave him T-3, two strokes out of first and one stroke out of overtaking Day for No. 2 on the World Ranking. But McIlroy could take some solace in having beaten Spieth by four.
May they each be sharper when they next meet, next month at Riviera Country Club for the Northern Trust Open.
Editor's Note: This story originally appeared in the Jan. 25 issue of Golf World.