The Loop
Was Chambers Bay a tough course on spectators, except for those Greg Norman encountered?
Chambers Bay, whatever one's impression of the course itself, did not allow for a strong spectator experience during the U.S. Open according to most accounts.
"USGA officials acknowledge they've been fielding complaints about unusually restrictive fan access to parts of the Chambers Bay golf course," Jack Broom of the Seattle Times wrote, noting that the USGA was recommending fans find seats in the grandstands rather than roaming a course with steep slopes.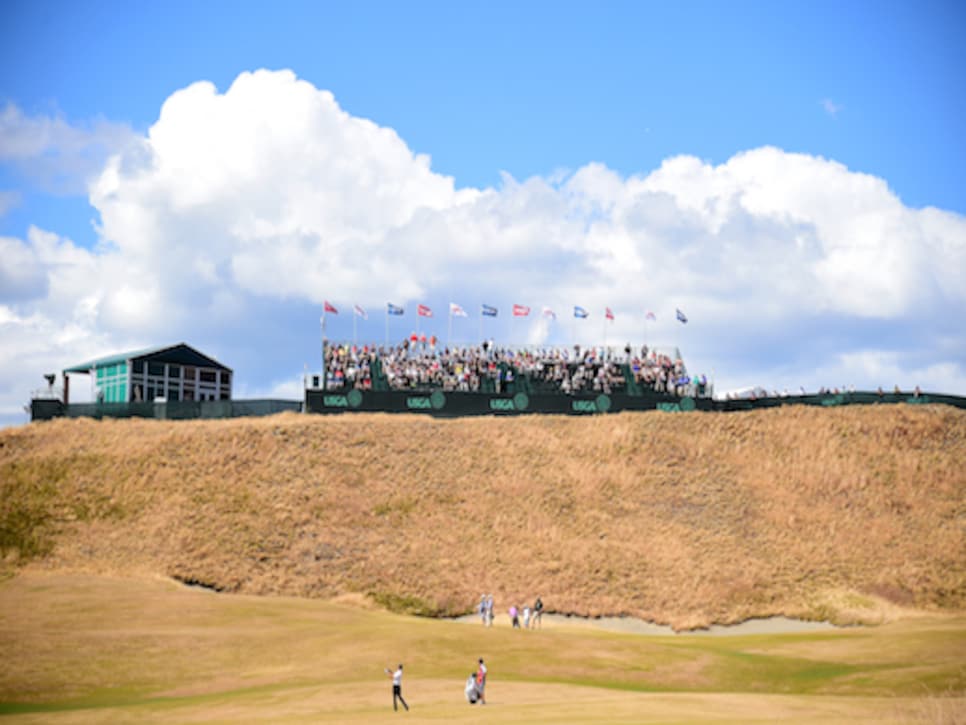 Fans watch first-fairway play from a distance (Getty Images)
"I've been to 10 majors, including four U.S. Opens, and this was the worst fan experience," John Woodin, 63, of Bellevue told Broom. "This was an embarrassment."
That's why Fox analyst Greg Norman's response in a conversation with USGA President Tom O'Toole early in the telecast on Sunday seemed odd. First the setup question, asked by Tom Weiskopf.
"Maybe the consideration in the future, if you come back, to do something more for the spectator, getting them more involved closer to the game," he said. "Has that been talked about?"
"Absolutely," O'Toole replied. "We said all along we'd do a post-championship assessment. We said all along we knew this property has been difficult to traverse. We made a lot of adjustments after the Amateur here in 2010. Good point, well taken. We have to be flexible looking at these sites post championship. We have to be critical of ourselves if we need to be. The spectator experience is very important here and we want it to be the best. And if we come back here there certainly will be adjustments."
This is when Norman countered with his experience mixing with the crowd on Saturday.
"I actually walked with the spectators a little bit yesterday, just to get their feedback," he said. "I specifically asked what do you guys think, what do you think of the golf course, how do you like it, how's the presentation. One-hundred percent of everyone was so enthusiastic and over-the-moon about the U.S. Open Championship being here."