Colleges
Wally Goodwin, who led Stanford to an NCAA team title and coached Tiger Woods, dies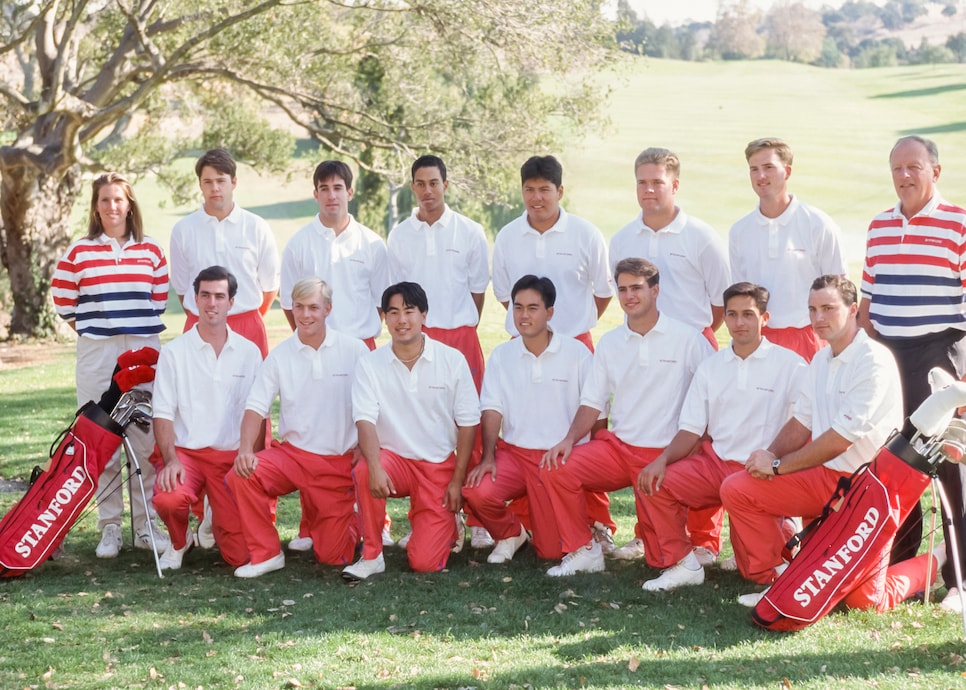 PALO ALTO, CA - OCTOBER 1994: Tiger Woods and teammates of the 1994 Stanford University Men's Golf Team pose for a group photo in October 1994 on the Stanford University Golf Course at Stanford University in Palo Alto, California. Kneeling in front row are Matt Thompson (far left), Eri Crum (second from left), Jerry Chang (3rd from left), Will Yanagisawa (4th from left), Steve Burdick (fifth from left), David Garcia (second from right), Pete Ligotti (far right). Standing in back row: unidentified Assistant Coach (far left), Jake Poe (second from left), Dale Chavez (3rd from left), Tiger Woods (4th from left), Notah Begay (5th from left), Conrad Ray (third from right) , Casey Martin (second from right), and Coach Wall Goodwin (at far right). (Photo by David Madison/Getty Images)
David Madison
Wally Goodwin, who won an NCAA championship and coached Tiger Woods at Stanford, died earlier this week at 94.
Goodwin spent 13 years with the Cardinal, leading the team to an NCAA title in 1994, the school's first golf championship since 1953. The next season, the Cardinal, with Woods as a freshman, lost in a playoff to Oklahoma State. While in Palo Alto, Goodwin recruited the likes of Woods (who won the individual NCAA championship in 1996), Notah Begay III and Casey Martin. He was named National Coach of the Year in 1992 and 1994 and Pac-10 Coach of the Year twice.
"Stanford Golf and the world of college athletics lost an icon," said current Stanford coach Conrad Ray, who played for Goodwin in the 1990s. "Coach Goodwin had a profound impact on so many young student-athletes over the years, including myself. He was not only a legendary coach, but also a man of character, hard work, and total positivity, which carried over to everything he was involved in. Our sincere condolences go out to Nancy Goodwin and the entire Goodwin family."
"Thanks Coach Goodwin for giving a Native American kid from New Mexico a chance!" wrote Begay on Twitter. "I will forever be grateful and will miss you! Rest easy you old cowboy!"
In 1989, Goodwin famously reached out to Woods when he was 14 after getting word of the junior phenom emerging in Southern California. In a letter to Woods, Goodwin spelled out the academic requirements for Stanford and encouraged Woods to consider the school when exploring college.
"I looked at this kid and I thought 'what a smile,'" Goodwin said of Tiger. "This kid is different. There was something different there. So I wrote him a letter. … It was to just let him know who I was, and if he was interested in going to Stanford to write me a note and let me know and I'd follow him and see where it goes. He writes back this letter. It's a perfect letter. I mean perfect. His handwriting was great. He had capitals, punctuation; every sentence had a verb in it. It was great."

According to Goodwin, Woods had a creative way of informing him what college he had decided on during a home visit when Tiger was a high school senior.

"He said, 'Hey coach, I've got something to show you.' He reaches under his chair and he pulls out a Nevada-Las Vegas golf hat and puts it on. I said, 'Hey you little twerp.' You wouldn't have asked me to come down here if you were going to go to Vegas. I can't understand why you'd want to go there anyway. You wouldn't have me down for dinner for that, you'd have your father call me on the phone. He said, 'Relax, coach.' Then he reaches down and pulls out an Arizona State golf hat. I said, 'Tiger, if that's as close as you've come to making up your mind I've got to go. I have to get back to Stanford.' He stopped me and put on a Stanford hat and said, 'Coach, I'm with you.'"
Prior to Stanford, Goodwin started the golf program at Northwestern in 1981, spending six years with the university before jumping to Stanford in 1987. He retired in 2000, but came back in 2003 to establish another new program, this time at Northern Colorado. Before getting into college golf Goodwin was the athletic director at Stevenson School (1968-'78) in Pebble Beach. He also coached the boys' golf team, which won a state title in 1977 with Bobby Clampett on the squad.