News
How We Chose the Top Golfers on Wall Street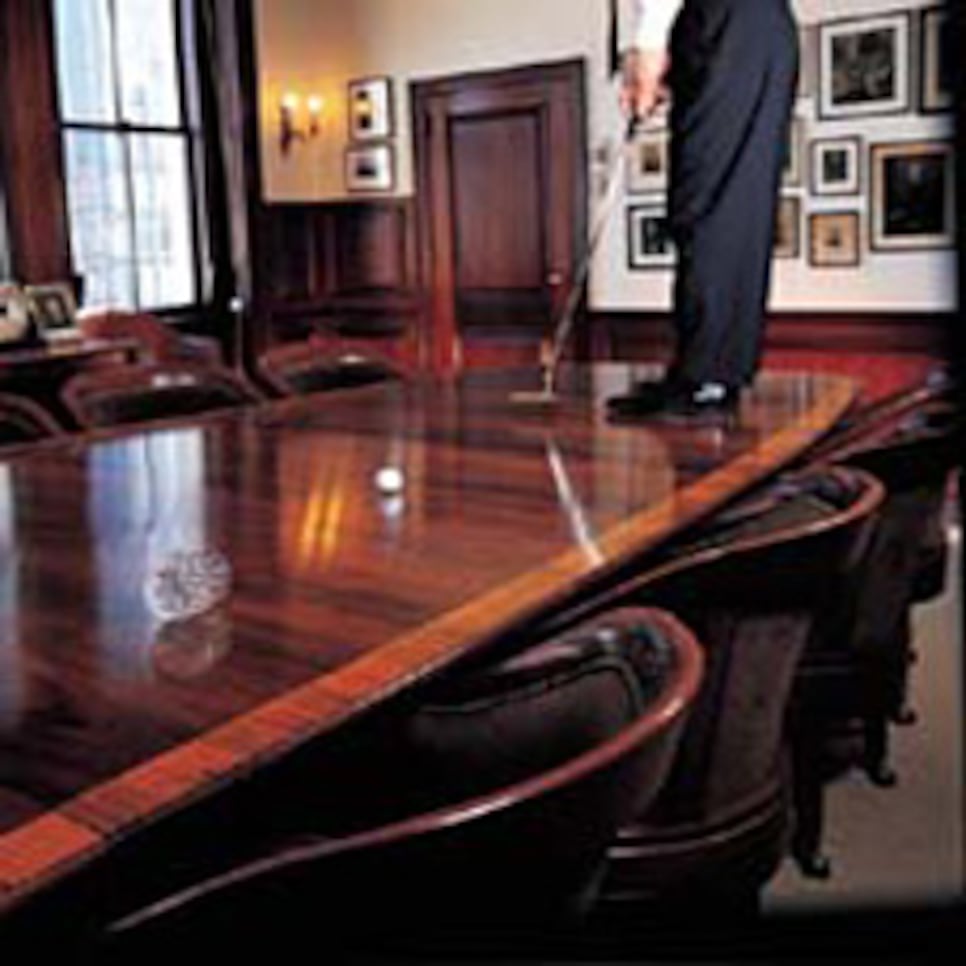 We've ranked the top golfers among CEOs and doctors, Hollywood actors, musicians and athletes. We even tracked down the low-handicap politicians and lobbyists in Washington. This year, with the Dow Jones industrial average soaring past 13,000 for the first time and private-equity firms launching multi-billion dollar IPOs, Golf Digest is expanding its focus on business golfers beyond Fortune 1000 CEOs by ranking those in investment banking, private equity and venture capital.
Many were reluctant to discuss their devotion to the game. "Wall Street is paranoid about golf," says Stephen Worth, a five-time club champion at The Creek Club in Locust Valley, N.Y., and a managing director at the investment firm Evercore Partners. "I think it's because our customers expect us to be available 24/7, and you can't play golf with a cell phone or BlackBerry."
Even those with impressive golf résumés acknowledge the conflict. Says nine-time Maryland Amateur champ Martin R. West III, a vice president with UBS Financial Services in Bethesda, who has competed in two Walker Cups, 19 U.S. Amateurs, a U.S. Open and two U.S. Senior Opens (many before he moved from a family business into finance): "If you're serious about your business, you have to pick your spots." As for the benefits of being a low-handicapper, West says, "Golf opens the door but doesn't close the deal."
Trip Kuehne, who runs Double Eagle Capital Management and plays to a Handicap Index of plus-4.9, is No. 1 on our list. He's the older brother of tour players Hank and Kelli Kuehne, and is perhaps best known for finishing runner-up to Tiger Woods in the 1994 U.S. Amateur. Kuehne will play in his third Walker Cup on Sept. 8-9 at Royal County Down in Ireland.
We decided to include in our inaugural Wall Street ranking golfers like Kuehne who are talked about in amateur golf circles more than in the pages of The Wall Street Journal and to apply subjective criteria to winnow from hundreds of candidates the balance of our Wall Street 150.
The result is a mix of Wall Street movers and shakers, some who have won club and regional golf championships, others who merely love to play the game, and some, like Kuehne, who balance careers in finance with demanding tournament schedules.
The majority have been playing from a young age. Even Henry Kravis and Charles Schwab have college golf in common with Kuehne, Brent Dorman, Kevin Hammer, Carlton Forrester, et al. For some, caddieing provided business role models.
Because we didn't consider traders for this ranking, notable amateurs such as Raymond Floyd Jr. and former New York City Amateur champ Mike Stamberger, another reinstated amateur who works with Floyd at Weeden & Co., do not appear despite maintaining better-than-scratch Indexes.
After prominent amateurs like Kuehne, we looked for the best "names" and the best golfers with senior positions in major firms. Philanthropy or a public persona based on outside interests earned bonus points. Sometimes frequent rounds and multiple club memberships counted for more than a low handicap. We made exceptions for iconic figures such as former PaineWebber and UBS America chairman Donald Marron, now chairman and CEO of Lightyear Capital, and T. Boone Pickens, the Dallas-based hedge-fund billionaire. Marron says he has been playing primarily with his son and not posting scores lately. Pickens hasn't posted scores recently, either, but he did eagle Augusta National's 11th hole in mid-April. When we called to check on his handicap, he was on the range.
No. 146 Carla Harris, managing director of global capital markets for Morgan Stanley, a 21.7-handicapper, is an active role model for other women in finance and a highly regarded gospel soloist. Although her Index places her well behind our top woman -- scratch golfer Tracy Welch, No. 25, is a former Dartmouth women's golf captain, two-time Massachusetts Amateur titlist, Women's Mid-Am competitor, lawyer-turned Credit Suisse vice president and a cousin of Brad Faxon -- we figure anyone who can find time for golf between investment banking, performing and recording deserves to be on our list.