News
Walk-Up Songs: More Than Words
Exploring how tour pros at the Zurich Classic are expressing themselves with their entrance music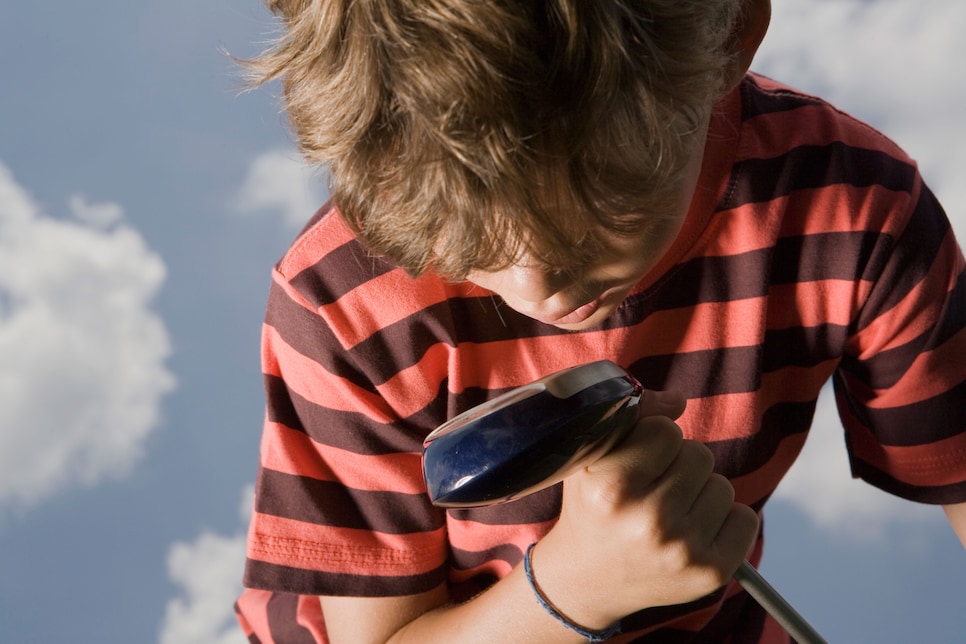 When I was in college, and probably for a few years beyond, I would occasionally take a stab at sophistication by typing song lyrics into my AIM away message. (For the uninitiated: AIM was a chat service, now defunct, and away messages told your friends you weren't at the computer.) I'm not necessarily ashamed of this, because it was so common, but I'm certainly not proud of it, and I'm very happy that no archive exists, because nothing is more excruciating than being humiliated by your own past.
But I did it for a reason: It was a performance. I wanted everyone who read my away message (particularly girls, I guess, but anyone would do) to infer something important about me from my choice of lyrics. I knew better than to post my own godawful stabs at poetry, and this was the next best thing. Depending on my mood, I hoped my audience would see me as deep, or funny, or so extremely refined in my tastes that I must be irresistible. It makes me cringe to think of how transparent it must have looked, and I don't fool myself into thinking that impulse is behind me. I've just learned to disguise it a little better.
This idea of music as an expression of self—even for someone like me who has never attempted to create music of my own, due to the certainty of absolute failure—still strikes me as a mystery. What was I really trying to say about myself in those away messages, through the medium of another person's poetry? On a broad level, it's the simple story of an artist being able to touch the soul of a stranger like me by virtue of great talent and great empathy. Still, that doesn't quite explain the way so many of us broadcast our taste—there is a difference between the private joy that music yields to the listener, and the ostentatious desire to make others aware of that experience.
I don't know why we can't keep it to ourselves, but I do know that each consumer of music inevitably becomes a musical exhibitionist. Nowhere is that truth on more blatant display than in the genre of entrance music, something that will come to the PGA Tour for the first time this weekend at TPC New Orleans.
For the uninitiated, entrance music is the song you hear when a batter comes to the plate in a major league baseball game, or when a wrestler struts into the arena. Oddly, perhaps, it happens to be a topic of great debate among us civilians, because the cold truth is that athletes and celebrities already have a fully formed identity, and, being less insecure than the average bear, typically put very little thought into such minutiae. Their indifference strikes us nobodies as a missed opportunity, because in the absence of our own fame, we are dying to express our identities to the greater public. The question of which song we'd pick for our entrance music is intriguing as it represents the confluence of two fantasies—the urge to bare our souls via musical taste, and the belief that anyone would care. For those of us who have given up the dream of rock stardom, this is what's left.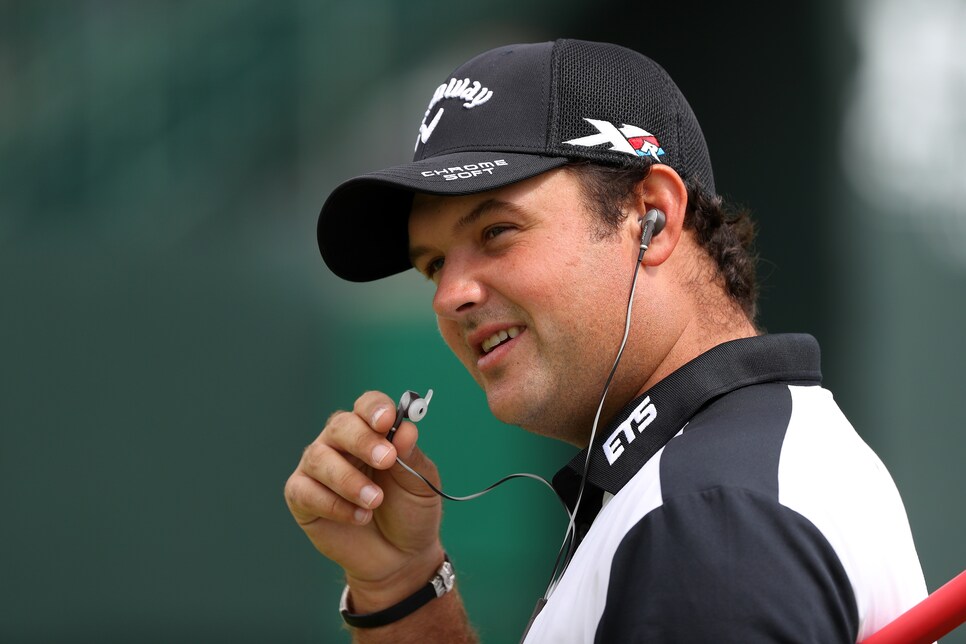 (Photo by Scott Halleran/Getty Images)
The Zurich Classic of New Orleans already broke with tradition by introducing a team format in 2017, and this year, the 35 teams who survive the cut will make their way to the first tee on Saturday and Sunday to the accompaniment of their own hand-picked walk-up songs. It's something the European Tour tried at its GolfSixes event last year in an attempt to make a different connection with fans, and to have fun. You can see each of the selections for the guys in New Orleans—half of which will never be played—here.
The funniest and most interesting pick, by far, goes to Harold Varner III and Robert Garrigus, who chose the Stevie Wonder/Paul McCartney duet "Ebony and Ivory" in a nod to their own racial makeup. But even this choice tells us something: It makes explicit the reality of Varner's life as a professional golfer, and the inevitable hyper-awareness that he is a black man in an overwhelmingly white sport. "Ebony and Ivory" is a clue to how he handles that fact, and perhaps indicates that race is never far from the forefront of his mind.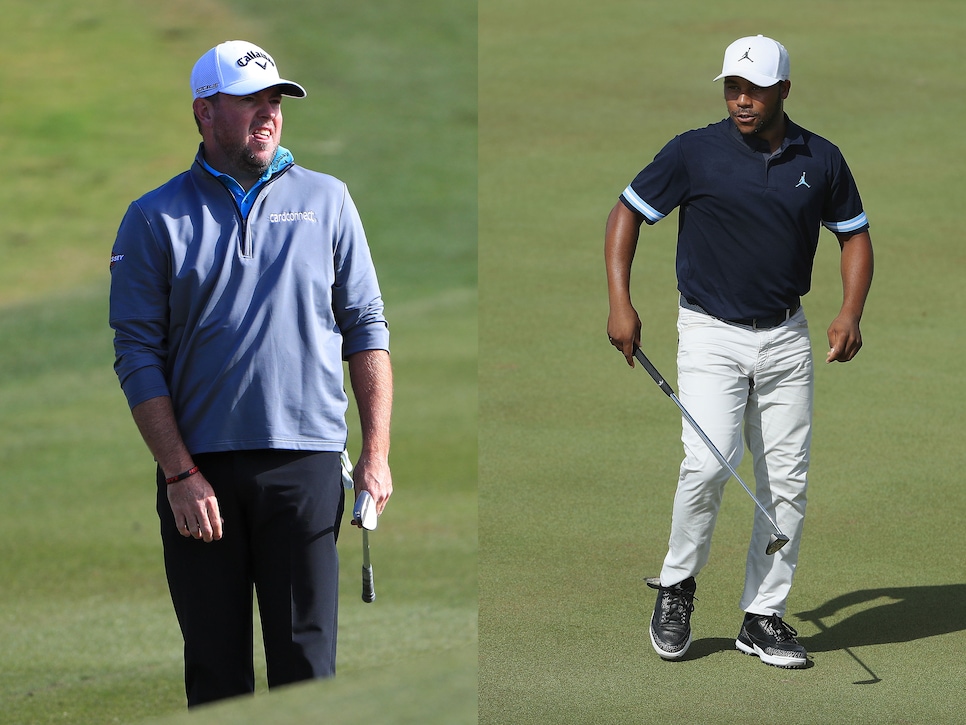 Don't worry—that's about as heavy as it gets. The bulk of the selections, I'm sad to say, are generic to a heartbreaking degree, and reflect only apathy. Charley Hoffman, Nick Watney, Brendan Steele and Jamie Lovemark all picked Tupac's "California Love" because they're from California. Abraham Ancer and Roberto Diaz picked "Mexico Lindo y Querido" because they're from Mexico. Jason Day and Ryan Ruffels picked "Down Under" because they're from Australia. Tyrone Van Aswegen and Retief Goosen picked Toto's "Africa" because they're from Africa. (Noticing a theme, here?) Shane Lowry and Padraig Harrington picked a U2 song because they're from Ireland, and managed to pick the worst one possible ("Beautiful Day"). Russell Knox and Martin Laird picked "Flower of Scotland" because … well, you get it.
Then there's Ryan Armour, Johnson Wagner, Ben Silverman, Matt Atkins, Chris Stroud and Brian Stuard, all of whom offended New York Yankee nation by stealing Mariano Rivera's signature entrance music, "Enter Sandman" (They claim they chose the song for different reasons, but I don't believe them.) And while we know Patrick Reed has spent most of his career engaging in Tiger Woods cosplay, actually choosing "Eye of the Tiger" as a walk-up song feels a little on the nose. (It also feels like a betrayal of Imagine Dragons.)
Some of the themes are a little more fun. Two of the oldest players, Steve Stricker and Jerry Kelly, chose "As Good As I Once Was," which has the perfect amount of self-deprecating humor. Justin Rose and Henrik Stenson chose "Gold" by Spandau Ballet because of their Olympic feats (though I might have chosen this one to include Henrik, even though it might be the worst entrance song ever).
Brandon Harkins and Lanto Griff, about whom I know nothing, chose Drake's "Started from the Bottom" in what I like to think is a winking nod to their own low status among the field. Justin Thomas and Bud Cauley, chose the Lion King song. The choice of "Working for the Weekend" by D.A. Points and Kyle Thompson makes for a clever golf pun. And the silver medal for funniest choice goes to Cody Gribble and John Peterson, who went with George Michael's "Careless Whisper," because who doesn't get worked up to a competitive frenzy frenzy with … a melancholy saxophone solo?
And we have to recognize the bizarre choices, too: Keith Mitchell and Stephan Jaeger opting for the obscure synthy techno song "Pizza Guy," and Tony Finau's rolling with "Do Wa Ditty," which, per the PGATour.com's Mike McAllister, he apparently chose without consulting his partner, Daniel Summerhays.
All in all, despite the slew of low-effort selections, I consider the addition of entrance music to be a major coup for the Zurich. It's fun, it's intermittently interesting, and it touches on a universal desire to tell the world about ourselves through a purely emotional medium—to convey a truth we can't express with mere speech. Music helps us reach the infinite and the ineffable, and for the record, I would force the gallery in New Orleans to listen to all five minutes of my favorite song before I unleashed the deadliest duck hook in PGA Tour history.