The Loop
Waiting for the sun at the rain-delayed Evian Championship
EVIAN-LES-BAINS, France -- Between bites of her lasagna Wednesday night at Rapido Pizza, the top choice for dining this week at the Evian Championship, Sophie Gustafson looked at the weatherforecast and began prognosticating.
"There is no way we are starting on time tomorrow," said the 39-year-old Swede, who first played here in 1996 when it was solely a Ladies European Tour event and not the LPGA major it is now. This week she's tees it up in her 18th Evian.
"The way these greens have been reshaped, they are going to collect water if we get even a little rain overnight," Sophie said.
On Thursday morning, when the start of the first round of the first year of the Evian as a major, was delayed once and then twice and then for a third time, Gustafson weighed in again.
"Called it. Glad I'm still in bed. :)" she tweeted.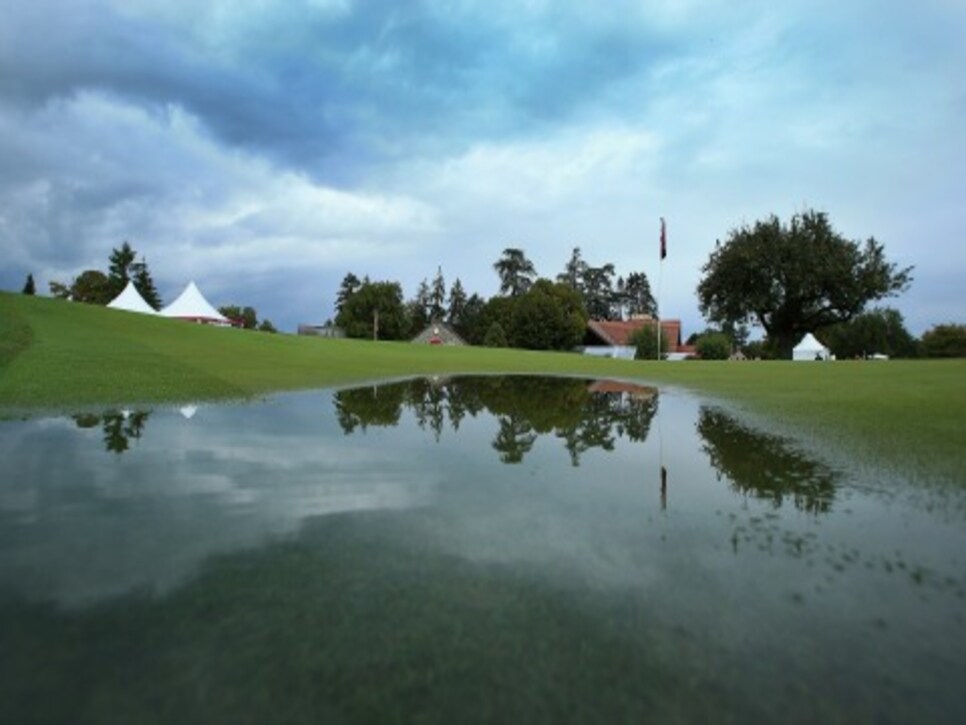 There was a point during the soggy start to the day when players with morning tee times sipped coffee while those lucky ones with afternoon starts hit the snooze button. It all felt like that voiceover start to that classic World War II movie:
"But the others wait in Casablanca - and wait - and wait - and wait."
Finally, at about noon, after 15 players had made it onto the course, play was wiped out and it was decided that the Thursday tee times would be Friday, the Friday ones Saturday then a cut and then 36 holes on Sunday.
For a player like Dori Carter, who arrived at 6:15 a.m. and was there six hours to play only three holes, which were then washed out, it was a frustrating morning that bordered on infuriating.
As Carter was leaving the course, an LPGA rules officials approached her and said: "I'm so sorry. If we had any idea this was going to happen we would have never started."
Indeed, the expected nighttime rain started later than expected and continued longer than planned. And the newly redesigned greens with severe contours collected water in a way the old greens didn't.
The result was that the guys with squeegees were fighting a losing battle, not so much clearing greens of water but repositioning the water to other places on the greens.
As players huddle beneath the tented beer garden -- which started uncorking the champagne earlier than usual -- there was an amusing online game going on between those with morning tee times and others who were to play in the afternoon.
While the morning group waited, then started, then stopped, then waited some more before finally being sent home, some in the afternoon group tweeted about the joys of staying beneath the sheets back in the hotel.
"I have a tweet for you," one player said to me during the last delay: "Morning Wave to Afternoon Wave: Stop gloating."
OK, well actually that is an edited version of what was said to me, a colorful two-word quote that end with theword "off."
By the time play was wiped out it was the only logical thing to do. Many of those with afternoon tee times will not play until Friday and will face a radically different course than the soggy Thursday version.
We came into this week with a bunch of questions hanging over this tournament, the first of which concerned the wisdom of having five majors instead of four.
There was also the question of what the weather would be like moving the event from the last week of July until mid September in the foothills of the French Alps.
Another question was whether a course could be massively redesigned - as this one was - in 13 months in a part of the world with a short growing season and be ready for tournament play.
What they did here is a minor miracle, literally working beneath snow to reshape the course. But significant parts of it were not ready, and that is the fault of no one except time. It needs more time to become what it will become.
And questions about the design -- is there too much length? Have the greens been overcooked? - will only be answered after 72 holes have been played.
Right now, that examination has been postponed. The optimistic hope is that the 120-player field will be cut to top-70 and ties on Saturday and those survivors will play 36 holes on Sunday -- which itself could pose a problem. Evian Resort Golf Club sits at 1,600-feet elevation with significant climbs, one of which -- from No. 4 green to 5 tee -- requires a shuttle for players making it, as one player said to me, "not the easiest course to walk 36."
So the long wait for the Evian to become a major got longer by at least one day. The hope is that it ends on Sunday. Certainly, several days into the first week of the first year of the Evian as the fifth LPGA major, all the questions remain.
Perhaps Sunday they will behind us. Or perhaps were will be waiting . . . and waiting . . . and waiting . . .