The Loop
Wait, was Phil Jackson's New York Knicks tenure really as bad as we thought?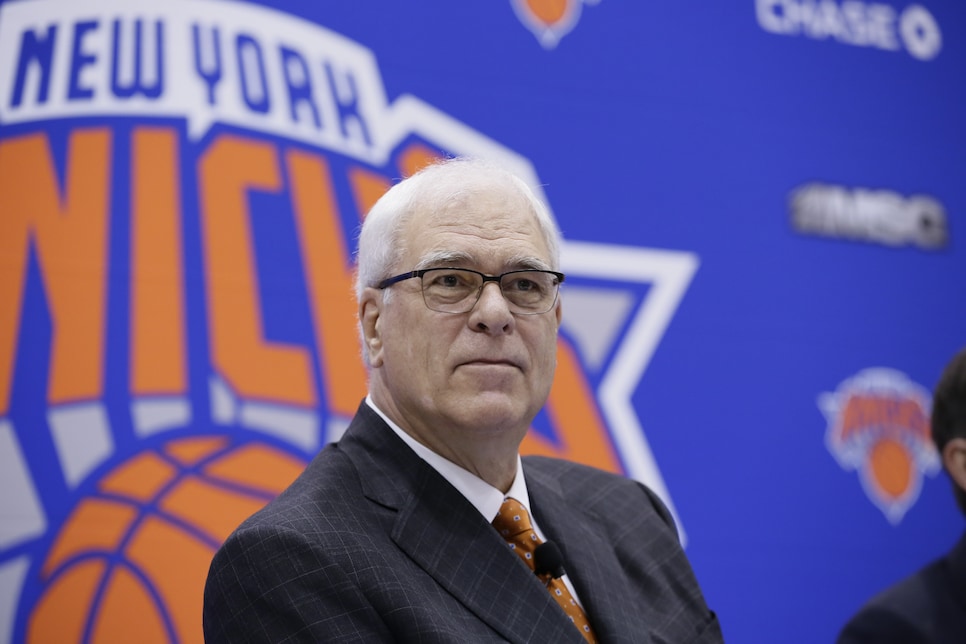 Sports fans can be a fickle bunch, especially in a city like New York, where fans love or hate their teams on a seemingly minute-by-minute basis. In Phil Jackson's case, it was mostly hate 24/7/365 during his abbreviated tenure as team president of the New York Knicks.
So far this season, with Jackson and Carmelo Anthony long gone from Madison Square Garden, the Knicks have pleasantly surprised thanks to Latvian unicorn Kristaps Porzingis, who has averaged 30 points per game and led New York to a 6-5 start. There's reason to be excited as a Knicks fan, something no one thought was possible when they all hammered the under on NYK's 30.5 over/under win total prior to opening night. The team is fun to watch and full of players drafted or acquired by...... Phil Jackson?
That's correct. Part of this unexpected start has to be credited to Jackson, who drafted Porzingis fourth overall in 2015. KP appears to have the potential to be the franchise's best player since Patrick Ewing, and if he can somehow remain healthy, looks to be a lock for his first NBA All-Star team and could even challenge for the MVP award* (*this was definitely not written by a Knicks fan jumping the gun or anything).
This begs the question: Was Jackson's tenure really as bad as we all thought? We took a look at the Zen Master's time in NY and here's what we found.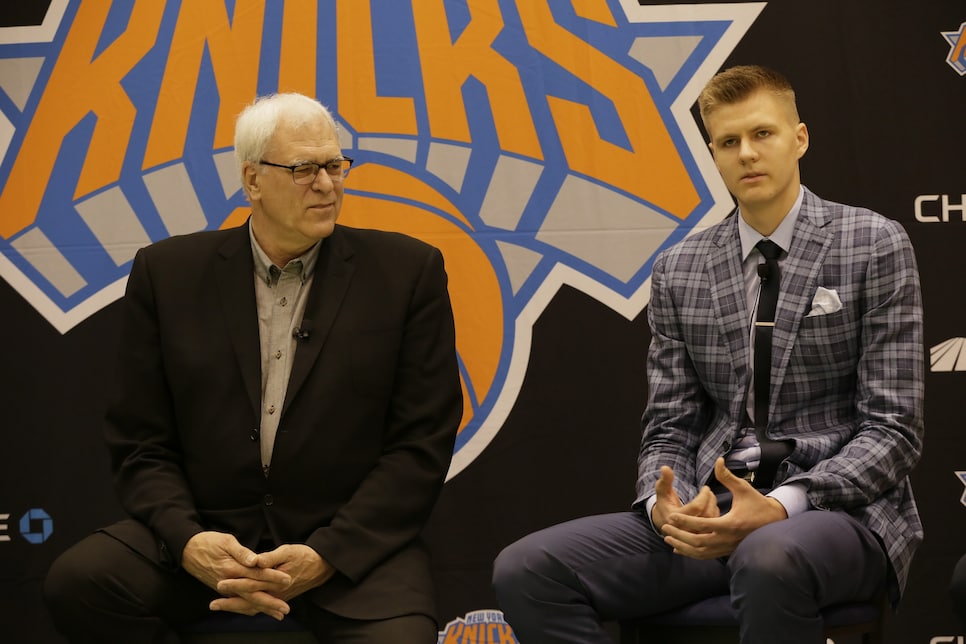 Drafted Kristaps Porzingis in 2015 with the fourth overall pick
At the time, the pick was immediately questioned, even booed by some Knicks fans in attendance in Brooklyn. "A European who we've never seen before, know nothing about and wasn't overrated as hell at Duke!? TERRIBLE PICK!" Quite the contrary, as Porzingis may turn out to be the best thing to ever happen to the franchise and Jackson's crowning achievement as president. Only problem is he reportedly wanted the overrated Duke Blue Devil Jahlil Okafor, but didn't get him as he was taken a pick before. We won't talk about that though, or the fact Jackson considered TRADING HIM LAST YEAR.
Acquired Willy Hernangomez in same draft
After using a rare Knicks first-round draft pick on the future of the franchise, Jackson traded two future second round picks (2020 and 2021) to the Philadelphia 76ers in exchange for the rights to their second round pick, Willy Hernangomez, who has flashed plenty of potential in his first 78 games in New York.
Signed undrafted rookie Langston Galloway
While Galloway is no longer a Knick, his 2014-2015 rookie season in New York had its moments, with the St. Joe's product playing in 45 games, of which he started 41, and averaging 11.8 points per game, 3.3 assists and 1.2 steals. He also hit a number of clutch shots during the Knicks 17-win season (you just cannot set the bar much lower than this).
Traded Iman Shumpert and J.R. Smith to Cleveland Cavaliers
After a 5-31 start to the season, Jackson send Smith and Shumpert to the Cavs as part of a three-team deal that included the Oklahoma City Thunder. What did it ultimately net the Knicks? Two players that are no longer in the league, a 2019 second round draft pick from Cleveland and Lance Thomas from OKC. Thomas has been a solid defensive role player for the Knicks ever since, and has turned out to be the only thing of value from the trade, unless the 2019 second rounder turns out to be somebody, which is highly unlikely. Once again, we are setting a lowwwwww bar here.
Signed Kyle O'Quinn, Courtney Lee
Much like Lance Thomas, O'Quinn and Lee have been serviceable role players during their time in New York. These are the types of words one must use to try and put a bow on Phil Jackson's tenure: "Serviceable", "role players", "clutch shots on a 17-win team", "kill me now".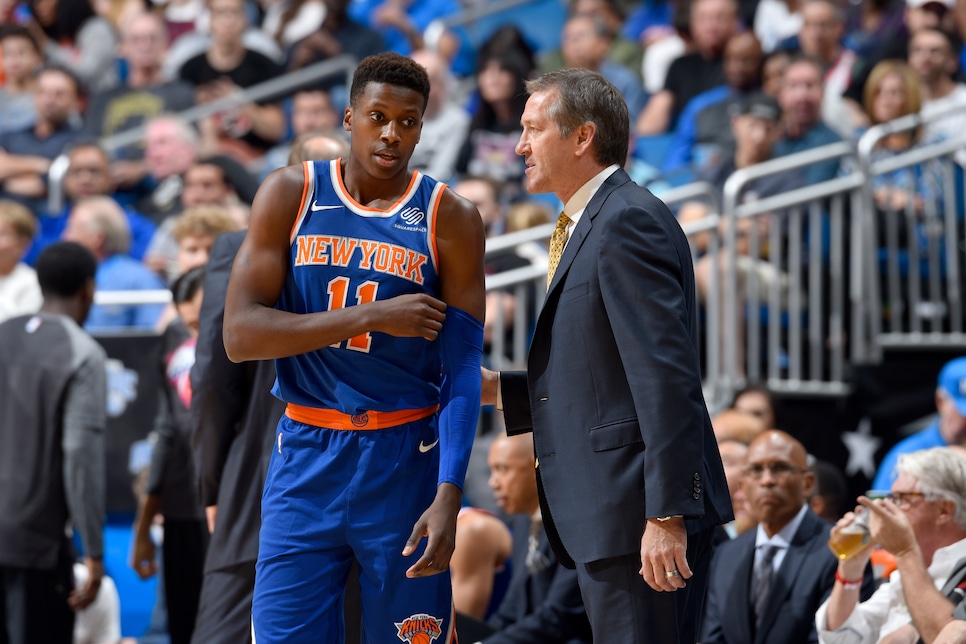 Of the trio of Jackson, Anthony and Hornacek, only the head coach survived the disastrous 2016-2017 campaign that saw the Knicks go 31-51 and completely fail at even tanking properly. So far, it looks like it was the right decision, not that 6-5 in 11 games is a cause for celebration. With this year and the next left on his contract, Hornacek has plenty of time left to prove he was the right man for the job. A certain point guard could be of assistance in keeping Hornacek around..
Jackson's final move as Knicks president came at the 2017 draft, when he took Ntlikina with the eighth overall pick, passing on proven college players in Malik Monk, Dennis Smith Jr. and Luke Kennard. Ntlikina has played in nine of the team's first 11 games, averaging 4.7 points per game, 5 assists and 1.6 steals. Perhaps Jackson's affinity for European first-round picks will pay off in years to come with the tandem of Ntlikina and Porzingis.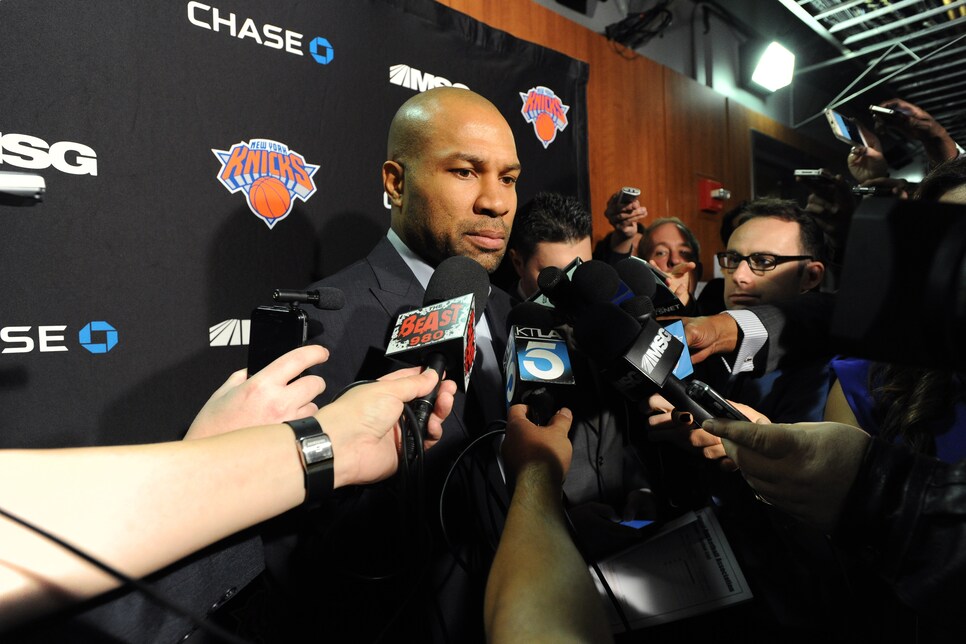 Hired Derek Fisher, Fired Derek Fisher
The former Laker got his second chance after his woeful 17-65 first season as an NBA head coach, and year two got off to a positive start for the Knicks. The team started 22-22, and had hopes to sneak into the playoffs, then promptly lost nine of their next 10 and Fisher was fired, bringing his total record to 40-96. Good grief.
Named Kurt Rambis interim coach
If Jackson had any sense he would have either A. coached the remainder of the season himself or B. hired literally anyone else to finish the season whose name wasn't Kurt Rambis. After finishing the season 9-19 with the interim tag, Rambis' total career NBA head coaching record "improved" to 65-164, giving him a win/loss percentage of .284. Oh, and he managed to grab some A+ headlines in the process.
Signed Shannon Brown and Lamar Odom with first two moves as president
Traded Tyson Chandler and Raymond Felton for what amounted to a giant trash can
Finally, the Knicks get a defensive-minded player in Chandler, who helped the team to two playoff appearances and won Defensive Player of the Year in 2012. How does Jackson repay him? Trading him, and Raymond Felton, to the Dallas Mavericks for Jose Calderon, Samuel Dalembert, Wayne Ellington, Shane Larkin and two 2014 second round picks, who later became Cleanthony Early and Thanasis Antetokounmpo. Not a single member of that group remains on the team.
Signed Sasha Vujacic, re-signed him the following year
In keeping with tradition of signing washed up players Jackson used to coach in L.A., he signed Vujacic and then re-signed him the following year, despite watching him build houses upon houses with countless bricks every night.
THE UGLY APPALLING GOODNESS GRACIOUS LOOK AWAY!!!!!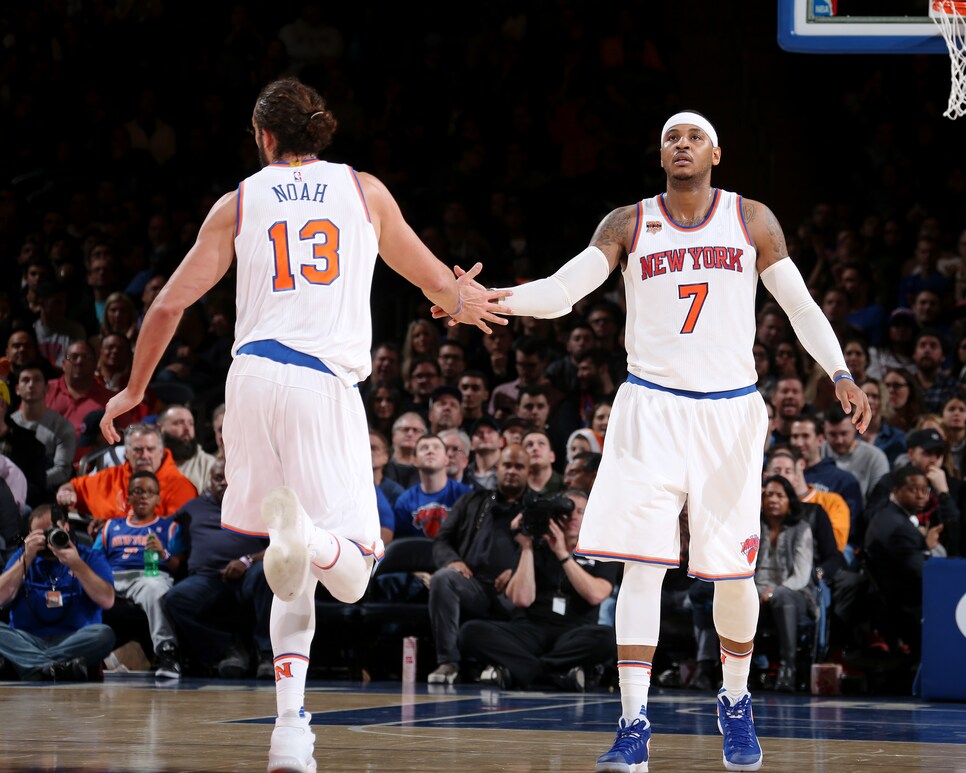 Signed Carmelo Anthony to multi-year contract with rare no-trade clause
Anthony signed a five-year, $124 million contract in July of 2014 that was actually less than the max deal, in the hopes of attracting big free agents in the summer of 2015, of which they acquired none. In the first year of his new contract, Anthony played in just 40 games, not including the All-Star game at MSG, which he managed to power through before shutting it down the rest of the year and getting knee surgery. He played less than 75 games each of the next two seasons, averaging less than 23 points per game both years and stunting Kristaps Porzingis' growth in the process. While it was Jackson that started the whole mess by signing him, he actually managed to do his part in getting rid of Anthony, basically telling him to take a hike. Score one for 'THE GOOD' section up top.
Signed Joakim Noah to four-year, $72 million contract
Noah, who is expected to return soon for the Knicks, appeared in 46 games his first season in NY before undergoing knee surgery and missing the rest of the year. Despite whispers that the former All-Star and 2014 Defensive Player of the Year had lost a step, Jackson decided to break the bank for him anyway. Unless he comes back in a big way this season, the Noah contract could go down as Jackson's worst move in a sea of bad moves. Maybe Noah can turn back the clock. Maybe pigs will fly.
So, was it really all bad? Yes, unequivocally yes. On a scale of one to 10 it was a car crashing into a train that crashes into a dumpster fire and burn's down an entire neighborhood. Except for Kristaps Porzingis, who reportedly may need an elbow procedure after this season. It doesn't get much more Knicks than that.