News
Voters approve referendum that could mean the end of the Melreese Country Club, Miami's lone city-owned golf course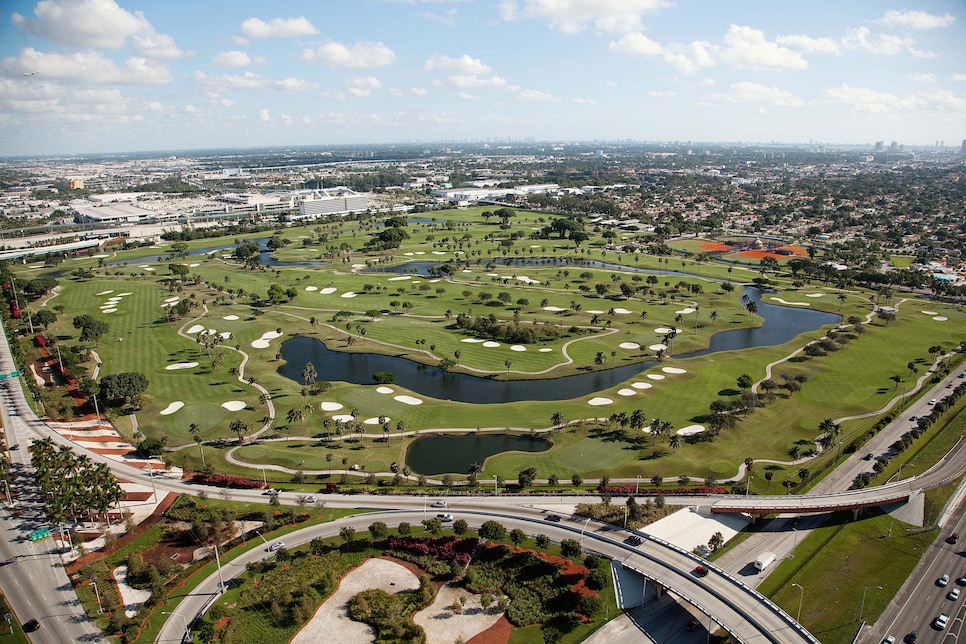 MIAMI — The future of Miami's lone city-owned golf course became more muddied on Tuesday when local voters approved a referendum that will allow city officials to forego the usual bidding process for public land.
By a 60-40 margin, residents have provided a way for famed soccer star David Beckham and his wealthy real estate partners, Jorge and Jose Mas, to negotiate a deal with the city to use the land now occupied by International Links Melreese Golf Club and build a 25,000-seat Major League Soccer stadium, along with a hotel, offices and retail space.
The decision, understandably, hit the golf community in the area hard. The course has been around for more than a half century, has hosted the PGA Tour Latinoamericano Championship the past two years and is home to the Miami-Dade chapter of the First Tee, a program with 5,000 kids. It also helped produce tour players Cristie Kerr and Erik Compton.
"We're obviously not happy about the results but are thankful for our community's support," said First Tee board member Carlos Rodriguez. "Now it sits at the city commission to decide on how to negotiate the development agreement. If it does go forward, we're hoping [Beckham's group] will stick to their word about not just protecting The First Tee of Miami program but helping to enhance and expand it."
Make no mistake about it: This is less about a soccer stadium as much as it is a real-estate deal. Melreese is a large, prime parcel of land adjacent to Miami International Airport and sits just six miles west of downtown. Beckham is simply the eye candy in the equation.
It's also a deal, though, in which many of the details remain unclear. Even the Miami Herald, which endorsed the project prior to Election Day, said voters should "take a leap of faith," while admitting it isn't entirely clear what exactly that leap would ultimately entail.
Unfortunately, Miami has a history of stadiums built on broken promises and bad deals. From the home of the Miami Heat (American Airlines Arena) and an adjacent park that was never built, to an abhorrent agreement for the funding of baseball's Marlins Park that left unwitting taxpayers on the hook for more than a $1 billion, the use of public land for private enterprise has been an unpleasant experience in the Magic City.
This deal has its questions as well.
"From a First Tee of Miami perspective, it would mean uprooting a program from the city of Miami that has been here over a decade and impacted thousands of kids," Rodriguez continued. "We are hoping that they do the right thing on behalf of our participants. That's our focus as well."
That development, by the way, would include having to clean up the plume of toxic waste, left over from an old city incinerator used decades ago, that currently sits under Melreese. Though Beckham & Co. have said they would commit $35 million to doing so, the actual cost and extent of the cleanup is unknown. There are other matters, too, like the rebuilding of roads, increased traffic and what would happen to The First Tee program.
Still, the vote passed and the deal will move ahead for now. There are, however, more hurdles to clear.
The project continues to have critics on multiple fronts, from petitions to lawsuits, including one complaint filed just this week that claims Beckham's group violated Florida bribery laws by giving out soccer gifts at polling locations.
Once the group brings its final proposal to the city, it will need four of the city's five commissioners to sign off on it. In a vote earlier this summer just to get the subject on the ballot for Election Day, three of the five OK'd doing so after a series of contentious public meetings.
The two commissioners who opposed it? They remain firm in their position. But their seats will also be up for grabs next November, which means even though golf lost this round there are still more holes to play in the ongoing saga.