News
Where Jack And Tiger Diverged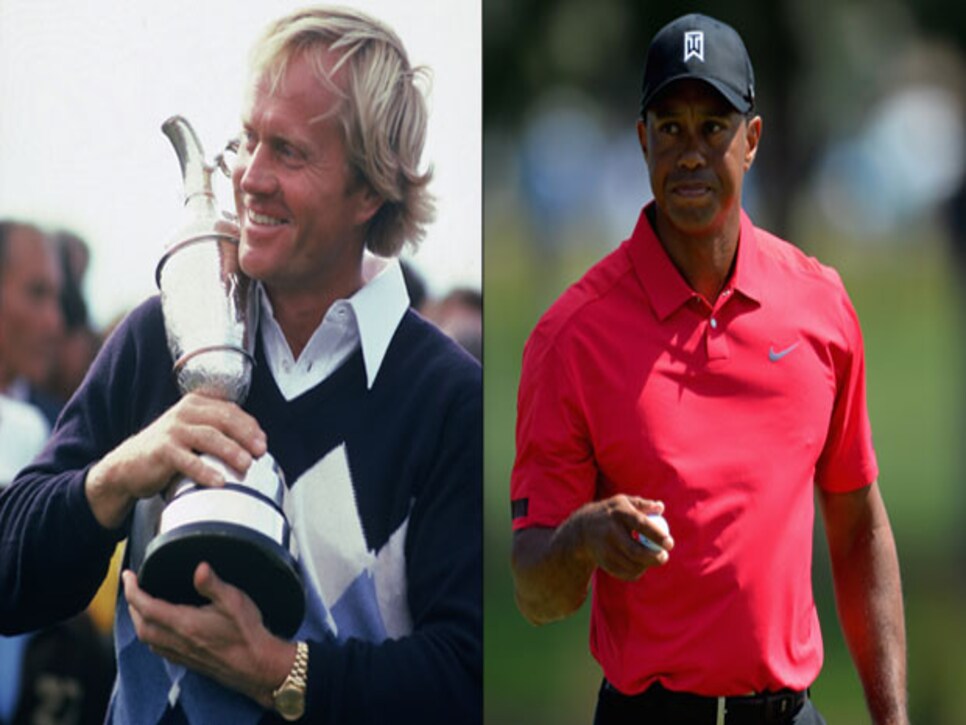 Fourteen was just a number for Nicklaus. For Woods, it is a punctuation mark no one ever dreamed would be a period. (Getty Images)
There is nothing magical about the age of 38 for many professional athletes. Most of them in sports with blocking and tackling or sprinting or sliding have gone on to other things by the time 40 approaches like a rude driver flashing his high beams. The minority who persevere -- thanks to good genes, habits, luck -- know the clock is ticking fast. Derek Jeter has planned his goodbye so that an ankle or Achilles won't do it for him.
Competitive inexorability is more nuanced for golfers, but it is there just the same. Even considering freaky cameos of success that can occur a decade or two down the road because golf is the way it is, and the greats are the way they are, the late-30s are still on the switchback down the mountain.
Even for Jack Nicklaus. "My golf game can only go on so long," a 38-year-old Golden Bear told Sports Illustrated's Frank Deford in 1978.
Even -- perhaps especially, if back problems serious enough to keep him out of this week's Arnold Palmer Invitational linger much less worsen -- for Tiger Woods. "It's too early to know about the Masters . . ." Woods said in statement announcing his withdrawal from Bay Hill.
One might have been an unmarked intersection out in the country, the other a junction with bright, flashing lights in a big city, but Nicklaus was at a crossroads when he was 38 and Woods is now. At that point of their careers, there are similarities and differences between the legend who set the standard and the one who is trying to eclipse it.
Nicklaus, who turned 38 on Jan. 21, 1978, had gone two years without winning a major championship after capturing the 1975 PGA at Firestone CC for his 14th professional major title (a number that wasn't used nearly so much as 16, which included his two U.S. Amateur victories). In the 1977 Masters and British Open, Nicklaus had been beaten by a younger man, Tom Watson.
At Turnberry's "Duel in the Sun," Nicklaus, who defined coolness in the heat of the moment, missed a four-foot birdie putt on the 71st hole to fall out of a tie with Watson and give the latter a path to the claret jug. "The coming season," Jack's friend and peer David Graham observed very early in 1978, "will be most important for Nicklaus."
To close out 1977, Nicklaus, who had been skiing for a couple of years, went on a long, family vacation to the slopes in Colorado. As Tom Place reported in Golf World, Nicklaus was full of energy. "Most people are tired after a day on the mountain, but on three occasions Jack headed for the basketball court early in the evening," Place wrote. "It seemed easy for him to keep up with his kids -- even on the fast breaks. As brilliant as his mental approach is to the game of golf, Nicklaus might be the finest physically, too."
Nicklaus had an uncharacteristic hiccup at the Glen Campbell Los Angeles Open, going double bogey/bogey at Riviera's 15th and 16th in the final round to finish second to Gil Morgan. But he roared back seven days later with one of his strongest finishes ever -- five straight birdies to finish the Jackie Gleason Inverrary Classic and defeat Grier Jones -- then followed that with a runner-up to Tom Weiskopf at Doral and victory at the Tournament Players Championship.
"I couldn't be any more confident going into the Masters," Nicklaus said after a one-shot victory at Sawgrass. He didn't win at Augusta, where he was seventh, or the U.S. Open (T-6), but he made a minor setup adjustment prior to the British Open at St. Andrews (he had been hitting some slightly fat iron shots) and won by two over Tom Kite, Ben Crenshaw, Ray Floyd and Simon Owen.
"Sure you wonder if you're going to win again," Nicklaus said, after he had.
For Nicklaus, major No. 15 was indeed a drought-buster -- although he had won eight regular tournaments since the '75 PGA -- but it wasn't being plotted as an essential way point on a journey. When he won the 1973 PGA Championship, it was Nicklaus' 12nd pro major, surpassing Walter Hagen's 11, and 14th overall, bettering Bobby Jones' 13. Nicklaus would have plenty of opponents after August of '73, but history wasn't one of them. He was so competitive, and so good, that a back stretch with a target number at the finish line might well have pushed Nicklaus to win more than 18 majors -- converting at least a few of the 17 top-four major finishes he had after the '73 PGA into victories.
That is speculation. The reality is that if Woods is even physically able to play in the Masters, he won't do so with the confidence Nicklaus carried into the spring of '78. In 2014, the 38-year-old Tiger has a T-80, a WD, a T-25 and DNP at an event that he loves (Arnold Palmer's) but had to beg off because he is hurting. Woods has played 18 majors (missing four because of injury) since winning the 2008 U.S. Open for his 14th title with eight top-six finishes in that span.
Fourteen was just a number for Nicklaus. For Woods, it is a punctuation mark no one ever dreamed would be a period.
"I know I've won with something besides the shots," Nicklaus told Deford in 1978 after rediscovering his major touch, "but I don't know for sure what that something is."
The first thing Woods needs now is a back that works. After that, he needs to find that "something" beyond ShotLink or TrackMan that even the best can't define. At 38, Tiger, who once seemed to overflow with it, needs some magic.