News
It's no longer about politics: Golf needs to distance itself from Trump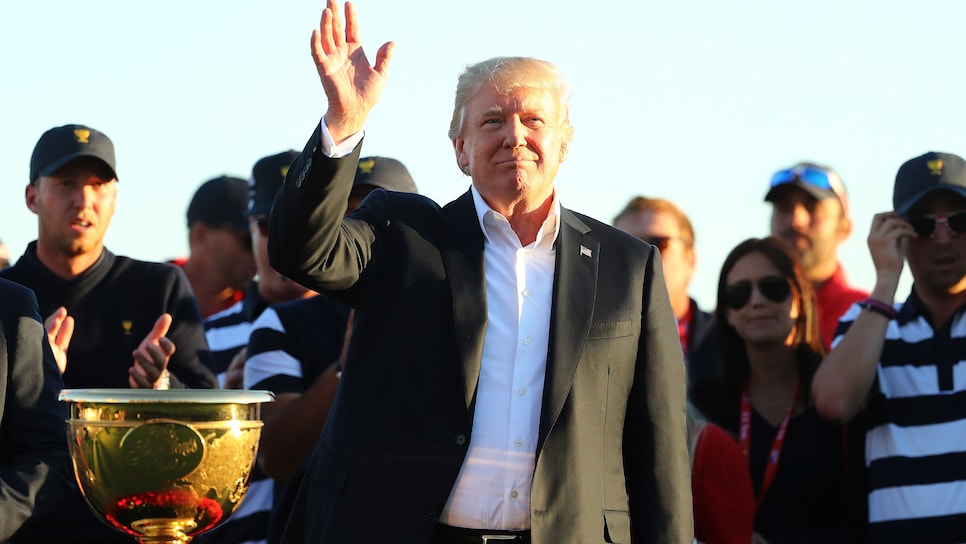 The PGA of America needs to move the 2022 PGA Championship from Trump National Golf Club in Bedminster, N.J.
It needs to announce the decision today and make it very clear: We want nothing to do with soon-to-be-former President Donald J. Trump.
This is no longer a political issue; it is no longer a case of taking a side with one political party or another. This is about a man who encouraged—all but ordered—his supporters to attempt some sort of clumsy coup d'etat on the United States government. This is about a man who, even AFTER finally telling his supporters it was time to leave the U.S. Capitol following one woman's death and the Capitol building itself—a major part of our country's history—had been severely damaged, tweeted: "We love you. You're very special."
He then added, "These are the things and events that happen when a sacred landslide election victory is so unceremoniously and viciously stripped away." In other words: "I lost, so storming the Capitol, inciting violence and breaking laws is not only allowable, but the people committing those acts are, 'special.'"
Again, this has nothing to do with whether one voted for Trump or President-elect Joe Biden. It has nothing to do with being in favor of The Wall or not being in favor of it. It has nothing to do with kneeling for the national anthem or pillorying those who did so.
It has to do with a man out of control, a man who has refused to accept the results of a clear-cut election defeat and has continued claiming "a landslide victory," even though the results of the election have been verified by all 50 states and backed up by dozens of court cases that went against the claims of the president. That's not to mention the right-leaning Supreme Court, which refused to even take up attempts to have the results of the election thrown out.
It's important for the PGA of America to act swiftly because golf could have done more in response to the deaths this summer of George Floyd and Breanna Taylor and to the Black Lives Matters movement.
There are, of course, those who will somehow compare the rioting that was part of BLM this summer, to what happened at the Capitol. We will never defend any type of violence or destruction of property, but there is no comparison here; this was an attack on the United States of America, and it was incited by the President of the United States. It was unique, historic and terrifying.
In the past few months, even the NFL, with its largely white, right-leaning fan base, has publicly supported players who have chosen to protest and has conceded that its handling of Colin Kaepernick in 2016 and the anthem protests of 2017 merited an apology.
"I wish we had listened earlier Kaep, to what you were kneeling about and what you were trying to bring attention to," NFL Commissioner Roger Goodell said in a TV interview not long after Floyd was killed by a Minneapolis policeman.
In a video statement released publicly, Goodell went further: "We, the National Football League condemn racism and the system oppression of black people," he said. "We, the National Football League admit we were wrong for not listening to NFL players earlier and encourage all to speak out and peacefully protest. I personally protest and want to be part of the much-needed change in this country."
Golf is the whitest of the major sports—in terms of players, media and fans. Only tennis is even close. Golf is, without question, also the most right-leaning of the major sports. If the 2020 election had been confined to the PGA Tour, there's little doubt that Trump would have won easily. Icons like Jack Nicklaus and Tom Watson have vocally supported Trump with great enthusiasm.
The sport's tone-deafness continued Thursday when two of golf's greatest players—Gary Player and Annika Sorenstam—accepted the Presidential Medal of Freedom from Trump. The case can be made that Tiger Woods should have declined the award in May 2019, but that would have been a political decision—albeit an understandable one given Trump's record and policies on race. After what happened Wednesday, thanks to Trump's refusal to accept his defeat, all bets—or acceptance of awards from Trump—should have been off.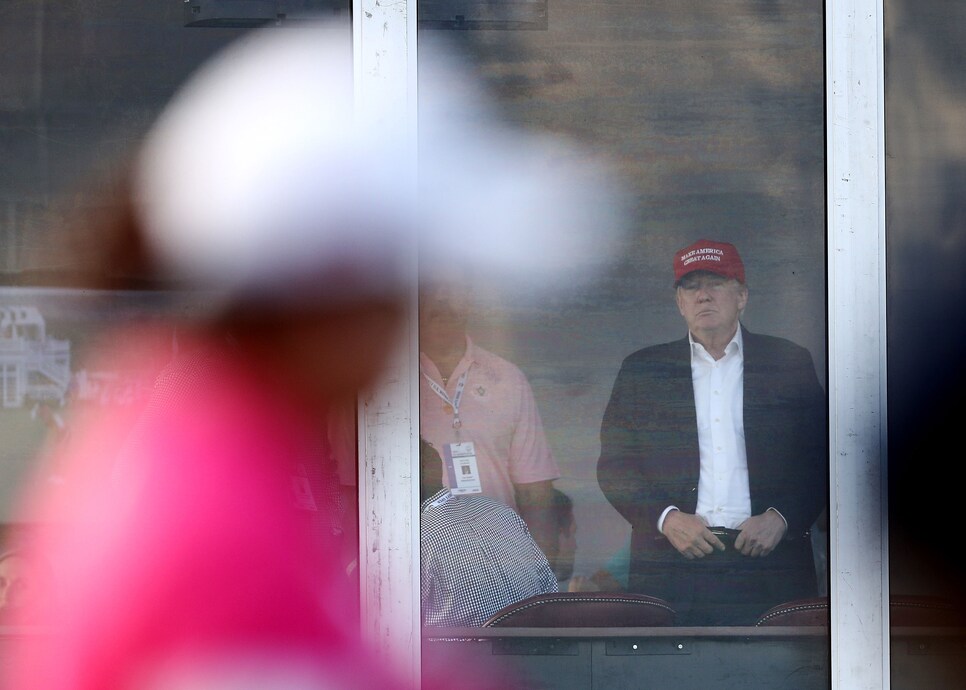 President Donald Trump waches Shanshan Feng of China during the 2017 U.S. Women's Open when it was held at Trump National Golf Club in Bedminster, N.J.
Elsa
The women on the LPGA Tour may not be quite as conservative a group as their male counterparts, but when the 2017 U.S. Women's Open was played at the same New Jersey course where next year's PGA Championship is scheduled, most of the players talked about how delighted they were when the President showed up to watch play and mingle with them. Others, when asked about playing on a Trump course, insisted they just wanted to focus on golf.
On other occasions tournaments have been taken to Trump courses, officials have said the decision was strictly about golf and had nothing to do with politics.
That's fine. Neither does this.
Golfers should be allowed to take any political position they want. Golf tours are allowed to use the "We don't want politics to be part of golf" line just as often.
But when someone does what Trump did on Wednesday, telling his followers to march up Pennsylvania Avenue and let Congress know how they felt about the election results, he wasn't telling them to shout a few slogans and go home. "I'm going to lead you up there!" he said—which, of course, he didn't. "You must be strong!" he added. What did that mean, chant in a loud voice?
There's a line between stating your political position and encouraging people who you know to be looking for trouble to do so. The fact that many Republicans are now calling him out and suggesting that perhaps the 25th amendment should be invoked, removing him from office, makes it clear that what happened went way beyond political differences.
Golf, as a sport, has been embarrassingly quiet in the seven-plus months since Floyd's death. This is the time for the sport's leaders to speak up and take tangible actions. It needs to start with PGA of America CEO Seth Waugh saying, "We are looking today for a new site for the 2022 PGA Championship."
On Thursday, emails and phone calls to PGA of America vice president of communications Julius Mason went unanswered.
In June 1990, after Hall Thompson, the President of Shoal Creek Club, said Blacks would not be allowed into his club—"That's just not done in Birmingham," he said—the PGA looked to move that year's PGA to another club. Only when a local African-American businessman named Louis Willie was granted instant membership was the event able to stay put.
Even though Willie's membership was clearly a token move, Shoal Creek was a historic turning point for golf. The PGA Tour, the USGA and the PGA of America, passed rules soon after saying no club that discriminated could host their events. Augusta National admitted its first black member soon after, although it took another 22 years before women were admitted. Nonetheless, it was a turning point.
This can also be a turning point. Turn away from Donald Trump—the man, not the politician. And make it clear that anyone who incites violence for any reason, in any context in the future, is not welcome in golf.