News
A 30th trip to the U.S. Open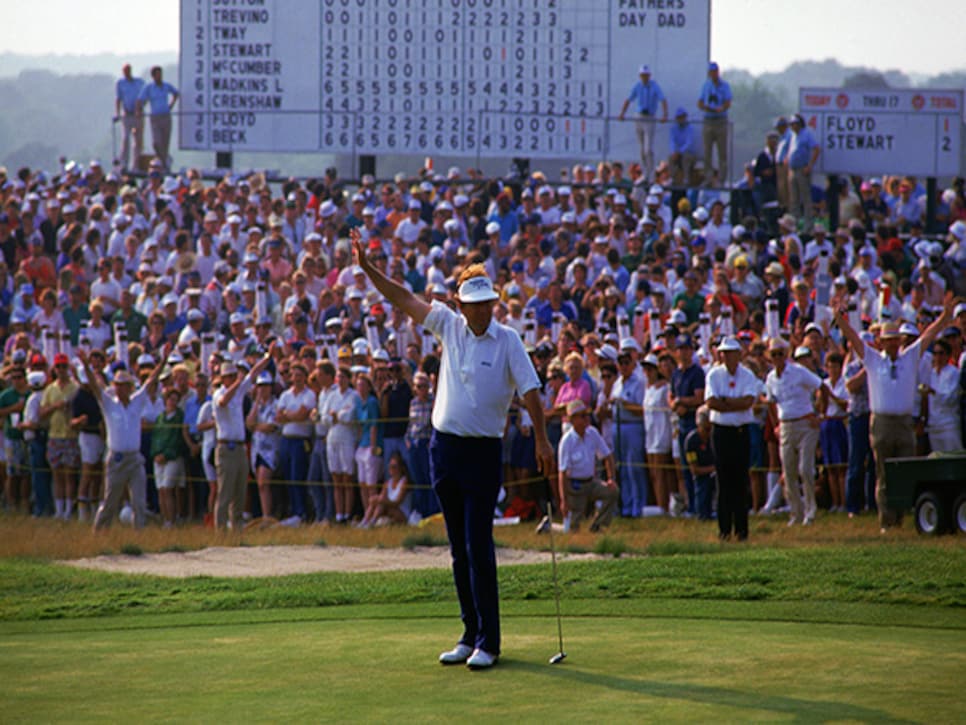 Raymond Floyd's impressive triumph at Shinnecock Hills in 1986 ranks among Field's favorites in his three decades covering the U.S. Open. (David Cannon/Getty Images)
PINEHURST, N.C. -- At my first U.S. Open, at Oakland Hills outside Detroit in 1985, I couldn't have dreamed I would be covering my 30th straight national championship in my hometown this year. Heck, three decades ago if you had predicted that Pinehurst No. 2 would host one Open, much less three in 15 years, people would have thought you were crazy.
Thirty Opens is a lot of armbands and press-room lunches, sunscreen and shuttle rides. And memories, large and small.
1985: Sure there was T.C. Chen's infamous double-hit. Just as vividly, though, I recall the previous day's drenching, never-ending rain and Andy North, the eventual winner, with a bath towel draped over his shoulders between shots. The rain vest, like a lot of golfers playing this week in Pinehurst, hadn't been born.
1986: It would be two years until I went to my first British Open, but Shinnecock Hills felt like one. The awful opening-round weather and fantastically crowded final-round leader board haven't been surpassed since.
1987: Winner Scott Simpson didn't excite a lot of people, but fairways and greens usually works at the U.S. Open. In losing that Sunday at Olympic Club, 37-year-old Tom Watson looked all-too human on short putts. Imagining he would nearly win a major 22 years later would make you look more foolish than saying Pinehurst would someday get the Open. Meanwhile, I left my college ring in San Francisco -- and never got it back.
1988: The Country Club. Curtis Strange wins, John Updike marshals.
1989: Strange pulls off a rare double. Like Lee Trevino before him and Tiger Woods after, he does it (for a second-straight year) wearing a red shirt on Sunday.
1990: Instead of Strange joining Willie Anderson as the only golfers to win three straight U.S. Opens, Hale Irwin surprises by winning the third of his career. Journeymen -- and fans of journeymen -- everywhere commiserate when Mike Donald loses in a playoff.
1991: Payne Stewart claims a hard-earned victory at difficult Hazeltine National in a playoff over Scott Simpson, his 75 the highest winning playoff score since Tommy Armour's 76 in 1927. Tragedy strikes on Thursday when spectator Thomas Fadell is killed and five other fans are injured by a lightning strike near the 11th tee shortly after play was suspended.
1992: Wind. Wind. Wind. Persevering on an extremely difficult final day at Pebble Beach, Tom Kite more than makes up for the Open he kicked away three years earlier at Oak Hill. A colleague brought a portable anemometer out on the course, and I thought it was going to break.
1993: Lee Janzen wins at hot and steamy Baltusrol, and a good friend has his car stolen at the media hotel near Newark airport.
1994: Heat. Heat. Heat. Cover golf for a long time and hot days are part of the drill. The oppressively humid swelter at Oakmont, though, stands out. When a tournament has to bring in "water buffaloes" designed for natural disasters, you know it's serious heat.
1995: Phil Mickelson and Greg Norman have trouble down the stretch, but Corey Pavin is clutch with his 4-wood approach on the 18th at Shinnecock. A colleague gets caught without an umbrella in a practice-round deluge, and his orange-red hair dye runs big time. A grooming quadruple bogey.
1996: Epic Wednesday rains flood part of the press room at Oakland Hills. But we survive, and so does unheralded Steve Jones in a Sunday battle of attrition that includes a heartbreaking collapse on last couple of holes by Davis Love III.
1997: It could have gone to Tom Lehman or Colin Montgomerie, but Ernie Els emerges for his second Open victory in four years.
1998: Divots and a funky hole location on the 18th are big storylines, but come Sunday evening at Olympic Club, it's a re-run of 1993, with Lee Janzen edging Payne Stewart.
1999: Pinehurst feels like Prestwick on an unseasonably cool and damp Sunday when Payne Stewart plays some magical golf down the stretch to win during the USGA's first visit to Donald Ross' gem. There are moments in sports that seem surreally scripted. Especially given what happened only a few months later with Stewart's death, this was one of them.
2000: Tiger Woods' record-breaking performance at Pebble Beach was an earthquake of excellence. To hear a great player like Tom Watson speak in awe about how well Woods was playing spoke volumes.
2001: Some Opens are just plain quirky. With the critical short putts missed on Southern Hills' 18th hole, this was as odd as they come.
2002: Brawny Bethpage Black. Boisterous Bethpage Black spectators. Tiger Woods in full flight, again.
2003: Tom Watson couldn't sustain the magic after his first-round 65, but with dying caddie Bruce Edwards on the bag, what an emotional afternoon that was at Olympia Fields.
2004: Not the USGA's finest hour as officials let Shinnecock get way too baked out in the wind, highlighted by the debacle at the redan-green seventh hole when play had to be halted so it could be watered.
2005: For a period of months that season, Michael Campbell might have been playing the best golf in the world. For 72 holes at Pinehurst, he definitely did.
2006: Given how wildly he was driving the ball on Sunday, it was a miracle Phil Mickelson was in the lead going to the 72nd hole at Winged Foot. Then, going for broke left him a broken golfer. The drive wasn't the problem; the overly aggressive second shot was.
2007: Some years earlier, the great Mickey Wright told Golf World that Angel Cabrera had one of her five favorite golf swings. The Argentine lived up to that exquisite endorsement by winning at difficult Oakmont.
2008: If it turns out to be the last major championship Tiger Woods wins, his play-through-injury triumph over Rocco Mediate will be the grittiest of his 14 victories. He has not made a greater putt than the 72nd-hole birdie to get into a playoff.
2009: Muddy. Messy. Monday finish. Lucas Glover wins at Bethpage in a week when it just didn't want to stop raining.
2010: I followed Tiger Woods for 72 holes, and his closing round was as flat as his back nine on Saturday was spectacular. His problems finishing off at a major post-scandal are typified by what happened that Sunday at Pebble Beach.
2011: Rory McIlroy is unbeatable on a softened Congressional CC.
2012: The U.S. Open can be mean, and it is to Jim Furyk who can't close out major No. 2, allowing Webb Simpson to take the title at Olympic.
2013: Justin Rose is the last man standing on a Merion GC set up to punish, but Phil Mickelson is tripped up on a wedge to a par 3.