News
How Old Is Too Old To Win The Masters?
Past Masters champions Couples and Langer have both found their way on the leader board at Augusta well into their 50s. (Photo: Getty Images)
As a two-time Masters champion, one of Europe's biggest winners ever and, more recently, a Champions Tour stalwart, Bernhard Langer isn't surprised by much. And his golf education, still in progress at 56, has him convinced of something.
"I've always believed and have been pretty outspoken about this. I think sooner or later, somebody will win a major being over 50 years old," Langer says. "There is no doubt in my mind."
Langer, who won at Augusta National in 1985 and 1993, knows the subject matter. Last spring, as a 55-year-old, Langer birdied the first hole of the final round. He birdied the second hole. Then the third. Instead of merely being happy to be playing on the weekend, Langer upped his expectations for the 2013 Masters. "So last year I went in with a different mindset," he says, "of being on the leader board and being in contention. I love being in the hunt, and it brought back old memories."
Although Langer couldn't sustain the hot start that had gotten him within two strokes of the lead, fading to a 76 and T-25, his run supported his theory. As did Fred Couples' T-13 at age 53, the fourth straight Masters he had worked his way into at least semi-contention.
That Langer and Couples didn't get it done last April doesn't mean it isn't going to happen. I agree with Langer. It is a golf barrier that it going to come down.
Not that it will be easy. Championship golf has a history of being cruel to older players who get too close to the flame.
Go all the way back to the 1920 U.S. Open at Inverness Club and 50-year-old legend Harry Vardon, who led by four strokes with seven holes to play. Vardon had won his sixth British Open at 44, but with a comfortable edge this time, his fatigue led to putting problems, a final-nine 42 and T-2. Or recall the 2009 Masters when Kenny Perry, 48 years, eight months old, had a loose finish cause him to fall into a playoff where he came up short to Angel Cabrera.
Had Perry prevailed, he would have usurped Julius Boros (48 years, four months, 18 days at the 1968 PGA Championship) as the oldest major champion. The Boros' record was nearly obliterated later that July when 59-year-old Tom Watson led the 2009 British Open at Turnberry heading to the 72nd hole, made bogey, then lost a playoff to Stewart Cink. Watson's near-victory came only a year after Greg Norman, 53, came out of nowhere, found his game and seriously threatened in the British Open at Royal Birkdale before losing to Padraig Harrington.
"As we get older, there are more aches and pains," the fit Langer admits. "Every day, you wake up with something. But we're keeping in better shape than what used to happen. The equipment helps, obviously, to some extent. Tom Watson almost pulled it off at. He was very unlucky."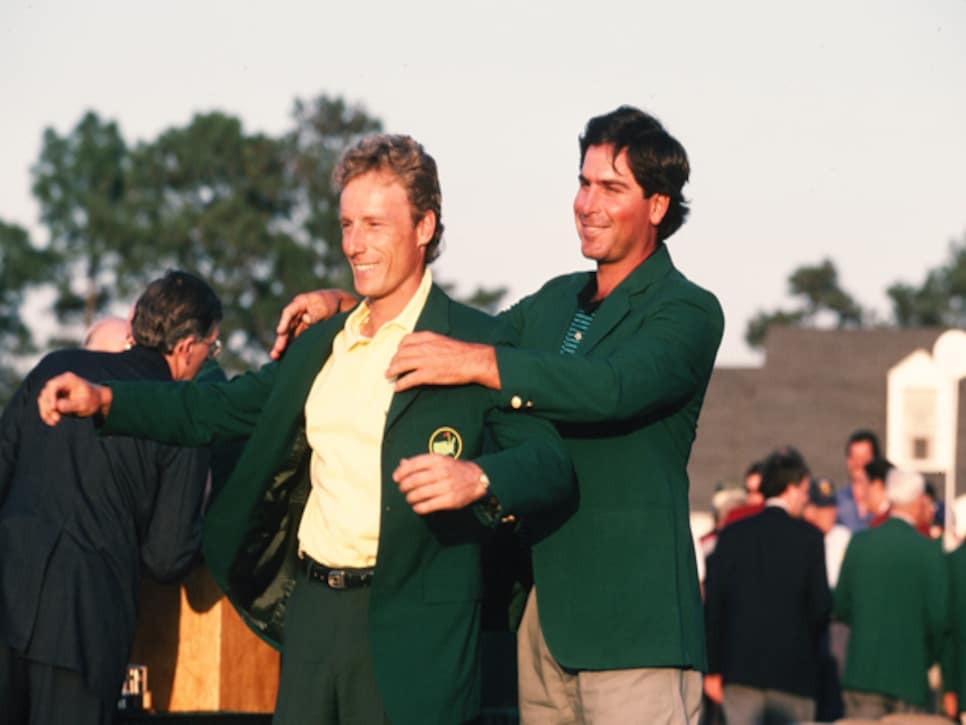 Old Tom Morris, 46 when he won the 1867 British Open (and still its oldest champion), wasn't only fortunate to win that tournament but to be alive, given that average life expectancy was less than 45 at that time. Forty-six seemed much younger 119 years later when Nicklaus won the Masters at that age in 1986, but in golf terms, 46 in 1986 was a lot older than it is now. "I was playing a wood driver, playing a wound ball. It was a different game," Nicklaus said on the 25th anniversary of his sixth green jacket. "Things didn't go as far. You didn't reduce the golf course to nothing like you can today."
A dozen golfers 50 or older are in next week's field at Augusta. Most won't factor, but newly 50 Spaniard Miguel Angel Jiménez has to be taken seriously, as does Couples, now 54 but still plenty long enough to compete with golfers less than half his age. "If I can drive it close to these long hitters -- if they are hitting 9-irons and I'm hitting an 8, then I'm still right there and I can still do that," Couples said after shooting a second-round 67 and being one shot off Jason Day's 36-hole lead. "But when this course becomes middle to long irons every hole, you can forget it."
Not surprisingly, one of the game's ageless marvels, Sam Snead, has the best finish at the Masters by a golfer old enough to play today's Champions Tour. Snead was T-3 in 1963 at 50, a year after Jimmy Demaret, 51, was T-5. The sixth place by Couples when he was 50 in 2010 matched Nicklaus, who was T-6 in 1998 at 58 and remains the oldest by four years to record a top-10 at the Masters. (Snead and Ben Hogan did it when they were 54.)
To win a major at Augusta National or elsewhere at 50 or older -- to do what Vardon, Snead, Nicklaus or Watson could not do -- will requiring digging as deep as any athlete ever has.
"It's just hard [to play well] every round for me," Couples said in 2013, when he fell out of contention with a third-round 77 that included a triple bogey on No. 17. "I'm not going to lie to you: a 2:40 tee time, it's not easy. By the end of the day, I'm exhausted. I just wasn't quite as sharp. But that 's what happens when you play well. You're going to [tee] off late. I'll take a 2:45 tee time next year too and try my luck at it."
Mental sharpness, physical sharpness, a lot of luck. To conquer the final frontier, a fiftysomething will need it all.