News
Vindication: Bryson DeChambeau wins doing it his way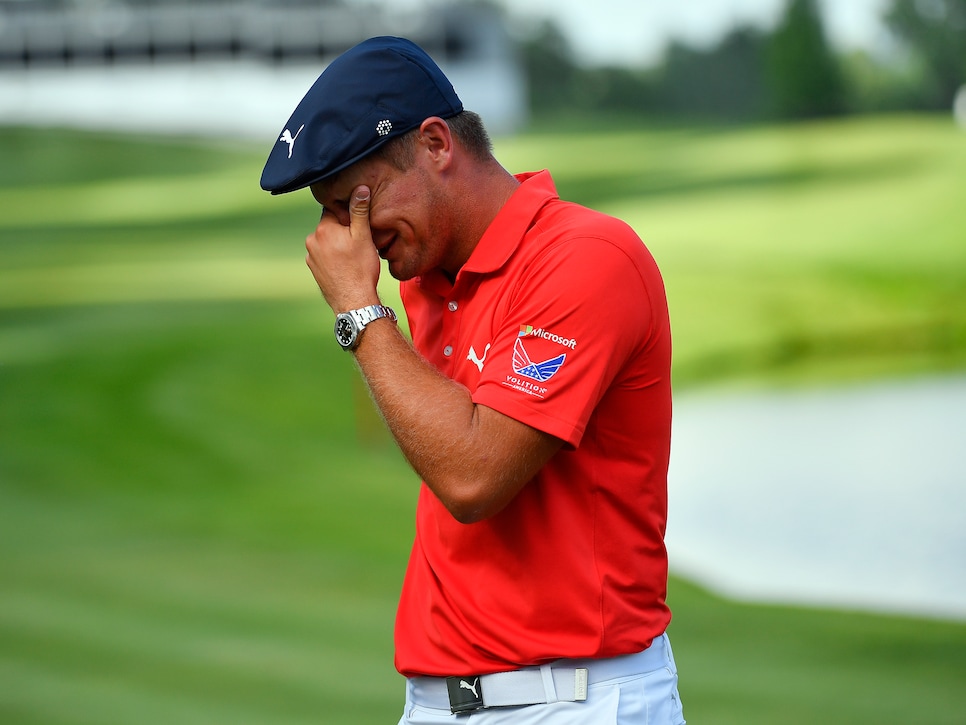 For all of the unorthodox practices that Bryson DeChambeau employs—and which have brought him acclaim and antipathy—his victory Sunday in the John Deere Classic was a validation of more conventional and proven methods: Hard work, determination, patience, belief.
"I've been working so hard to do this my whole life," DeChambeau said, putting his hands to his face to wipe away tears after a vindicating performance.
The PGA Tour's young mad scientist – a former physics major at SMU trying to unlock the secrets of the golf on the chalkboard as well as digging it out of the dirt – got the formula right at TPC Deere Run, making birdies on seven of his last 11 holes to sprint past another promising young player, Patrick Rodgers, and snag his first tour title. With a final-round six-under 65, including an inward 30, DeChambeau posted 18-under 266, just good enough to beat Rodgers by one stroke and become the 10th first-time winner this season.
After recently scratching his way inside the top 125 on the FedEx Cup points list, DeChambeau now has earned a two-year tour exemption. But the victory came with yet another bonus—the final berth in the Open Championship at Royal Birkdale available to the top finisher in the top five not yet qualified. He will make his first start in the Open and fifth in a major championship.
Though he won in just his 40th tour start, the victory in Silvis, Ill., seemed like a long time coming for the player who in 2015 became just the fifth man to win the NCAA Division I individual title and the U.S. Amateur in the same year, joining Jack Nicklaus, Phil Mickelson, Tiger Woods and Ryan Moore.
"I think Jordan [Spieth] set the tone for us, and especially after winning the NCAAs and the U.S. Amateur in the same year, I was kind of on a high from that and playing incredible golf," DeChambeau, 23, of Dallas, said, explaining why he thought he would be "killing it" when he turned pro.
A T-4 finish in his professional debut at the 2016 RBC Heritage only seemed to heighten his expectations, making the succeeding months of struggle a surprise. His victory, in his 25th start of the season, came in just the 10th event in which he made the cut. Starting with this year's RBC Heritage, Dechambeau missed eight straight cuts. But he arrived at TPC Deere Run after decent finishes at The Greenbrier Classic (T-17) and Quicken Loans National (T-14).
"I went into a bit of a lull and was messing around with my golf swing. Unfortunately, it took me off track," he said, admitting that a desire for more distance was putting more space between him and the upper portion of the leader board. "But I realized quickly what I needed to do to get back on track, and I was able to right the ship about 3-4 weeks ago."
Beginning the day four strokes behind Rodgers, another decorated amateur, DeChambeau appeared to be going nowhere in the final round until he birdied the par-4 eighth hole from nine feet to return to even par for the day. Then he reeled off birdies at 10 and 11 and the sprint was on. The winning stroke, it turned out, was a 14-footer for birdie at 18, set up by a 7-iron from 194 yards.
But at that time, DeChambeau had only tied Rodgers, who soon found trouble at the par-5 17th. He drove well left, punched across the fairway and needed two more to reach the green. He missed an eight-foot par putt to fall one behind. Rodgers' pitch from behind the green at 18 to force a playoff missed by inches. He closed with a one-under 70.
"Our tendency when you have the lead is to kind of hold on and play safe and guard against making mistakes," said Rodgers, 25, who remained winless on tour. "But I had guys coming at me with some really low rounds. Obviously, Bryson shot a great one."
Wesley Bryan's 64 earned the tour rookie a tie for third with another rookie, Rick Lamb, who had a 66. Past tournament champions and fan favorites Steve Stricker and Zach Johnson were in the group tied for fifth at 15-under 269.
DeChambeau couldn't hide how satisfying his victory was. Or how meaningful he thought it could be. He never wavered from his cerebral approach anchored around his use of single-length clubs and a golf swing that possesses traces of Moe Norman. Earlier this year he experimented with side-saddle putting only to discover the putter he helped develop was non-conforming.
[RELATED: Single-length irons: Can one size fit all?}(http://www.golfdigest.com/story/single-length-irons-can-one-size-fit-all-equipment)
He seemed to be getting sidetracked. But he just had to do things his way.
"That's the true meaning behind what I try and do. I showed everybody that, 'Look. There's plenty of ways to do it.' I do it my way, and I feel comfortable doing it my way," DeChambeau said. "Whatever way you want to do it out there, you can do it."
"It is vindication," he said. "There's been a lot of talk. … It happens every week. I just throw it to the side and say don't even worry about it. You're going down the road you've chosen and you're comfortable with it, and in the end it's going to be the right thing."
And what exactly is he doing?
"I try to understand a very complex game, and try to understand it. I try to understand every variable in this whole game," he said. "And it's very difficult. But over time, the more you can understand the variables, the more consistent you can become. I think the closest anyone has ever come is Tiger. He got the closest to understanding every situation in the game of golf. I look at him as a hero. He figured it out."
Whether DeChambeau now is starting down a similar path remains to be seen. But it's a path he's blazing himself. And he hopes others follow.
"I think there are some cool things that I do that can help amateur golfers," he said. "People think it's weird and funky, but I think it's one of the most consistent swings out here. There's not many moving parts. One of my bigger goals is to help the game itself and bring more people in through these new ways of playing."
Big goals. Big thinking. Bryson DeChambeau is always thinking.