PGA Championship 2023
PGA Championship 2023: Viktor Hovland is ready for his moment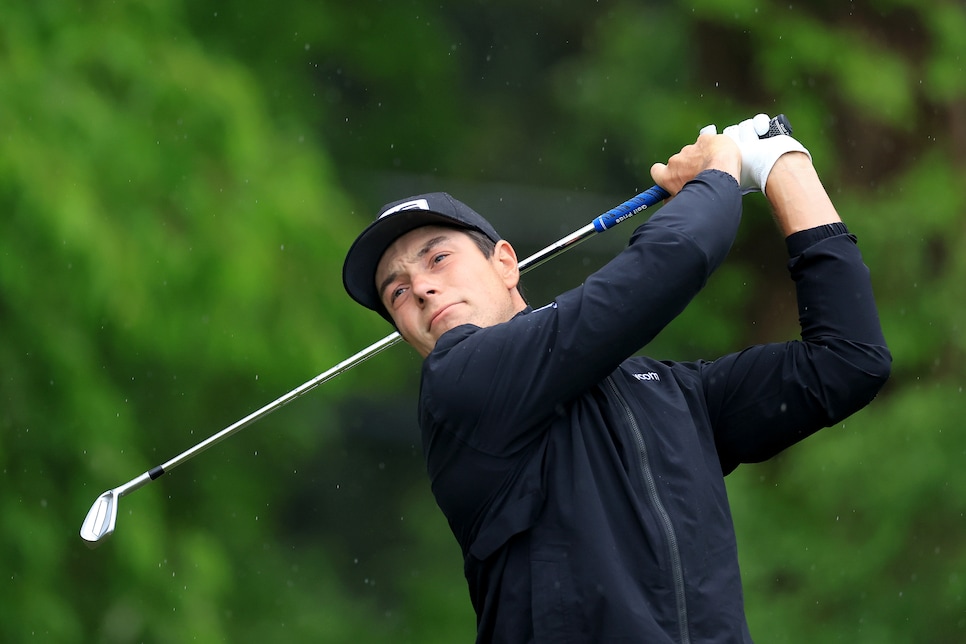 Viktor Hovland plays his tee shot on the third hole during the third round of the 2023 PGA Championship.
David Cannon
ROCHESTER, N.Y. — It was a mean day, an uncomfortable day, a day the locals loved, for they are a blue-collar town and proud of it. Anyone doubting that needed only to look at the crowd on Saturday, their numbers and voice unbothered by a steady downpour that would have sent other galleries scattering for cover. They had their umbrellas and ponchos, and the ones who didn't have either didn't seem to care, for this is Rochester, brother; you want sunshine, head to Schenectady. Besides, they have survived worse. They are Bills fans, after all. They want their PGA Championship to reflect the lunch-pail values they hold dear, and a day like Saturday crystalizes who has the temerity and gumption for the task at hand.
They have found their avatar in a sweet, lovable, baby-faced, dressed-in-motel-wallpaper Norwegian.
For the third straight major championship, Viktor Hovland is one of the few left standing after 54 holes, surviving a storm-swept Saturday that confers a chance at immortality on Sunday.
"Just kind of try to do the same as I've done the last couple days," Hovland said after an even-par 70 left him one back of leader Brooks Koepka. "I'm just kind of giving myself a lot of looks from the middle of the green."
Don't let Hovland's youthful visage and unfailing courtesy and endearing disposition fool you, for they belie a ruthless stone-cold vigor. You don't reach the heights Hovland has, or survive a day like Saturday and a course like Oak Hill, without it. He makes a lot of high scores (45th on the PGA Tour in bogey avoidance) but doesn't let the fear of big numbers keep him from chasing. He's routinely one of the last men on the range most weeks, stripping ball after ball after ball into darkness, an exercise of practice and purpose but also of will, chasing something into that darkness that only he can see. He brushes off the jabs and jeers at his outfits, knowing he has the confidence that others lack to wear florals and fluorescents and make them work.
Those patterns and colors were not on display Saturday, covered by a number of jackets and pullovers as Hovland and others played through incessant rain. Early on, the water threatened to wash Hovland off the board, with him making back-to-back bogeys at the fourth and fifth. However, Hovland leaned into the driving (T-9 in accuracy this week) and ball-striking (first in approach) that begets a ceiling so high, answering with three birdies around the turn. He also plays, and we mean this as a compliment, "boring" golf. See ball, hit ball, try to putt ball into hole. It can come off as plodding, and in this weather, plodding is good.
"I don't think this is a course where you can kind of get too crazy," Hovland said. "You have to play smart, play for middle of the greens and give yourself a lot of looks and hopefully get that putter hot."
He remained steady through the back, a small hiccup at the final hole leading to bogey but still earning a spot in Sunday's final group with Koepka.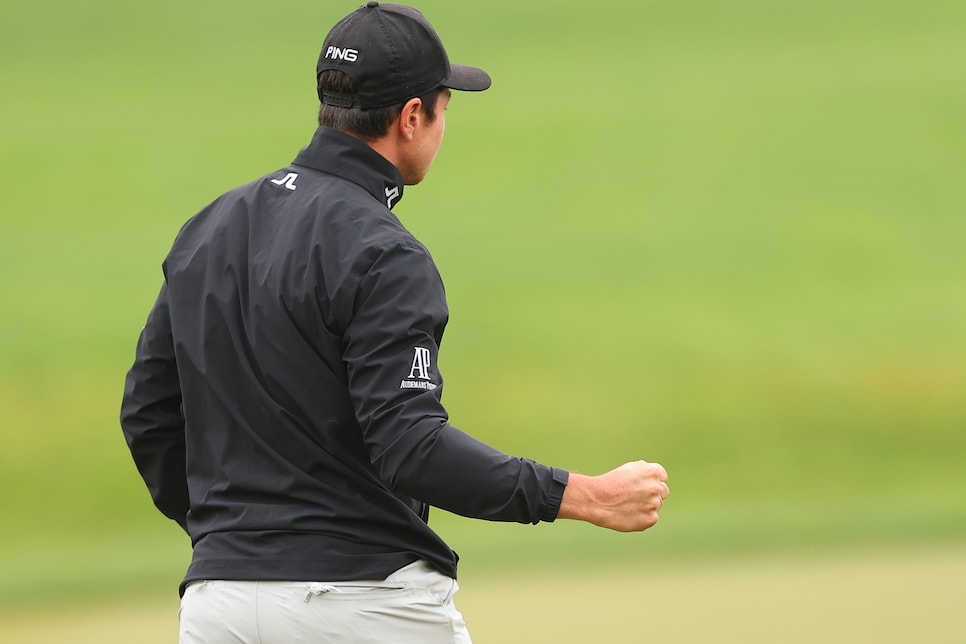 Viktor Hovland oreacts after a birdie on the 11th green during the third round of the 2023 PGA Championship.
Michael Reaves
In some ways his standing makes sense. Oak Hill favors ball-striking, sure, but the true answer could be found in the short game. Hovland's chipping hasn't, in the parlance of Hovland, "sucked" this week, ranking 22nd in strokes gained/around-the-green. It's not that Hovland has fixed his glaring weakness. Rather, there's a case to be made that the Oak Hill rough—that is not so much high as it is plentiful and thick—subtracts the creativity and vision from the short game. Instead, it requires a chop-it-and-run-it approach that, for tour pros at least, tends to compact the variance of what could go right and wrong.
The key is to merely not short-side yourself in order to give the chip a chance, and Hovland has done just that by looking away from the flag and focusing on the meat of the green.
"If I'm slightly out of position or if the pin is tucked, just kind of wearing 15 to 20, 25 feet and getting a lot of shots with my irons, doing that and playing very stress-free golf," he said.
More importantly, Hovland has recent experience at this stage. He played in the final pairing in last year's Open Championship at St. Andrews and was in the penultimate group last month at the Masters. Those performances did not go Hovland's way; he and Rory McIlroy were the only players who finished in the top 14 who failed to break 70 in the final round at the Old Course, and a front-nine 39 took him out of the running at Augusta National. However, majors are notoriously unkind to neophytes, and competing at majors is like riding a bull, in that you sometimes have to fall off in order to learn how to stay on. The misses at the Open and Masters were disappointing, but they did not inflict scar tissue and instead inspired the belief that Hovland has what it takes to do what needs to be done.
"It would be a cool experience," Hovland said. "Any chance you have to play in the final group in a Sunday on a major, that's pretty special. But the mindset is just going to be, I play my own game, and obviously I want to win, but I am just going to play what I think is the right play on every single shot, and if I get beat, I get beat, but the plan is to not give it away."
Hovland will get that chance Sunday. To do so he'll need to defeat a course that through three days has surrendered little. He'll have to go through Koepka, a player who once called majors "easy" and has the track record to back that boast up. Major winners in Bryson DeChambeau, Justin Rose, Scottie Scheffler and Rory McIlroy are nipping, as is his fellow ball-striking savant Corey Conners. Formidable as those obstacles are, the biggest thing standing in Hovland's way will be himself.
To a player, the field repaired to the clubhouse after the round, seeking comfort in dryer confines or perhaps solace at the bar. Save for Hovland, that is. He was again at the range, workmanlike, driving ball after ball into the horizon. Forget the hot shower and drink; he was chasing something only he could see. He's 18 holes away from catching it.
MORE FROM GOLF DIGEST @ THE PGA CHAMPIONSHIP