News
Vijay Singh's closing 61 gives him four-stroke win, while Bernhard Langer again wins Charles Schwab Cup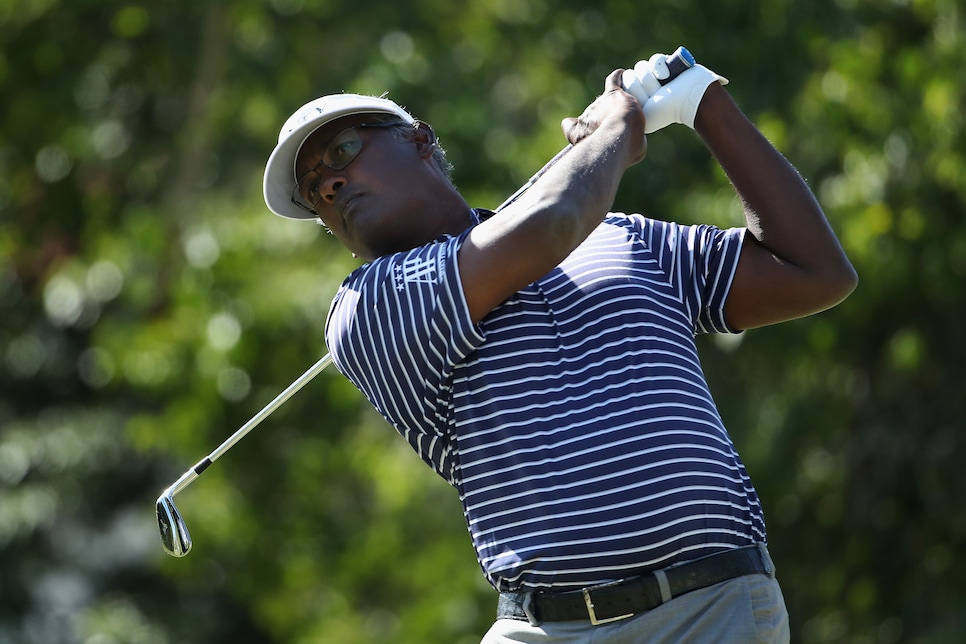 It took Vijay Singh until his 40s to hit his stride on the PGA Tour, so maybe it should be no surprise that it has taken him to his mid 50s to hit his stride on the PGA Tour Champions.
Singh, 55, began the final round trailing by six, but posted a 10-under par 61 to win the season-finale Charles Schwab Cup Championship by four at Phoenix (Ariz.) Country Club on Sunday.
It was his third win of the season, yet only his fourth on the senior tour. Twenty-two of his 34 PGA Tour victories that landed him in the World Golf Hall of Fame came in his 40s.
Singh's victory paved the way for the seemingly ageless Bernhard Langer to win the season-long Charles Schwab Cup yet again. Langer, 61, won the cup and a $1 million bonus for the fourth in the last five years and fifth time overall.
"It never gets old," Langer said. "At age 61 to do it is quite an achievement. Maybe there's another one in me, you never know."
Scott McCarron, the 54-hole leader, could have won the Schwab Cup himself had he won the tournament, but he was unable to mount any kind of threat, closing with an even-par 71 to finish tied for third.
Singh played a flawless round, featuring 10 birdies, five on each side. He birdied five holes in a six-hole stretch on the back nine and was uncharacteristically brilliant on the greens.
"I really didn't think I had any chance the way the guys were scoring," he said. "I thought if I could get to 20 I may finish in the top five."
Instead, he completed 72 holes in 22-under par. Tim Petrovic finished second and Wes Short Jr. tied McCarron for third.
"I made a good putt on 12 and birdied 13 and looked up at the leader board and think I was tied," Singh said. "I thought those guys have got some easy holes to play. But the wind was swirling out there.
"I just kept making putts. That putt I made on 16 was unbelievable. I didn't know how hard to hit it or how soft to hit it. Made the great putt on 17. I got a good read from David (Toms)."
Singh credited a putting tip he received from Graham Marsh more than a year ago, one that led to his first senior victory.
"He told me, 'you should crouch down a little more. Look at Nicklaus, what he does. He's always down there.' I putted so well and won," he said. "Last night I was on the putting green. I told my caddie, I should just try that because it worked so well that week. And it worked well today."